Post-Baccalaureate Pre-Medical Program students looking for research opportunities, academic announcements, event listings, and medical school application resources can find everything they need in a centralized place.
The Post-Baccalaureate Pre-Medical Community Hub is an online community resource to help UVM students access academic, professional, and personal support. The Community Hub was launched at the start of the pandemic and became a go-to resource for students looking to connect and find opportunities and support.
A recent snapshot of the Hub includes listings for tips to prepare for the upcoming semester, an internship with the American Heart Association, a dental clinical assistant opportunity, study tips from former students, links to campus resources, and a fall reception event reminder for Post-Bacc Pre-Med students and Master of Medical Science students.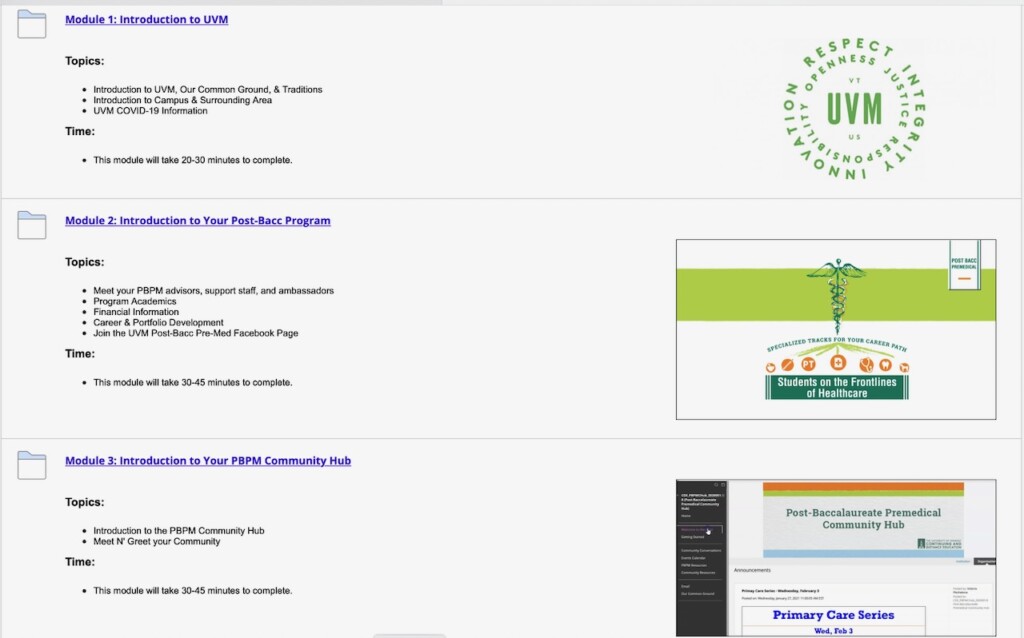 "The Hub helps students stay up to date with important information as it relates to their professional pathways, connect with their advisors and support staff, and learn about patient care, research, paid, and volunteer opportunities at a local and regional level," says Claire Goodwin, the UVM Post-Bacc Pre-Med Program Planner.
An Evolving Tool for Students
The Pre-Med Community Hub started in 2020 in the early weeks of COVID-19. As the pandemic wore on, students increasingly relied on the Hub. Over time, user experience and feedback from students helped inform the post-baccalaureate team to adjust accordingly to meet students' needs.
"We have made quite a few edits and additions to the Hub based on feedback," Goodwin says. "We've found what does and does not serve students. It's a constant evolution."
Recent additions to the Hub include:
A resource center to help students explore and prep for everything from the committee letter process to MCAT test prep resources
A resume writing module that connects students directly to the UVM Career Center, where they can submit their resume for personalized feedback
A shared study buddy document for students to connect with peers in their current courses
Post-Baccalaureate Pre-Med Program Director Maggie Lambert says future enhancements will likely include a space where students, staff, and advisors can share opportunities for community engagement, research, and patient care/shadowing opportunities relevant to their health professional track.
"These opportunities are important for students' pre-health professional school candidacy," Lambert says. "Also, we're exploring ways to deepen alumni engagement and would like to leverage the Hub space to do that."
Engaging with Peer Ambassadors
The Hub allows students to easily communicate with peer ambassadors, who are program alumni that help bridge the social gap and share lessons learned from their post-baccalaureate experiences.
Matt Saunders, who completed the UVM Post-Bacc Pre-Medical Program and now serves as a peer ambassador to students, says the Hub is a helpful resource. 
Saunders says the Community Hub helped keep him organized while going through the Committee Letter Process and preparing his medical school application. 
"Having a clear timeline helped me keep tabs on what I had to get done and allowed me to feel better prepared to tackle the application process," he says. "The Hub has evolved as the needs of students have changed due to the COVID-19 pandemic. It has also been really cool to see things expand as new resources have been added for students to use."
---