Carol Blattspieler isn't interested in limitations. You could even say that she doesn't believe in them. Over the past 20 years, she has accrued seven Ironman races and one National Ironman Championship title, not to mention the 37 marathons and innumerable triathlons she has to her name. Today, at age 69, sitting around just isn't her style – and staying in place, be it physically or intellectually, doesn't suit her either.
Perhaps that's why after more than four decades in nursing, Carol enrolled in the UVM Integrated Health and Wellness Coaching Certificate (IHWC) – almost on a whim. "I got an email about the certificate one day," she explains, "and thought to myself, yep, I'm interested. And before I knew it, I was in class."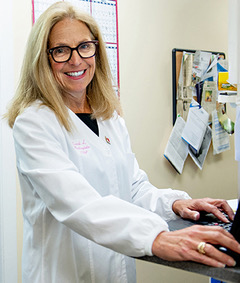 This is not to say Carol takes her many passions and pursuits lightly. In fact, as she recounts her long career as an Orthopedic Nurse Practitioner, it's clear that she struggles with overinvestment – caring so much about learning, growing, and providing attentive patient care, that she often worked 70 or 80 hours a week. It's not a sob story of fatigue and grueling hours she is telling, however. "I loved every minute of it," she says. "It was a choice I was happy to make because I was just like a sponge, soaking it all up."
Despite not really enjoying nursing school – she found it too narrowly focused – Carol followed the advice of a trusted advisor who saw her natural gift as a people person, someone patients could talk to and trust. Encouraged to stick it out and complete her BSN, Carol looks back at that pivotal decision with gratitude. Little did she know, a decades-long journey in patient care awaited her that would ignite her passion for the musculoskeletal system and sports and trauma medicine. It was her work treating broken legs, dislocated shoulders, and sports trauma at the Sugarbush Orthopedics Clinic, she says, where she began to recognize her true passion.
Pursuing a Career New Path in Integrative Health and Wellness Coaching
So how did she get from treating serious orthopedic injuries to integrative health and wellness coaching? Whether it's nursing or health coaching, nonjudgmental listening, and a compassionate mindset are essential – and Carol spent decades perfecting her approach to patient communication before transferring the skill set over to coaching work. "It is so important to make people feel comfortable and listen," she explains. "It's about understanding where a patient is with their health from their perspective, rather than you just telling them what to do."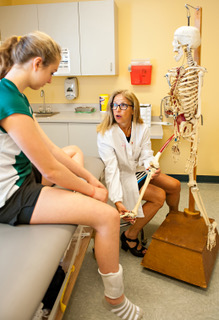 As she advanced through the UVM IHWC certificate curriculum, Carol was inspired to find that coaching was a space that encouraged her to dig deeper into her values and signature listening-first approach to nursing. "The motivational interviewing aspect of IHWC really opened my eyes," she says, describing the practice of asking open-ended questions to build an understanding of patients' perspectives, strengths, and potential obstacles. If it sounds categorically unrushed, well, it is – and that's the point. "The drive in healthcare is often to see more patients and make more money for the institution," Carol explains. "Motivational interviewing invites patients to take time and share. Learning about this really reinforced the connections I value building with people and the way I had been operating for decades."
And while Carol brought decades of professional experience to the classroom, she says that it was refreshing to study alongside a diverse cohort that was always learning from each other. "About half of the students were older and had full careers. There were physician assistants and physical therapists, for example. But the other half were young people at the very beginning of their education and career paths. We all brought something different to the table. The camaraderie – even though 99% of it was through Zoom – was fabulous," she says.
Now, having completed her National Board Certified Integrative Health and Wellness Coach (NBC-HWC), Carol is working toward her next goal: connecting with a steady base of coaching clients and continuing to develop Iron Awakening, her motivational speaking business.
A force of nature with bragging rights that could give most of us a run for our money, Carol has a lot to be proud of and she's not shy about it. If she's telling you her story, however, it's because she wants you to think about your own goals. Maybe the limitations in your life aren't set in stone. Maybe change isn't impossible after all.
Learn more about what it's like to study Integrated Health and Wellness Coaching online at UVM – and how you can connect with Carol at UVM. (Yes, she's an Assistant Clinical Professor at the UVM Medical Center, too!)