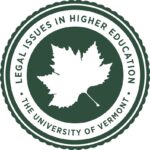 When Washington & Jefferson College in Pennsylvania welcomes students back to campus this fall, the small liberal arts school plans to offer fully in-person instruction and residential living.
Vice President of Student Life and Dean of Students Eva Chatterjee-Sutton, M.A. wants to make sure mental health is a priority for students at her college and at campuses around the country.
"COVID was not a one-year hit," she says. "We are facing a several-year recovery where people will need support, whether it's from the loss of a loved one, the loss of a certain lifestyle, or a lost opportunity. There's a profound sense that things are different now than they used to be, and we need to have space for people to understand when this might impact them through their cycle of development."
Chatterjee-Sutton will present at this year's UVM Legal Issues in Higher Education Conference, which will be held online in October.  Her topic will focus on lessons learned from COVID-19 and looking ahead to life on campus during the late-stage pandemic.
How to Support Students' Mental Health Needs
In March 2020, when colleges around the country shifted to a remote learning format, Chatterjee-Sutton says one of the many challenges was considering students' psychological well-being while learning from home.
"We knew early on that some students were going home to places that weren't great learning environments. Maybe they had no privacy or technology, and these were basic needs that we took for granted in a non-COVID world," she says. "We also needed to make sure students who needed therapeutic support continued to receive it. As an institution, we had to look at our commitment and capability to support those students."
In a recent survey measuring psychological distress among adults in the United States, researchers from Johns Hopkins University found that 24 percent of young adults ages 18 to 29 reported serious psychological distress, compared to 4 percent in April 2018.
Chatterjee-Sutton anticipates students will continue to need mental health support in the coming academic year and beyond.
"Looking ahead, we need to be proactive and anticipate the kinds of services students will need, and make those services as normalized as possible," Chatterjee-Sutton says. "I think we'll see the growth of groups on campus—that shared experience—and an acknowledgment that we've been through a crisis, and we're still in it."
Testing and Vaccines
In addition, colleges and universities will implement various COVID-related measures this fall, ranging from mandatory vaccines for students to optional testing.
"One of the pros to a mandatory vaccine is that you're hoping to reach a level of herd immunity to have a more normalized campus experience, with some caveats," Chatterjee-Sutton says. "The requirement of the vaccine is incentivizing that."
Still, she acknowledges that in states like Pennsylvania, for example, there are medical and religious exceptions for vaccines. Also, colleges and universities might be determining whether faculty and staff will be required to be vaccinated or continue to undergo COVID testing.
"Faculty and staff were affected by a year of hybrid learning, and they are experiencing both anxiety and excitement about coming back into a more traditional space this fall," she says. "We haven't fully dealt with what will be required. If you have unions on campus, that adds to the complexity. It's easy in the height of pandemic to say we're testing everyone, but now it becomes a little more challenging."
One bright spot of the pandemic is that colleges and universities are nimbler than anyone expected, Chatterjee-Sutton says.
"The requirement of needing to adapt is a benefit for higher education. Not that you want to do it in the headwinds of a pandemic, but think of all the things colleges tend to wait on because it's not quite the right time or because something better might come along," she says. "We learned that we could quickly adapt, pull together, and support each other."
-The UVM Legal Issues in Higher Education Conference will be held online October 18-20, 2021.
The 2021 UVM Legal Issues in Higher Education Conference
Learn more