If you're a college graduate who recently decided to apply to medical school, you might wonder whether your application will pass muster with a medical school admissions committee.
A high GPA is not the only requirement for medical school. You also need certain science prerequisites and can obtain them through Post-Bacc Pre-Med programs like the one at the University of Vermont (UVM). And beyond these core academic requirements, medical school admissions committees like to see research experience.
"Research experience can do a lot to enhance your overall application, and as importantly, help prepare you for the profession," says Faith Rushford, former pre-health advisor for the UVM Career Center. "Roughly 80 percent of admitted candidates have had some sort of research experience. Though not required for admission, you could argue that it should be, given its profound relevance to medical practice."
Building
Your
Skills through Research Experience
The Association of American Medical College identified 15 Core Competencies for Entering Medical Students. A high quality research experience can support your development of these essential skills, including scientific inquiry, critical thinking, teamwork, resilience and adaptability, according to Rushford.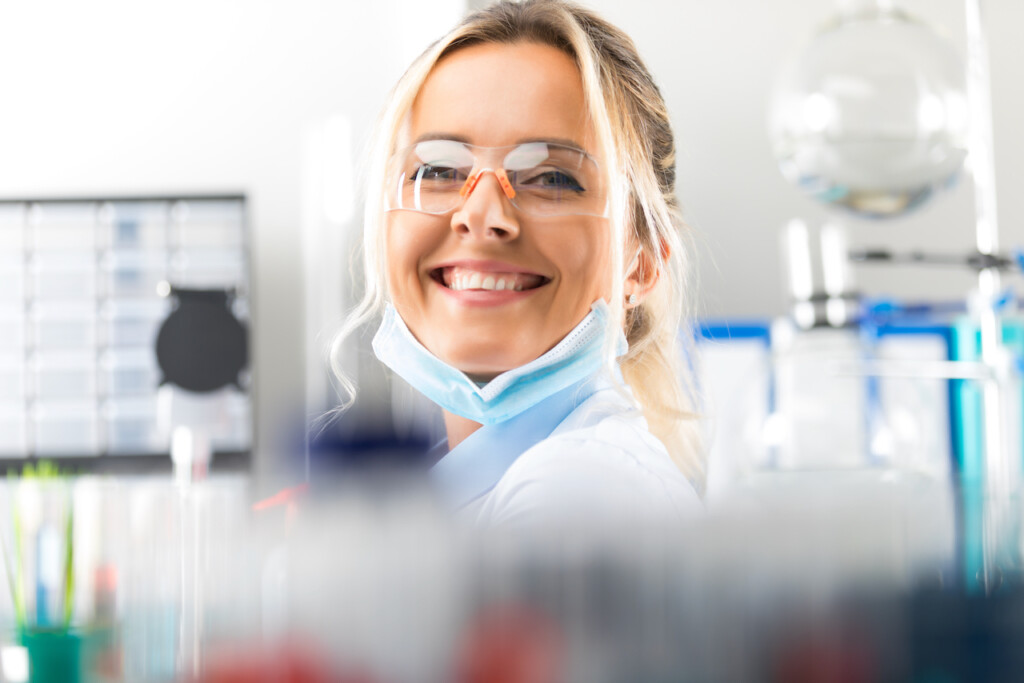 "A medical student, and ultimately a physician, should be able to read and interpret primary literature, have an understanding of the inquiry process and how it informs practice, and be able to deal with failure by returning to the question with strong problem-solving skills and new ideas," she says. "A good research experience supports this kind of professional development."
However, she cautions that you shouldn't pursue research experience simply to boost your application.
"A lot is determined by what you make of the opportunity – your level of curiosity and engagement… substantive engagement, along with a strong letter from a principal investigator, can truly have an impact on an applicant's profile," Rushford said.
That said, you might be wondering how to get research experience in a post bac premed programs. Here are five ways to get research experience before applying to medical school.
Enroll in Post-Bacc Pre-Med Programs Linked with a Medical School
Jasmine Bazinet-Phillips, a former post-bacc pre-med student, chose UVM's program because of its linkage with UVM Medical Center. She says it made a difference in her ability to assist with a Start Treatment and Recovery (STAR) study of people with opiate disorders. She also supports COVID-19 research led by nurses and physicians at the UVM Medical Center emergency department.
"A lot of the post-bac premed programs function as an undergraduate campus, but they don't have a hospital right next door," Bazinet-Phillips said. "With UVM you have that post-bac program, and yes, you're with undergraduate students, but you also have this amazing opportunity of diving into the hospital setting right away… had I gone to one of the other post-bac premed programs I was looking at I don't know if I would have been able to say that I'm going into the hospital every day… doing frontline research concerning the pandemic."
Hear more from Bazinet-Phillips as she shares her experience.
---
Many post bac students find research and patient care opportunities through online learning community boards accessible only through the post-bacc program. Gina Demilt a former UVM post-bacc student, found her research assistant job after she saw a post from a UVM Medical Center physician's assistant on a community board.
"I started working as a medical assistant at the UVM vaccine center working on the COVID-19 trials," Demilt said. "It's been a lot of fun so far… to be involved in research, and potentially groundbreaking research, as my first research opportunity."
Look for Virtual Research Experience
Tyler McGuire, a former UVM post-bacc student, found a virtual research experience opportunity. McGuire contacted a doctor and family friend who needed McGuire's help to analyze anatomical data. McGuire went on to present the research abstract at a conference. His advice? Reshape any existing notions you have about how research should be done.
"A lot of people picture, at least what I pictured, is that research should be in a lab, lab gloves, lab equipment, doing biochemical sorts of research to advance knowledge in a very specific field, but research can be lots of different things. A lot of it can simply be done with your computer, internet connection, your interest, and some help from an advisor," McGuire said.
Hear more about McGuire's research experience.
---
Search Job Boards
Search the job listings of research universities, institutions, hospitals, laboratories, and businesses such as pharmaceutical firms. You'll want to look for a "research assistant" title, which often requires only a bachelor's degree in science. Also, clinical trials and studies may need research assistants.
Visit any research university or the National Institutes of Health's (NIH) clinical trials website to identify and contact researchers who might need assistants.
Seek Out Research Programs
There are opportunities available specifically for students in post-bacc pre-med programs, or college graduates who are not enrolled in graduate school. Post-bacc trainees in the NIH's post-bacc programs, have recently completed a bachelor's degree and are spending a year (sometimes two years) at the NIH conducting biomedical research while they apply for admission to graduate or professional school. The National Cancer Institute also offers such research opportunities.
In addition, you might peruse college, university, and organizational websites focusing on undergraduate and graduate research opportunities. Even though you're no longer in college, you may stumble across a research opportunity that fits your post-bacc status. For example, visit the Association of American Medical Colleges, IBP Pathways to Science , or the National Science Foundation. And browse lists at the University of Vermont, Cornell University, University of California, Berkeley, Duke University , and other large research institutions.
Network, Network, Network.
Contact friends, family members, acquaintances, former and current employers, former professors, fellow alumni, and your college's career services and alumni offices to find contacts that might lead to a research internship or a job in a laboratory, science organization, hospital, college, or university.
If you're still living near your alma mater, peruse your college or university website to identify science faculty who are working on research that interests you. Visit individual science departments' websites for faculty lists or scroll through the university's "experts" database. Contact researchers directly to see if there are any jobs on their teams or to see if you can shadow them in their daily work.
Patience is Key in Getting the Right Research Experience
As post-bacc students look for patient and research experience while working through vigorous coursework, UVM advisors offer this:
"I've heard a lot of medical school admissions panels and advisors say sometimes you need to alter your timelines and it's more important to apply when you're ready and you have all the credentials," said Maggie Lambert, Senior Program Developer. "This pertains more so to master of medical science students in that some of those folks have to step back on research and patient care as they are going through the academic experience because it's so intense. Then, they take the extra time, in the end, to not shortchange that patient care, research, and supplemental application pieces you need to attain."
---
Editor's note: this post was originally published in 2014 and has been revamped and updated for accuracy.