Even in a remote learning environment, Arai Lubas felt connected to students, faculty, and the UVM campus.
Lubas, of Reading, Pennsylvania, enrolled in the UVM Summer Academy program's Biomedical Science and Human Disease course in 2020. Her initial plan was to take the course in the UVM summer high school program for two weeks on campus, followed by two-weeks from home online.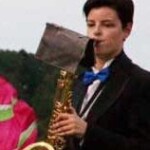 But when the pandemic arrived, everything changed, and Summer Academy moved to a fully online, four-week program.
Still, Lubas made the most of the experience. A high school senior, Lubas is an active member of her school community in Pennsylvania. She's class treasurer, National Honor Society secretary, and a marching band drum major. She hopes to attend a college where there are various clubs, activities, and a strong sense of community.
"I really got a feel for the cultural environment of UVM," she says. "I had direct access to my professor, the admissions team, and other students. Any question I had could be answered, and everyone was always responsive. Even though the course was remote, the environment felt warm and inviting. It was as if we were all part of a family."
Pursuing Academic Interests
In the UVM summer high school program Biomedical Science and Human Disease course, students are assigned lectures and laboratory assignments, and case studies. Cases include case history presented, clinical signs and symptoms, initial and additional laboratory testing and data, relevant test methodologies employed, and accurate interpretation of results.
"I have always loved biology, and taking the UVM course solidified that this is what I want to do," says Lubas, who plans on majoring in biomedical engineering in college. "I can see my future in a research lab."
Summer Academy is available to high school students who have completed 10th, 11th, or 12th grade and are interested in earning transferable college credits.
Students who participate in UVM's Summer Academy:
Stay intellectually engaged over the summer and avoid boredom
Are exposed to new ideas and perspectives
Explore topical content areas such as COVID-19 or the Global Climate Crisis through interactive online courses
Make new friends from around the country
Pay high school reduced tuition rates or utilize Vermont dual enrollment vouchers, which cover cost of tuition
"After completing the course, I was inspired by what I had learned," Lubas says. "For anyone who wants to learn more about UVM and doesn't have an easy way to get a sense of campus, Summer Academy is a great opportunity.  I got so much more out of it than I could have during an open house tour."