The 2022 Prelock Online Teaching Award winners, Adjunct Lecturer Sefakor Komabu-Pomeyie, MA, Ph.D. and Assistant Dean for Student Services and Staff Development Marie Vea, Ed.D. were chosen from over 80 nominations submitted by the University of Vermont students.
In the asynchronous category, Komabu-Pomeyie was awarded for her course Global Disability Studies in the College of Education and Social Services. Vea won in the synchronous category for her course Ways of Knowing at the Rubenstein School of Environment and Natural Resources. The Prelock Online Teaching Award recognizes and rewards superior online teaching, provides models of excellence for fellow faculty, and encourages all faculty to advance their online teaching pedagogy. The award is named in honor of Provost and Senior Vice President Patricia Prelock, an early adopter of online teaching at UVM. The award review committee consisted of UVM faculty, staff, and current online students.
Committee members evaluated each submission on five criteria:
An Effective Learning Experience: (alignment of objectives, activities, and assessments)
Imaginative Approach: (creativity and fun)
Staying Organized (ease of navigation and consistency)
A Course for Everyone (inclusive design)
Being Social (student engagement)
"I am thrilled to see such accomplished teachers be recognized for their creativity, commitment to students, and course designs that are fun, accessible, and fully engage our students," shared Provost and Senior Vice President Patty Prelock. "Both Sefakor and Marie are models for demonstrating their scholarship in the online space and for ensuring the success of their students. I couldn't be prouder to recognize two such outstanding educators."
Excellence in an Asynchronous Online Course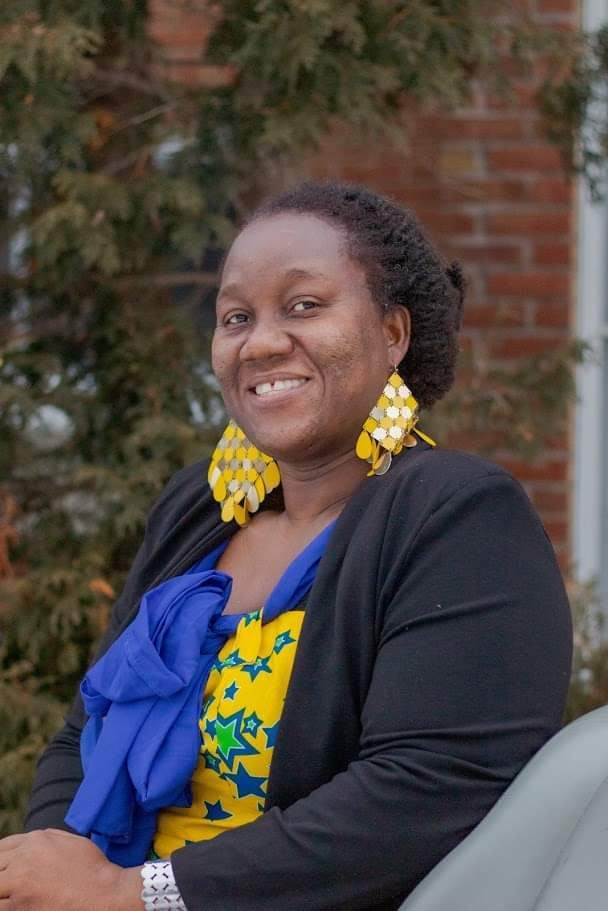 The Prelock Online Teaching Award review committee noted that Komabu-Pomeyie's online course excelled in each of the award criteria. In a field where little scholarship exists, the committee shared that Komabu-Pomeyie created her own content by interviewing professionals worldwide about their expertise. From the nomination her students shared that they were inspired by the model course she created, and the course transcended the boundaries of the asynchronous environment to become a vehicle for change.
"Receiving this award is very fulfilling because it is an added value, a great honor, and above all another way of empowerment from my students," said Komabu-Pomeyie. "It is an added value because it projects my global disability work in academia. Even though I have won numerous awards internationally and nationally, this is most significant for me. I feel very fulfilled because I built this course to make a change in our community in Vermont, but its impact is so significant globally."
Excellence in a Synchronous Online Course
Awarded in the synchronous category, Vea's Ways of Knowing online course was recognized by a student reviewer as 'transformative' and her ability to connect with students through humility, vulnerability, and responsiveness to the learner is what set Vea's course apart. The award committee noted that Vea used a variety of materials such as podcasts, videos, text, art, and songs; and even invited the class to co-design her course to demonstrate their application of the learning.
"It is meaningful to be recognized by and with the people who make the experience possible," shared Vea. "Individually we embody both teacher and learner; with this understanding and invitation, we co-created an online space where we could express our unique ways of knowing in rigorous and highly creative ways. We delightfully discovered that deep connection and valuable learning – outcomes that may feel "easier" in person — are certainly possible in virtual space."
Prelock Award Committee Members included:
Susan Whitman (2021 Prelock Award Winner and Lecturer, CNHS)
Kate Moreau (Student, Master of Public Health, and Clinical Assistant Professor, CNHS)
Joan Rosebush (Senior Lecturer, CEMS)
Caelen Keenen (Student, Master of Public Health)
Connie VanEeghen (Assistant Research Professor, LCOM)
Julia Walberg (Lecturer and Clinical Educator, CNHS)
Alex Messinger (Award Committee Chair and Manager, Online Learning and Information Systems, PACE)
Learn more about the online teaching approaches from Vea and Komabu-Pomeyie in a recent story on WCAX TV.
---
Explore more than 500 credit courses online through Summer University and a variety of online professional development courses, graduate programs, and professional certificates offered year-round.