Mia Lobel is attending UVM in the fall and setting her sights on working in orthopedic medicine.
Last summer, the high school senior from New Albany, Ohio, completed UVM's Health and Medicine pre-college course to get a better sense of college life and the University's rigorous academic expectations.
The Health and Medicine course is part of UVM's Summer Academy, a four-week residential and online precollege high school program offered to  juniors and seniors who want to explore areas of study and earn transferable college credit.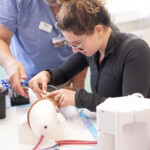 "I caught a glimpse of the steps required to get into medical school," Lobel says. "I was able to see what life is like at UVM, and see how I would fit in on campus and manage my time."
The Health and Medicine precollege high school program curriculum introduces students to the world of modern medicine and bioscience through active learning in labs, lectures, demonstrations, and hospital visits. The course helps students discover their interests, learn about the latest advances in bioscience and molecular medicine, and develop an understanding of diverse medical and health science career paths that might be right for them.
Students interact with clinical and scientific faculty from the UVM Larner College of Medicine, known for being one of the most competitive and successful medical schools in the country.  At the medical school, students experience hands-on learning in academic facilities, including the Clinical Simulation Laboratory, where students perform virtual medical procedures.
Lobel, who was recruited to join the UVM Track and Field team, plans to major in biology at UVM and hopefully attend the UVM Larner College of Medicine.
"Summer Academy gives you a real feel for how college life works. You have so much freedom, but you also need to tailor your time to work on assignments," Lobel says. "Coming from Ohio, I had no idea what to expect at UVM. But I loved it and met some of the best people."
Applications are now being accepted for UVM Summer Academy