In his thirties, Chris Kesler became a self-described 'craft beer fanboy.'
"I went to a party that had a keg of Sierra Nevada pale ale, and that was my intro to craft beer, and it opened my eyes," Kesler said. "I became a big craft beer fan and realized there was a rich craft beer scene evolving in Vermont."
Yet, it wasn't until Kesler turned 50 years old in 2015 that he began homebrewing.
"I asked myself, 'why didn't I do this twenty years ago?'"
Kesler says he became a sponge and learned as much as he could. He joined Green Mountain Mashers, a Vermont homebrew club, and watched YouTube videos. He participated in beer competitions and became Beer Judge Certification Program (BJCP) certified.
Just five years after making his first beer, Kesler became a founding partner at Black Flannel Brewing & Distilling Co. in Essex, Vermont. He recently shared his path to get there on an episode of UVM's I Built This Brewery podcast.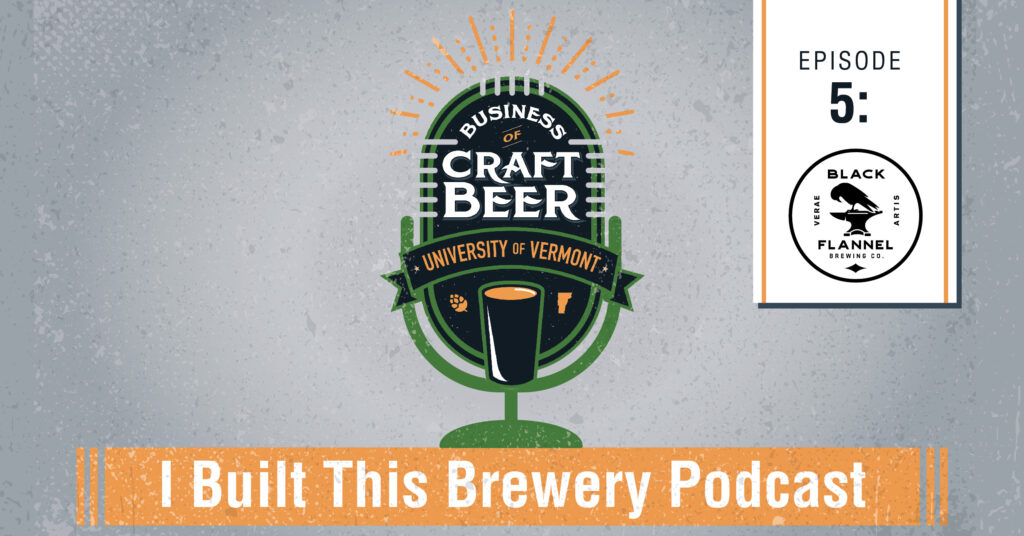 The Path to Becoming a Craft Brewery and Distillery Owner
When Kesler first started brewing, he and his brother-in-law Scott would make homebrew together.
"Scott always told me your beer is really good; you should enter it into a contest," Kesler said.
Unfortunately, Scott died suddenly at only 45 years old, just a year after they began making beer together. In a 'life is short' moment, Kesler decided he would pursue his passion.
"I said, maybe Scott was right. I'm going to enter a contest."
The first contest he entered was Make the Cut Vermont in 2017. The two finalists got to brew their beer on 14th Star Brewing Co.'s pilot brewing equipment, and then the beers were sold as a two-pack for customers to vote on. Out of 1,000 votes, Kesler's 'Disco Montage, a New England-style IPA, lost by 19.
"It was a really good experience," Kesler said, "Being in the professional brewing environment got me hooked. I thought, 'I can make a go at this.'"
In addition to becoming BJCP certified, he became a Certified Cicerone, a certification for professionals dedicated to brewing beer and service. In 2018 and 2019, he earned the title of Vermont Homebrewer of the Year. He also began to look at educational programs for craft beer.
"I was looking at the American Brewers Guild, and I was talking to other brewers who had taken that program; they loved the experience but asked if I was going to brew or hire a professional brewer. My plan was always to hire a professional brewer, so I took the UVM business of craft beer certificate program instead," Kesler said. "If I'm not going to do hands-on brewing every day, I need to learn how to run a brewery."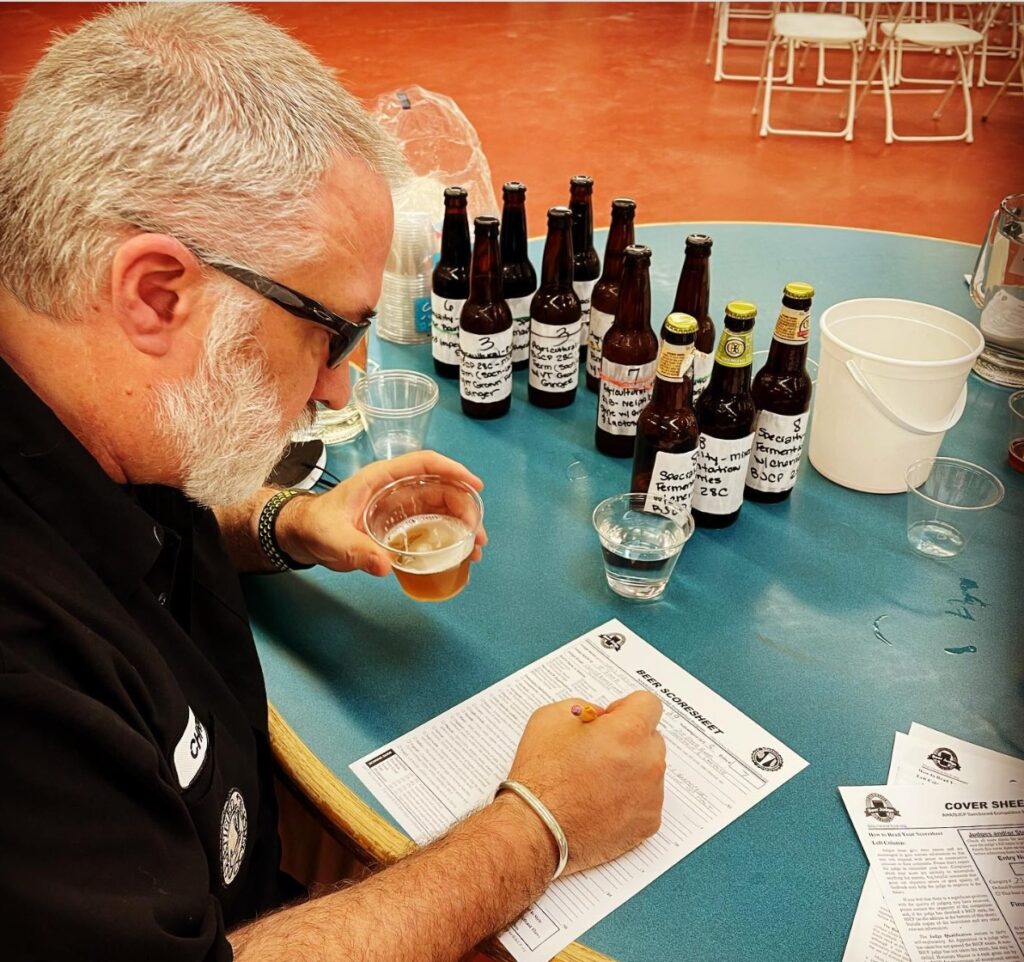 Kesler, who holds a business degree from UVM and owns a web and graphic design company, earned his Business of Craft Beer certificate in 2018.
"The Cicerone, BJCP, and the UVM business of craft beer certificate set me up for knowing I could make a go at starting a brewery," Kesler said. "It was a natural fit with my business start-up background."
The Business Plan That Got Things Brewing
A component of UVM's Business of Craft Beer certification program is a capstone project. It's an opportunity for students to create a business plan. This is where Kesler's original concept for Black Flannel was born.
Kesler said his original business pitch was an hour long; UVM instructors helped him condense it to twenty minutes.
"Something I learned in the Business of Craft Beer program is the biggest growth potential in the industry is still with local neighborhood tap rooms. So that's where I started," Kesler said. "At first, it was just a brewery and small food offerings, and then it expanded to a full-service restaurant and a distillery too."
Kesler says the business is true to the original vision he created while in the beer program at UVM, and his success lies in attracting the right talent.
"I knew that I had the recipes and if I attracted the right people to the program, a professional brewer…a great distiller, and now we have a James Beard semifinalist Chef," Kesler said, "So with this talented group of people I could proceed with confidence in executing the food, the beer, the spirits program, a creative cocktail program including beer cocktails, and creating a great experience for our guests."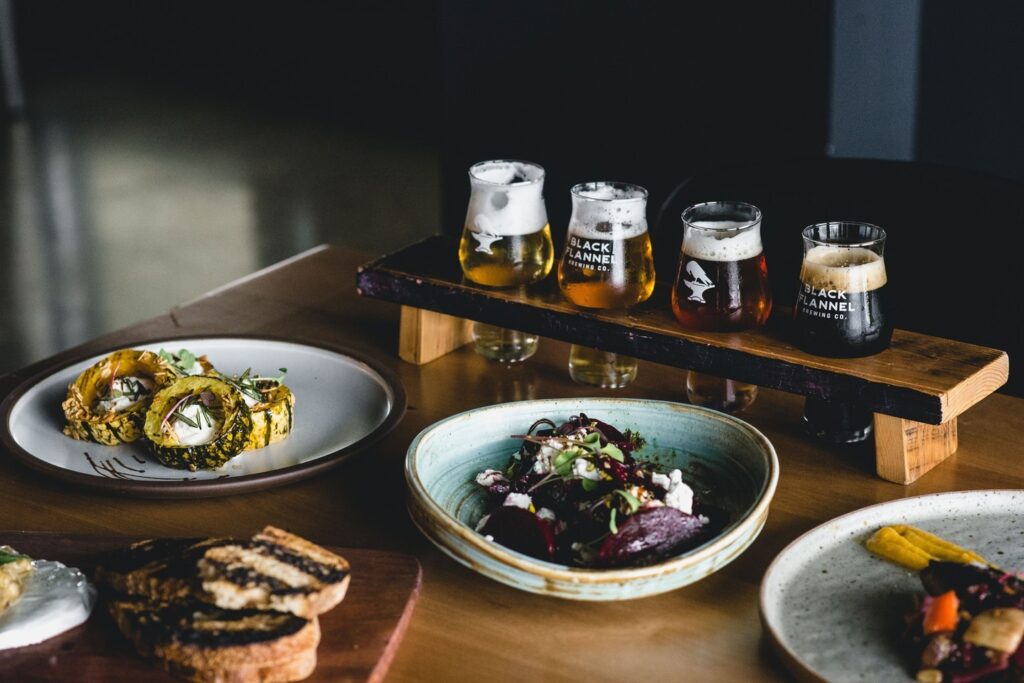 His advice for other aspiring brewery owners is to learn all you can and get honest about the budget. Kesler's original budget of $500,000 for the combo 20,000-square-foot brewery, restaurant, and distillery increased substantially to over six times the original budget.
"We're not in it to get rich. If we do this right, the money will be there, and that is proving to be true. We brew the styles that we like to drink, and other brewers like to drink, and spirits that people are interested in," Kesler said.
A Celebration of Exceptional Craft
Kesler gets most enthusiastic when he talks about how Black Flannel is a "celebration of exceptional craft."
He explains how instead of buying spirits in bulk and importing them from out of state for their distillery as many competitors do, Black Flannel does "everything from the sugar source to glass."
"We grow from seed white beets in a garden in Northfield, Vermont, and then harvest those in September, macerate, ferment, distill, and put in barrels, and it's usually ready by the end of the year to January. It's a white beet spirit that smells and tastes like beets, and it's really unique."
Though Kesler can now focus on the twenty-thousand-foot view of his business as his team keeps things running smoothly day to day, he continues to focus on improving his craft. He recently took two exams to become an Advanced Cicerone, and a Nationally ranked BJCP judge. He should hear if those attempts were successful in the near future.
At heart, he says he's still a beer fanboy.
"Brewing and distilling make people happy. I give tours all the time, and the deeper I get into the science of brewing or distilling, you would think people would start to glaze over, and they don't," Kesler said.
"They're like, 'you can take any sugar source and make alcohol out of it? Wait, how do you get a beer to a spirit?' They love it. It's the fanboy in me that's on the other end of it; people are becoming fanboys, and you can see the excitement in their faces, and it's really rewarding."
Listen to the entire conversation with Chris Kesler on the I Built This Brewery podcast, or learn more about UVM's Business of Craft Beer Certification here.