You might wonder whether to pursue a master's degree. What can you do with it? Not only is there the satisfaction of gaining additional knowledge, skills and credibility, but you also may become more financially secure.
According to the U.S. Bureau of Labor Statistics (BLS), people with master's degrees earn $240 more per week than those with bachelor's degrees, and $607 more per week than those with associate's degrees. They have lower unemployment as well: 4.1 percent for master's-degree holders versus 5.5 percent (bachelor's) and 7.1 percent (associate's).
Even more, jobs requiring a master's degree are projected to grow the fastest — by almost 17 percent from 2016 to 2026, the fastest of any education level, the BLS notes.
Master's: The Degree of Choice for Advanced Study
Most people who attend graduate school end up graduating with master's degrees. In 2019-20 academic year, of the 659,834 graduate degrees and certificates awarded, 80 percent were master's degrees, according to the Council of Graduate Studies (CGS) and Graduate Record Examinations (GRE) Board. Of the more than 1.7 million students currently enrolled in graduate school in the United States, 72.9 percent are pursuing master's degrees or graduate certificates.
Sydnee Viray, M.Ed., director of admissions and enrollment management at the University of Vermont, has watched this increased interest in master's-level programs not only in her current role with the university's Graduate College but also previously as a counselor in the UVM Career Center.
"Many fields are seeing the need for master's-level studies at some point in the career progression," Viray says. "If someone wants to advance, the master's degree is used as a tool to highlight. We're even hearing anecdotally that some entry-level positions are requiring master's degrees."
For instance, in past years, some K-12 school districts would cut salary costs by hiring only graduates with a bachelor's degree, she explains. Down the road, those districts would pay teachers to obtain their master's degrees. Now, many districts want teachers with a Master of Education (M.Ed.). This serves two purposes: It ensures teachers have master-level knowledge right out of the gate. And it also places the additional tuition burden on the teacher, not the district.
Master's Degrees As a Requirement for Professional Training
When Mary Beth Barritt, assistant director of the UVM Career Center, talks to undergraduate students and alumni who are considering returning to school, especially those focused on working in industry and not academia, she describes two types of master's degree programs.
"One is professional training, where you need specific training to enter that profession," Barritt says. "To be a physician's assistant, you need that degree; to be an occupational therapist, you need that degree; to be a counselor, you need a master's degree of some type, whether it's psychology or an M.S.W. (master's degree in social work)."
The BLS lists other professions requiring a master's degree upon entry to the field, including:
Education administrators
Education guidance, and career counselors and advisors
Mathematicians and statisticians
Epidemiologists
Hydrologists
Economists
Survey researchers
Urban and regional planners
Health care social workers and community and social service specialists
Librarians, archivists and curators
Speech-language pathologists
Nurse anesthetists, nurse midwives and nurse practitioners
Master's Degrees As a Tool to Make You More Marketable
The other type of master's program, Barritt says, "is where you will get a better job in a field because you have the additional study of a master's."
Examples, she says, include:
Business administration: "Some people are working quite well with a bachelor's degree, but having an M.B.A. may add a credential that brings another level of credibility, knowledge and skills," Barritt says. Programs such as UVM's one-year Sustainable Innovation MBA can give students a focus that makes them attractive to more innovative companies.
Public administration: "The Master of Public Administration program brings in many practicing professionals in the community who want to enhance their skills and maybe gaining a different kind of experience," she says. "There also are folks recently out of school who want to enter public service and want targeted professional competencies that are a focus on UVM's program."
Public health: "The Master of Public Health program might attract people who don't necessarily want to practice medicine but are interested in systemic issues or broad-based international or community issues," Barritt says.
In addition a master's can make you more appealing in the fields of:
Health care management
Engineering
Computer science
Accounting
Marketing
Trends in Master's-Level Programs
Viray sees a number of trends in master's-level programs. In academia, including at UVM, programs are becoming more interdisciplinary. Of course, this was always the case; for instance, a biology major studied chemistry and the environment. But now the walls are coming down, and there are more degree programs that straddle several disciplinary areas.
She sees this trend across the board in:
Another trend is the increase in online education, allowing professionals to work on master's degrees while still working in the field. Over 43 percent of graduate students in the United States attend part time, according to the CGS-GRE survey. When looking at master's only public colleges and universities, 60.3% of graduate students were enrolled part-time in the fall of 2020.
The three largest broad fields of study – education, business, and health sciences – were also the fields with the largest proportions of part-time graduate students.
This flexibility, coupled with more professions requiring advanced study, has led to an increase in the number of Americans holding master's degrees, according to Viray.
The Master's of Public Health program at UVM experienced a surge of interest as the pandemic highlighted the importance of epidemiology and biostatistics. Above, Jan K. Carney, MD, MPH, MACP. Associate Dean for Public Health and Health Policy at the Larner College of Medicine at the University of Vermont, talks about what public health means.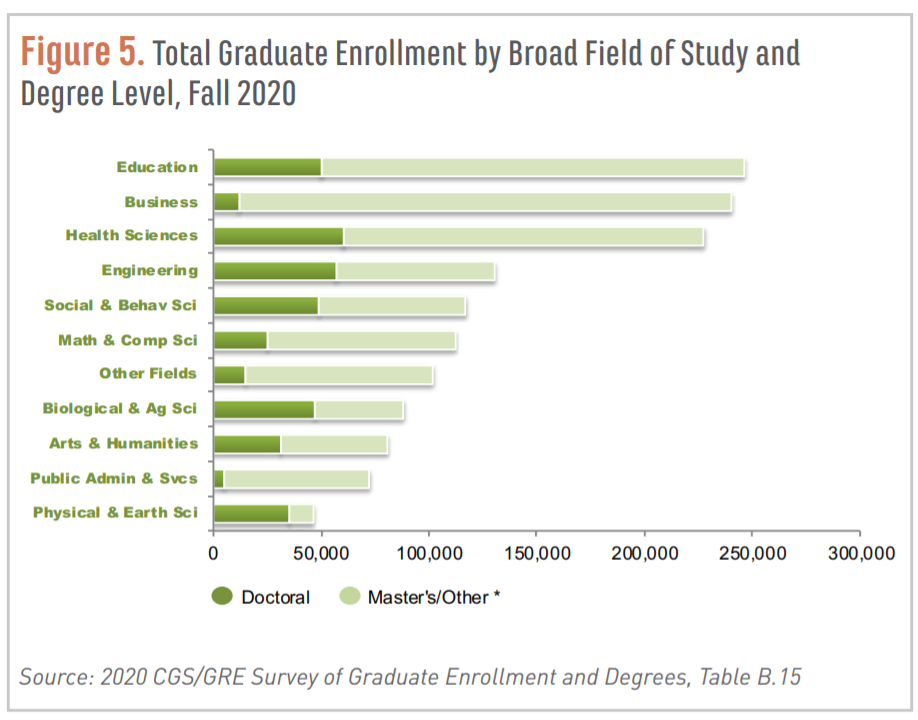 Which Master's Degrees are Experiencing Growth?
The CGS/GRE survey also reported the percent change in enrollment in master's-level programs by broad field from 2019 to 2020. Enrollment is growing in the following fields:
Biological and Agricultural Sciences, +8.7%
Business, +8.2%
Education, +3.1%
Health Sciences, +4.5%
Mathematics and Computer Sciences, +1.8%
Physical and Earth Sciences, +0.6%
Public Administration and Services, +4.0%
Social and Behavioral Sciences, +3.1%

Most master's-level programs take one year of intensive study or two to five years, depending on how much you need to balance work, school, and other responsibilities – and how much time your college allows you for degree completion. With the time and money it takes to pursue a graduate program, you need to be ready for the commitment.
"Some good reasons for attending graduate school would be if you are thinking about a profession that requires it," Barritt explains, "or a profession where it's advantageous to obtain additional schooling to give you a deeper skillset and make you a better job candidate."
Editor's note: this post was originally published in 2014 and has been revamped and updated for accuracy.