By Jon Reynolds
Craft beer sales have had quite a run since 2010, and many benefited from consistent industry growth. However, post-COVID has not been as kind to the craft brewing industry. Brewers, distributors, and retailers are all feeling the pressure on the craft beer category, as we move towards the summer selling season.
Here's what I see as the ten factors that are impeding craft beer category growth in 2023:
On-premise Rebound—there have been some decent return of customers to the on-premise establishments. Restaurant and tavern sales are bouncing back according to National Restaurant Association. However, rising commodity costs, lack of workforce labor, and the cost to attract labor, along with higher menu prices for meals and beverages have caused a "pinch" in the consumer's pocketbook, thus the check is the same, but the units purchased are less.
Open Tap Lines—According to Draftline Technologies, there are 90,000 open tap lines (about 11% of the total) in the U.S. today. Many of these were formally tap lines that were promised to craft beer rotators. Today, many remain "open" as tavern, bar, and restaurant operators don't want to have bad beer in their tap lines as craft sales have slowed. Draft sales for craft beers are still well below 2019 levels.
Inflation/Price Increases—the news in this area has not been good for some time. According to YCharts, inflation, while slowing from last year's rate of 7.5%, is currently running at 6.4%. This is well above the 5-year inflation average of 3.3%. This also impacts the cost of goods sold for craft breweries, who endured two industry price increases in one year! This has not happened in over a decade.
Lack of a New Growth Segment—while IPA is still the juggernaut of the craft beer market (over 40% of total sales), there is no other segment that is putting up big increases. Innovation is still a strength of all craft brewers, but the segments that are growing, including Cold IPA, Imperial IPAs, Non-alcoholic beers, Kombucha, hard seltzers, hard sodas, hop waters, and fruit sours, are not hot enough to pull the craft beer market ahead of last year. Maybe this is caused by too much concentration and competition for the same customer. Or perhaps this is caused by distributors and retailers cutting back on SKUs in their warehouses and on shelves. With the craft beer market approaching 10,000 brewers, each craft brewer needs to stand out from the rest of the pack. As some say, keep innovating or die!
Impact of Spirits—there is no question that spirits continue to switch drinkers away from beer to spirits-based beverages. This has accelerated with hard seltzers, which were mostly malt-based at the start, but now many have switched to spirits-based products, providing better taste and reflecting more accurately what a mixed drink should taste like. Malt-based seltzers still have their place and followers, but RTD spirits brands have caught up quickly. Some of this has been caused by changes in state laws, which once had higher spirits tax rates than beer, but now they're getting closer. Also, spirits like vodka and gin, in general, are preferred by Gen Z'ers as they buy more spirits in stores and online than any other generation. And yet, total alcohol consumption for Gen Z'ers is declining.
Beyond Beer Category Controlled By The "Big Boys"—while it is true that the "Beyond Beer Category" has been good for some craft players, it has not been good for all of them. If you're launching a hard seltzer today, you're 3-4 years behind the major competitors and two of them control 70% of the category; plus Molson-Coors launched Topo Chico with Coca-Cola and Diageo launched Lone River Ranch Water. And, if you're launching a hard soda/hard energy drink brand today, you better have a big war chest, because you will have to compete with some of the largest beverage companies on the planet like Pepsi-Boston Beer's Hard Mtn Dew; Pepsi and FIFCO Lipton Hard Tea; Coca Cola and Brown Forman's Jack & Coke; Constellation and Fresca Cocktails; and Monster Release The Beast. And, if you want to compete in the hard juice category today, you need to take on Coke's Simply Spiked Lemonade Seltzers and the newly launched Sunny D Cocktails by America Beverage Corporation.
Fewer Craft Breweries Being Built in 2023—while many in the industry will look favorably at this statistic, it clearly says that craft beer growth is slowing. Bart Watson, Chief Economist with the Brewers Association shared in a recent article on CoStar.com, "Five years ago, we had a lot of openings and almost no closings. As we're getting close to 10,000 breweries, we're seeing a more mature and competitive market. To stand out, brewers can elevate the quality or variety of beer, their standard of service, or the experience they offer, perhaps with a unique setting, Watson said. That's where real estate comes in." Take a look at the graphic below courtesy of the Brewers Association.
Quality Control—with the fast-growing craft beer category throughout the 20 years (2000-2019), the brewers took advantage of the hype and the consumer trends to reach for "better beer." The problem is that not all craft brewers invest in quality assurance to make 100% sure that what they sell are the best craft beers out on the market today. Some take shortcuts and some don't rotate their beers in their brewery, at their distributors, or at the retailer's point-of-purchase. This hurts all craft beers and especially the breweries that do invest the time and money to keep their products fresh.
Molson-Coors Emerging Growth Strategy—back in 2020, Forbes ran an article called "Adapt or Die—Molson-Coors turns to partnerships in non-alcoholic beverages for growth." The article pointed out that Molson-Coors was losing volume, market share, and profits by playing in the same segments that they had played in for 30+ years. It was time to make a radical change in their game plan. Forbes writer Chris Furnari, created a shortlist of some of the most meaningful moves the company made back in 2020 including the acquisition of Michigan's Atwater brewing, a minority stake in Lance Collins' Zen Beverages, an agreement with Coca-Cola to manufacture and distribute Toro Chico Hard Seltzer and even developed four new non-alcoholic beverage brands in partnership with L.A. Libations.
Anheuser-Busch Lowers its Investment in Craft—This was vividly pointed out by Kate Bernot in the recent article in Good Beer Hunting. Anheuser-Busch is moving marketing support away from craft breweries they bought, toward spirits-based drinks (Cutwater and NṺTRL receiving most of the marketing spend). The loss here is the independent craft breweries who sold to ABI, with the hopes of being inserted into their national distribution system, saving/creating new jobs, and building the brand beyond where the independent brewer had gotten it to (Wicked Weed, Blue Point, Devil's Backbone, Golden Road, 10 Barrel, Karbach, and Platform all suffered job cuts and budget reductions from ABI going forward). Severance packages were based on the number of years of employment. At this year's SAMCOM National Distributor meeting, the displays for ABI's Craft Breweries were less than half the size of Cutwater, NṺTRL, and Stella Artois, which had huge displays compared to ABI's Craft Division.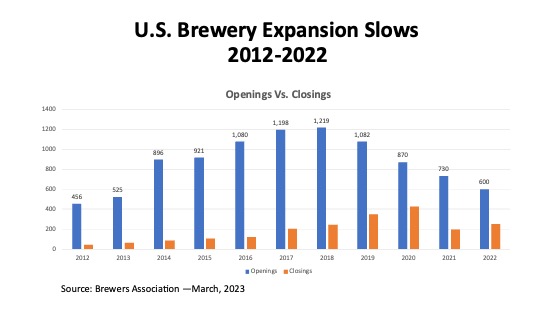 These last two moves all hurt the craft beer industry because the "big boys" are no longer pushing the segment and expanding the shelf space or tap lines for the craft brands that they own. This is also evident with their distributors who are coached/directed to get back on the "light beer train and imports" where they made their money and get behind ABI's and M-C's new spirits-based beverages and non-alcoholic entries. With the blurring of the beyond-beer category lines that have brought entries from Coke, Pepsi, and Monster into the alcoholic beverage space, we could see ABI and M-C hooking up with Coke and/or Pepsi and/or Monster down the road to create beverage behemoths (A-B/Coke and M-C/Pepsi) that will take on any and all newcomers. We could even see Monster hooking up with Dr. Pepper/7-Up to compete and blur the lines even more.
None of this helps craft beer. All it does is reduce focus on building smaller craft brands that are already part of their distribution systems. It certainly creates a stronger case for self-distribution so that craft brewers can control their own destinies. Be sure to control your brand—it is the #2 asset you have, behind your employees.
---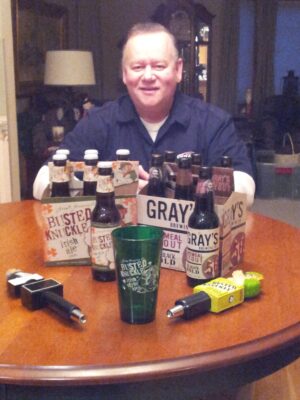 Jon Reynolds is the founder of Brewplan, a strategic marketing advisor to craft brewers, craft distilleries, boutique wineries, and a Certified Instructor in the UVM Business of Craft Beer Professional Certificate Program. He writes about business trends, beer consumers, distributor issues, legislation that affects craft brewers, marketing tools, and strategic planning to improve brewery profits.
Views and opinions expressed herein are those of the author who has spent more than 40+ years in the beer, wine and spirits industry and are provided for informational purposes only. The information set forth reflects the author's opinion of current trends in the industry and should be researched further to make your own business conclusions.