A medical anthropology course was Ariel Carter's first introduction to public health.
Learning how health and illness are shaped, experienced, and understood in light of global, historical, and political forces opened Carter's eyes to population health.
The UVM alumna, who graduated in 2014 with a degree in biology and anthropology, was unsure about her career path in the first few years out of school. But the medical anthropology course would influence her decision to return to UVM in 2017 for the UVM public health training master's program.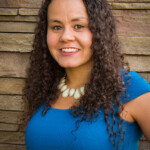 "It opened my eyes that health can mean many different things to many different people," she says. "And so many things we don't think of as being health-related are things that directly affect our health. That realization was life-changing for me."
Carter's first job out of school was answering phones in a dermatology clinic. She realized that working in the direct service sector of health care was not for her and that she preferred being behind the scenes in health care policy and planning.
She went on to work at the Vermont Department of Health' Division of Alcohol and Drug Abuse Programs as a program technician. In 2018, she was promoted to manager of planning and community services.
"I enrolled in UVM's Master of Public Health program because I knew I wanted to further my education in the health field. Working in the Division of Alcohol and Drug Abuse Programs helped me realize that I was really interested in public health," she says. "I couldn't go to school full time, and the online, part-time option worked for me."
Applying the Skills Learned in Public Health Master's Program
The 42-credit online program is offered in collaboration with the UVM Larner College of Medicine. The top-ranked UVM public health training program leads to a Master of Public Health degree focused on excellence in environmental public health, epidemiology, quantitative public health sciences, and health policy, leadership, and advocacy.
Carter, who completed the program in August, says she is incorporating what she learned in a variety of ways, including the importance of collaboration and incorporating stakeholder input.
"I also learned the importance of concise writing—how to say what needs to be said and how to support it," she says. "I learned a lot, and the program helped me boost my confidence. It was a great experience."
What Carter found most rewarding about the public health program was the different perspectives shared by students, and how the program's flexibility allows for a diverse cohort with a variety of backgrounds.
"Getting all of those different perspectives is one reason why I would recommend the program, as well the focus on the interdisciplinary piece," she says, "At first, when you think of taking an online program, you wonder how interactive it will be. But at UVM, you have incredible access to your professors, and the program does everything it can to make individuals feel connected."