By Jon Reynolds
Put aside your favorite pair of Heineken heels or your Pabst Blue Ribbon snowboarding boots this winter because craft brewers are getting into collaborations in a big way. National beer brands have worked with some of the major mainstream fashion brands for several years but now craft brewers are getting into the mix to go beyond apparel, to include music and sports.
In this article series, we will review three interesting collaborations between craft brewers and their genre partners in the following categories:
Craft Beer and Music
Craft Beer and Fashion
Craft Beer and Sports Shoes
According to RateBeer.com, "collaborations are made by two or more brewers from different breweries who come together to play around with recipes. The point of this kind of collaboration is for the brewers to pool their know-how, to make a name for themselves, or to simply have fun." They go on to say that collaborations can also be between a brewer and a partner outside of the beer industry (for example a coffee maker, hop retailer, homebrewer, music band, fashion brand, tennis shoe manufacturer, or simply a friend).
Trendhunter.com says "Beer brands are increasingly embracing collaborations with fashion brands, music, and personal apparel to increase their appeal and allow their fans to proudly display their beer brand affiliations."
The point is… beer collaborations are going away behind just teaming up with a brewery across town. Let's explore how music and craft beers are coming together in unique ways.
Craft Beer and Music Hit a High Note
One of the trend setters in this category certainly is Dogfish Head Brewery. According to the Dogfish Head website, Sam Calagione conceived his Record Store Day concept back in 2007 at a gathering of independent record store owners. Record Store Day shares the culture with 1,400+ independently-owned record stores across the U.S. and thousands of similar stores internationally. With shared independent spirit, as well as a passion for all things music, Dogfish Head became the "Official Beer of Record Store Day."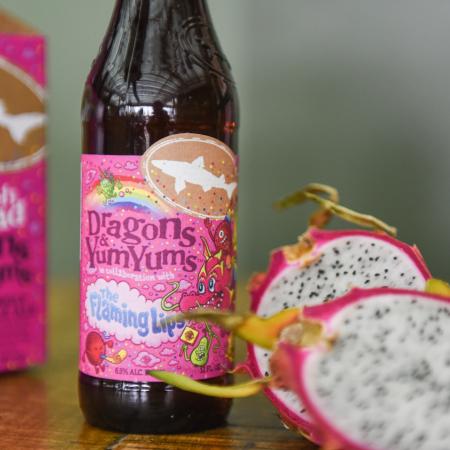 Dogfish Head also partnered with The Flaming Lips in April 2021 on a recipe and ingredient exchange that led to a beer and vinyl limited edition collaboration that is called "The Story of Yum Yum and Dragon." It features two original songs inspired by a new Dogfish Head Beer, Dragons & YumYums, a lip-smacking tart ale. Composed by Wayne Coyne, front man for The Flaming Lips, the lyrics pay tribute to the colorful array of off-centered ingredients in the beer– dragon fruit and yumberries. As part of the limited edition #7 launch, the two companies unleashed 100 pink translucent records filled with Dragons & YumYums beer just before Record Store Day, a first by any brewer or recording group. Finally, Dogfish Head also worked with Miles Davis on Bitches Brew, Robert Johnson on Hellhound On My Ale, Julianna Barwick on Rosabi, a strong pale ale with Simcoe and Centennial Hops, as well as Barwick's requested ingredient, wasabi.
Some collaborations between brewers and musicians are created solely by the participating brewery and feature little input from the musicians other than their stamp of approval and a quick publicity photo. Other collaborations are flimsy attempts by established artists to nab a quick buck. But others work directly with the brewmasters in the brewhouse to create unique and fascinating beers.
Some examples of this historic craft beer and music collaborations include:
Hanson Brothers Beer Company—Mmmhops Pale Ale—based on the 1997 smash hit Mmmbop. The Hanson Brothers, a trio of three brothers who branched out to form the Hanson Brothers Beer Company, brewed Mmmhops, a citrusy pale ale, in collaboration with Oklahoma City's Mustang Brewery.
Stone Brewing Company—Collective Distortion IPA. The collaboration "band" consisted of the Stone Brew Crew, led by Brewmaster Mitch Steele (who is the guitarist of Craigsband and Stone's house band, The Flocculators); hard rock guitarist Keri Kelli (who has played with the likes of Alice Cooper, Skid Row and Slash from Guns N' Roses); and keyboardist Kyle Hollingsworth of The String Cheese Incident. Together, back in 2014, they brewed an epic double IPA infused with elderberries and coriander and named their magnificent creation Collective Distortion IPA. Fans enjoyed the beer in 22-ounce bottles and on draft at select retailers, restaurants, and bars across the U.S.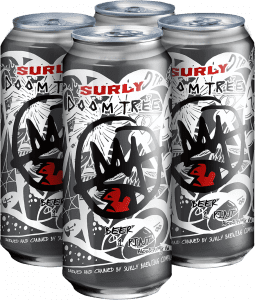 Surly Brewing Company— Doomtree is a highly regarded Minnesota hip hop collective; Surly Brewing Company is a popular brewery in Minneapolis. Since they share both a state and a passion for pushing the limits, they decided to release a collaboration beer. The group met at Surly's facilities to help brew an interesting hybrid between old and new styles – a very quaffable dry-hopped English bitter. After a few of these, there's no doubt that more beer and more rhymes will flow.
Flying Monkeys Craft Brewery—BNL Strong Beer. This beer is a collaborative effort between Flying Monkeys and Bare Naked Ladies "It's All Been Done" song. The beer itself was crafted as a very sweet imperial chocolate stout (11% ABV) brewed with cocoa nibs. Flying Monkeys also did City & Colour Imperial Maple Wheat Ale made with input from Canadian folk-rocker Dallas Green. This collaboration was centered on a major imported product from Canada to the U.S., maple syrup. This ingredient was the backbone of the Imperial Wheat clocking in at 11.5% ABV—perfect for staying warm in chilly Canadian provinces.
Now that you're singing a few new or perhaps even old tunes while grabbing your craft beer, we'll next explore how beer and fashion are making a statement today. Look for Part 2 of our Craft Beer Collaborations series.
---
Jon Reynolds is the founder of Brewplan, a strategic marketing advisor to craft brewers, craft distilleries, boutique wineries, and a Certified Instructor in the UVM Business of Craft Beer Professional Certificate Program. He writes about business trends, beer consumers, distributor issues, legislation that affects craft brewers, marketing tools, and strategic planning to improve brewery profits.
Views and opinions expressed herein are those of the author who has spent more than 40+ years in the beer, wine and spirits industry and are provided for informational purposes only. The information set forth reflects the author's opinion of current trends in the industry and should be researched further to make your own business conclusions.