By Kate Whitney
Christopher Wong, a current student in UVM's Post-Baccalaureate Premedical Program, was one of this year's recipients of the Hillman Scholarship for his ongoing dedication to community service and to the health profession.
As a 22-year-old American of Chinese ethnicity and born on the island of Taiwan, Wong refers to his background as one of "resilience," providing him with "the opportunity to observe different aspects of life from a unique perspective."
We recently spoke with Wong about his experience as an immigrant, the touching encounter that led him to pursue a career in medicine and "serve the underserved," and why he chose the University of Vermont to help him achieve his goals.
Tell us a bit about your background.
When I moved to the United States, my father had to stay behind in Taiwan to maintain his dental clinic. Being the only child and with my mother working, I had to find my own way to mature and excel in this new country. It is not easy being an American of immigrant background. But my life experiences and genuine relationships with different types of people have developed me into an adaptable person. I make do with whatever I am given, and I appreciate and respect all whom I encounter. Encountering people of such different backgrounds has also helped me understand the value of strong communication. Not only do I want to express my views, but most importantly, I want to learn from others. I am grateful that my family and my Catholic faith have instilled a strong sense of love and service in my personal background. I have learned to not fear placing myself in unfamiliar places. I love sharing and presenting my battered and soiled pair of boots, which have taken me to several different countries. With my parents' love, multicultural upbringing, and personal resilience, I have formed a personal outlook that has pushed me to grow further, to engage intentionally in my university and my community, and to pursue my life goals in medicine.
What did you study as an undergrad? What were your post-graduation plans?
I graduated from Tulane University with a BS in psychology and sociology. I have always had an interest in healthcare, especially in mental health. My post-graduation plan was to find a career in either behavioral and mental healthcare or policy work. During my time in New Orleans, I often worked with people of lower socioeconomic backgrounds. Due to the dearth of stable occupations and frequent crimes, mental health has taken its toll on the locals. I wanted to find a job that could allow me to make an impact on marginalized communities and help improve their quality of life. Meanwhile, I also took a very strong and active interest in medical research. I often pushed myself to do and learn something out of my comfort zone; this habit proved to be quite useful when I helped conduct physiology research at Tulane University School of Medicine. I remember when I was in my research department I was recognized as a unicorn since I was not of the hard sciences background, yet I was able to conduct medical research and orally present at medical research conferences. My experience in medical research allowed me to appreciate the value of sound research.
Why did you decide to pursue Post-Bacc Premed? What prompted the change in plans?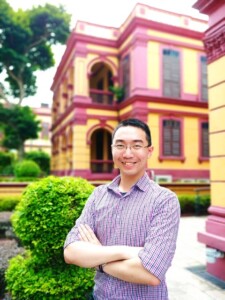 I discovered my passion for medicine in the rural mountains of Central America. I was there as a volunteer missionary and I distinctly remember a small encounter with a boy approximately eight years of age. After a heated football (soccer) match, the young boy approached me with a cut on his leg. As I was cleaning his wound, I tried to converse with him. He replied in words that I have not heard of before. A villager noticed my linguistic confusion and said while laughing, "Chris, he's deaf! But you've made him smile!" From what the villagers have described, this young boy had difficulty making friends due to his condition. I realized that my intentional effort to form a bond with him was more meaningful for him than simply treating his cut. This little story made a lasting impact for me. Before, I wanted to work in a position that could allow me to improve healthcare and the people's wellbeing via policy. But I realized more that I desire to have that human connection in healthcare. For me, medicine starts with caring for the heart, to let each patient you encounter know that you are standing there with them and fighting together. Though not discounting the efforts of policymakers, it is truly a humbling experience to be able to walk with your patients and support them wherever they go.
Why UVM? What about UVM's Post-Bacc Premedical program was the most appealing?
I chose UVM because of its close relationship with the teaching hospital and medical school. Through UVM, I had the chance to interact with physicians and volunteer in the hospital. It was vital for me to see and understand compassionate medicine in action. This post-baccalaureate program has provided me the opportunity to see my pre-med journey beyond just the classroom. Most importantly, professors at UVM are very accessible outside of lecture hours and are eager to assist students when necessary.
What are your plans after UVM? Where do you see yourself 15 years from now?
After my time at UVM, I hope to enter medical school and become a physician. Although I do not have a set specialty at the moment, I do hope to be a part of an educational institution. I find great joy in teaching and in 15 years, I do hope to split my time between the hospital and the classroom. I believe in the power of mentoring and supporting future generations of physicians and healthcare workers. This ensures the improvement of not only medical knowledge, but patient experience as well. I do not want my experience to simply stay in my memory; but I want my knowledge to be taken apart by colleagues and students to be used for the future.
What has been the most challenging and rewarding parts of this journey towards a career in healthcare?
In my opinion, the most challenging part of entering a career in healthcare is the rapidly changing environment. New research is always being published with new protocols being established. Especially with the novel COVID-19 outbreak on my mind, knowing that there can be a time where I could face something unknown can seem challenging. However, this challenging aspect is relieved after observing how collaborative the healthcare profession is. It is also very rewarding for me to see how much I can empower patients in the future. Medical treatment is not just about executing procedures, but it is also about educating the public about health and wellness.
Are you hoping to see yourself in a career in medicine like Christopher?