Tom Perry never planned on becoming a cheese industry professional. "Most people who have a career in cheese end up here by accident," Perry says. "And that's definitely what happened to me."
Perry is Shelburne Farm's cheese sales manager and UVM's Artisan Cheese & Sensory Fundamentals Professional Certificate instructor. UVM's artisan cheese course is for cheese enthusiasts, cheesemongers, restaurant staff, food systems professionals, and aspiring cheesemakers.
From DeadHead to Cheese Sales Manager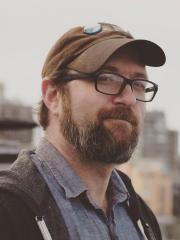 Perry is an inspiring example for anyone worried their career path is untraditional. After high school, he bypassed college and followed the Grateful Dead instead. After working as a dishwasher and beer line operator, Perry eventually became a graphic designer. Later, he enrolled in culinary education courses in Cambridge, Mass., which included guest speakers Ana Sortun and Ihsan Gurdal, two giants in Boston's restaurant scene.
Cheese became central to Perry's life in 2006. He worked as a catering manager at Gurdal's world-famous Formaggio Kitchen in Cambridge, Mass., where Perry says he became "hyper-exposed" to cheese. Afterward, at the former Farmstead in Providence, R.I., Perry acquired the bulk of his understanding and appreciation of cheese as senior cheesemonger, domestic cheese buyer, and lead educator.
Later, Perry became head of cheese and specialty foods at a small grocery store chain in Chicago's Gold Coast neighborhood, where he built and expanded the artisan cheese selection. While there, he received the Daphne Zepos Teaching Award, which allowed him to travel to Europe to learn about native bacterial cultures used in cheesemaking. "I love talking about cheese. If there's an audience willing to listen to me talk about it, then I'm all for it."
At Shelburne Farms, Perry's primary role as sales manager is to build and maintain relationships with distribution partners and large wholesale customers around the country.
Teaching at UVM allows Perry to teach students how to develop more in-depth knowledge about cheese—from bacterial cultures to the aging process to the evolution of a cheese rind.
"Getting through the mystery of cheese is the main goal," he says. "It's amazing how many a-ha moments you're able to inspire with the curricula."
Students in UVM's online, four-week program include food industry professionals, farmers, and individuals considering a career change or passionate about cheese. The course also focuses on the sensory evaluation of cheese, including smell, taste, and texture.
"If you want to satisfy the curiosity you have about cheese, this is where you would come to scratch that itch," Perry says of the UVM certificate. "And—it doesn't matter if you are a professional in the culinary field or agriculture—if you have the questions, we have the experience and the knowledge to help you answer those questions."
Students in the UVM Artisan Cheese Certificate program will:
Learn how to conduct sensory evaluations for different types of cheese
Learn different categories of cheese, rind development, and aging
Explore various career pathways in the cheese industry
Build knowledge around types of cheeses and the foundations of cheese
"Cheese is an amazing thing. Cheese is the closest thing to magic that I see on a daily basis," Perry says. "You're taking a raw material in one state and converting it to another within a few hours. And after several months or several years, you're getting a whole different product. It's really a way for you to understand the magic."