Creating meaningful conversation, connection, and community are at the heart of the UVM's online public health program.
Online learning has been part of UVM's award-winning and CEPH accredited UVM Master of Public Health Program program since its inception in 2014. Long before the pandemic hit, the 42-credit program explored new and innovative ways to engage students online successfully.
Assistant Professor Vicki Hart, who teaches in the  program, says social learning platforms such as the Yellowdig online discussion tool have helped students and faculty find ways to interact effectively, especially during the pandemic.
"Online learning can be an isolating experience," she says.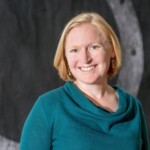 Hart and other faculty began using Yellowdig in 2018 to connect students in online conversations and allow the opportunity for more in-depth conversations around the course topics.
"It's creating a much more conversational discussion, and students are collaborating with each other," Hart says. "It's more of a community than the static discussions that I saw before, especially in quantitative classes—there's only so much you can say in a discussion about probability theory. It just doesn't make for long conversations. Yellowdig allows students to relate the concepts to their experience, share related material, and work through problems together."
Read about Dr. Hart's use of Yellowdig in a new Connect Like Never Before e-book.
Establishing Connection and Creating a Positive Learning Experience
Hart earned her master's degree in biostatistics from UVM in 2010 and her doctorate in epidemiology and biostatistics from the University of Massachusetts in 2014. Before joining the public health program, she was a consultant who helped health care organizations, non-profits, and small businesses with study design and data analysis.
Since becoming a full-time UVM faculty member in 2019, Hart says she's enjoyed learning about modern approaches to online education.
"I've enjoyed learning about the science of education and how to incorporate that into our courses to make them more innovative, engaging, and a good learning experience for our students," Hart says. "I'm super excited to be at the forefront of the online education wave."
When it comes to teaching quantitative courses online, Hart says that there isn't much guidance on best practices. However, the pandemic accelerated the learning curve for online education, and educators are finding out first-hand what works and what doesn't.
In the online MPH program, Hart says faculty are establishing more connection with students by creating and incorporating more video content in the coursework. Peer learning and peer teaching are also methods that Hart is finding successful in her quantitative courses, adding that the best way to learn something is to teach it.
Finding innovative ways to teach and connect with students during a pandemic has been rewarding for Hart. Teaching and learning about public health during COVID-19 is an eye-opening experience, she says.
"It's certainly the first time in my career when I talk about epidemiology and being an epidemiologist, and people know exactly what that is," she says. "Students are also learning through this amazing time where they see public health happen in real-time. For them, it can be equal parts exciting and intimidating."