Vicki Anderson, a licensed clinical psychologist from Newbury, New Hampshire, wants to take a deeper dive into the mental health benefits of cannabis.
Anderson completed in UVM's Cannabis Science and Medicine Professional Certificate last year. She returned to UVM in 2020 for the UVM Cannabis Plant Biology Professional Certificate, an eight-week online program that covers cannabis chemicals, genetics, agricultural best practices, post-harvest handling, processing, and more.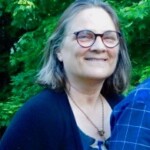 Anderson is looking to explore the effectiveness of Cannabidiol (CBD) and cannabidiolic acid (CBDA) with clients who experience anxiety, depression, and possibly psychosis. She is working on a proposed research study titled, "Evaluating the Effectiveness of Cannabidiol and Cannabidiolic Acid Tinctures as New Treatment Options for Psychiatric Conditions."
"At UVM, I learned that different states have different regulations, and that nothing is consistent. The testing that needs to be done varies by state to make sure a cannabis product is usable," she says. "I wanted to learn more about what goes into the growing and planting of cannabis. And my main purpose of all this is what I call an herbal first aid kid for mental health clients."
An Online Cannabis Certificate Dedicated to Evidence-Based Research
The Cannabis Plant Biology Certificate, which focuses on evidence-based research, is taught by Monique McHenry, PhD, a botanist with a background in plant diversity and evolution. McHenry is also the program director of the Cannabis Science and Medicine program at the UVM Larner College of Medicine—the first in the nation.
The online cannabis certificate covers cannabis basics, such as law, policy, and business, and dives deeper into the science on topics such as plant chemicals, plant taxonomy, plant genetics, and agriculture (including post-harvest handling and bio-botanical extraction). It also devotes a week to discussing how cannabis affects the human body, educating participants on basic pharmacological principles, and how different modes of administration of cannabis products can affect the human body in different ways.
"For anyone who is thinking about learning about cannabis or professionals who are working with people with cannabis, we need to educate ourselves and our patients," Anderson says. "The program helped me educate other people about what to look for when considering their options for cannabis."
As a result of completing the Cannabis Plant Biology Certificate, Anderson says she has been able to help her clients in new ways.  She says clients who have medical cannabis cards typically have very few educational resources available to them.  Often patients end up using a trial-and-error approach as few medical professionals have the knowledge to help their patients with medical cannabis. Meanwhile, those who work in the cannabis dispensaries are not trained or allowed to make recommendations about dosing.
"By having an understanding of Cannabis Sativa plant biology, including phytocannabinoids and the factors that influence phytocannaboinoids, as well as terpenes, I can educate patients about medical cannabis," she says. "UVM helped me educate myself so I'm more knowledgeable when I'm helping people."