Baby Boomers rallied for peace, marched for equal rights, and kicked off the exercise craze of the 1980s. Now, as they enter their retirement years, Baby Boomers are embracing the practice of writing legacy letters.
What exactly is a legacy letter? A legacy letter shares life lessons, values, wisdom, and wishes for future generations.
Jay Sherwin, the founder of the Life Reflections Project in Portland, Maine, teaches a two-part online course, "Writing a Legacy Letter" through the Osher Lifelong Learning Institute (OLLI) at UVM. The OLLI program offers affordable, non-credit learning opportunities to people 50 and older.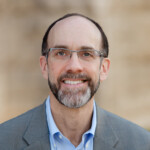 "A legacy letter is a document that anyone can write and share with their family and friends," Sherwin says. "This letter expresses your values, shares your life lessons, and offers blessings and guidance to your children, grandchildren, and loved ones. It's a personal document and not a will. But in many ways, it's a gift."
Legacy letters trace back to the ancient concept of ethical wills to pass on words of wisdom to future generations. Originally an oral tradition, ethical wills have been used for centuries. In the 11th century, ethical wills began to be written down, and some still exist in archives, according to experts.
Today, ethical wills are non-binding documents. Increasingly, legacy letters are viewed as an essential piece of an individual's legacy as the letters convey a person's deep inner values and beliefs.
"It certainly feels like there's a growing interest in this idea of legacy letters," Sherwin says. "I think we've reached a moment in time where we can really appreciate the concept. Also, as the Baby Boomer generation ages into their 60s and 70s, you see more interest in legacy letters. This is a generation that is self-reflective, and they are reaching a point where they want to see what their life adds up to."
A Legacy Letter from the Heart
In the OLLI course, Sherwin shares a basic structure of how a legacy letter should be formatted. He encourages participants to share stories in their letters about defining moments and reflect upon what values those stories represent.
"Everyone's letter is unique and should be written from the heart," he says. "What are you proud of, what are you grateful for, and maybe even what is something you regret? The key is to tell stories about yourself and to use those as a way to teach lessons."
Sherwin's long and varied career has included working as a lawyer, philanthropist, writer, consultant, and hospital chaplain. He also completed the UVM End-of-Life Doula Professional Certificate Program to learn more about the process of death, dying, and grief.
"It's never too early to write a legacy letter, but most people who write them are older, when they have important life lessons they want to share," Sherwin says. "At the same time, I always try to separate legacy letter writing from end-of-life activities. Ideally, you should draft a legacy letter when you can be reflective about your own life but before you see the end of your life in sight."
Sherwin launched the Life Reflections Project earlier this year to offer classes, workshops, and other public presentations to educate audiences about legacy writing. He began teaching for UVM's OLLI program over the summer.
"With the world shutting down, it was crushing at first to think that I might not be able to teach. And then I realized that Zoom is the best thing to happen to me," he says. "Teaching legacy letter writing online has been wonderful."