By Jon Reynolds
There is a sober curious movement happening across America and craft brews are jumping in. This is being led by some of the largest alcoholic companies in the world getting into non-alcoholic (NA) beverages, including Diageo-Guinness-Seedlip, Anheuser-Busch-Beck's-Leffe-Castle, Heineken, Carlsberg, Asahi-CUB, Suntory, Ceria, Sutter Home, and more. New entries by Craft Brewers include BrewDog, Brooklyn, Athletic, Surreal, Partake, Sierra Nevada-Sufferfest, Sam Adams-Dogfish Head, and more.
These types of non-alcoholic beverages are accelerating, caused by numerous factors that include:
Health & Wellness—during COVID, this has become top-of-mind as consumers believe drinking too much alcohol can weaken the immune system.
Younger consumers are driving the shift—Millennials drink less alcohol than Gen X, and Gen Zer's drink less alcohol than Millennials.
Direct-to-consumer marketing and e-commerce has created "buzz" for NA beverages and many limited release products sell out within 30 minutes online.
Many sober bars are popping up and pouring more "mocktails." One example is Brooklyn's Getaway Bar and Sans Bar in Austin, TX where, even during the pandemic, they continued to pour $10-$15 high quality non-alcoholic cocktails.
Sober influencers are all over social media spreading their booze-free messages and mantras.  This sober curious movement even has its own month dedicated to non-alcoholic beverages and call it "Dry January."   
Creative Marketing Helps to Expand NA Beverages
Some other key players like the Australian brand Lyre's Non-Alcoholic Spirits company hired global brand ambassadors to educate bartenders and members of the retail trade, on their deep product line of rum, bourbon and gin. Instead of furloughing these new ambassadors, instead they made them "virtual mixologists" who use a 15-minute cocktail-making lesson via Zoom to help them create quality cocktails at home. Others like Giesen Estate Sauvignon Blanc (NA) employed a direct-to-consumer marketing effort where every online order includes a recipe book with mocktails and mixer ideas for each customer.
The Anheuser-Busch/INBEV Company has launched 12 new no/low alcohols over the last year, bringing their total NA portfolio to 76 brands in this category. Following Heineken 0.0 and Carlsberg 0.0/Carlsberg Nordic/Baltika 0/Munkholm brand launches, Budweiser launched Budwesier Prohibition, Hoegaarden 0.0, Jupiler 0,0%, Castle Free, Carlton Zero Aguila Zero, and Leffe Blonde in various European and South American countries since 2012.
According to Beveragedaily.com, no and low alcohol beers (3.5% ABV and below) currently make up 8% of Anheuser-Busch INBEV's portfolio, and the mega beer giant plans to reach 20% by 2025. This goal of 20% has already been reached in six of the markets they sell in: Australia, China, Ecuador, Columbia, Panama, and Honduras. ₁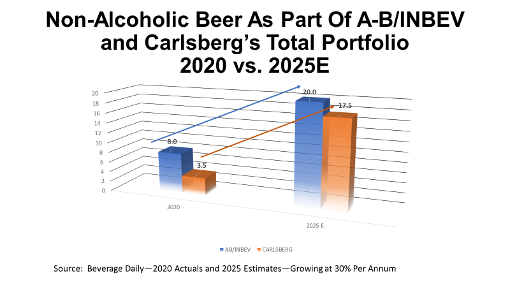 There are three benefits realized from selling these brands as part of the total brand portfolio:
Brand recall—since the names of the mother brand are part of the no/low alcohol entry this creates stronger brand recognition overall.
Reinforces the consumer trends of moderation, health and wellness around the world.
These non-alcoholic brands command a premium price point, and the margins are typically higher, since excise taxes tend to be lower on non-alcohol beverages.
Drinking Habits are Changing
YPulse's Sobriety Shift research found that a change in perception around drinking is one of the reasons the Millennials are changing their habits: 82% of respondents say "it's not cool to drink too much," and even among those who do drink, 34% say they are trying to drink less.
Dry January is a major symbol of this attitude, as participants abstain from alcohol for the month to start the year off right, counteract overindulgence during the holidays, or prove they don't need to drink. (Note: the author has a 27-year-old daughter and son-in-law who participate in the Dry January consumer movement.)
Forbes Magazine reports that Dry January is genuinely impacting alcohol sales—with alcohol delivery app Drzly saying that their "data clearly pointed to Dry January being a genuine event," with Millennials more likely to participate that older generations. ₂
Is the sobriety-experimentation turning from fad to a full-blown trend? In 2020, YPulse asked 21+ Millennials who participated in a 2020 Dry January, if they planned to participate in 2021. 38% of 21+ Millennials said "Yes."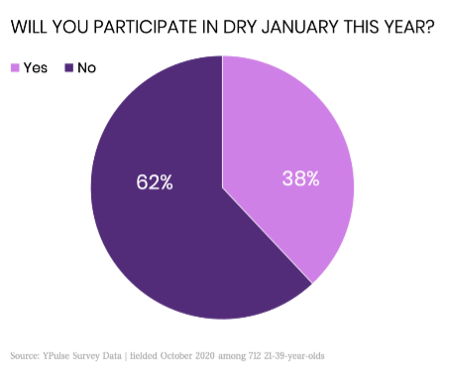 YPulse findings show that both males and females were equally likely to participate, and young consumers across the U.S. are participating at near equal levels. Two alcohol brands that created targeted marketing campaigns were:
Miller64—they started a "Dry-ish January" campaign to win over "sober-curious" Millennials by spotlighting Miller64—with its low-calorie and low alcohol count—as the perfect choice for those who don't want to "completely" abstain from alcohol for the month—Miller64 has 3.8% ABV, 64 calories and 2.4 grams of carbs.
Heineken—they released a "January Dry Pack" of their alcohol-free Heineken 0.0, essentially an advent-calendar package with a booze-free beer for every day of January.
Athletic Brewing—Nonalcoholic beer maker Athletic Brewing has raised a $50 million Series C funding round led by Alliance Consumer Growth and existing investor TRB Advisors. This brings Athletic's total funding to $70 million, CEO Bill Shufelt told Food Dive. It will use the funding to construct its third brewery, a manufacturing facility in Connecticut, to support East Coast expansion.
YPulse also broke down their findings by age group last year—the 21-24 year olds were actually the most likely to report participating in Dry January—which is surprising to many who would assume the younger group are more likely to drink, or that Dry January is the result of Millennials' getting older—see the chart below:
The popularity of temporary sobriety among younger drinkers could be a challenge for the industry. Dry January is just a piece of this trend. MarketWatch reports that Sober October is another sober celebration for alcohol producers to keep your eye on. KUL Mocktails, non-alcoholic cocktails, are launched in Wisconsin last March, anchoring on their Sober October message. In addition, Keith Villa, Co-founder and brewmaster at Ceria Brewing Company, launched his CBD line of NA beverages last Summer, and then wrote a great article in the March/April, 2020 of The New Brewer Magazine on the "Methods for Brewing NA Beer"—be sure to check it out.
Of course, this generation has not stopped drinking completely: 43% of 21-37 year olds tell YPulse they are drinking daily or weekly and 24% monthly, and they're spending an average of $87 on alcohol every week. But as they continue to experiment with cutting back on consumption, we'll continue to see new campaigns and new products such as those shown below emerge early in 2021.
Alcoholic beverage consumption in moderation, has found, through numerous studies over the years, to be healthy. Alcohol consumption after the New Year is upon us is personal choice. After a tough 2020, my personal choice is to have an alcoholic beverage to celebrate 2021. According to FoodBev.com, the statistics and trends show that non-/low alcoholic ("no/lo") beverages are growing at +32.5% per year, and distributors, off-premise and on-premise retailers should pay attention and offer more of them in the coming years.
Keep a close eye on the Sober Curious movement.
---
Jon Reynolds is the founder of Brewplan, a strategic marketing advisor to craft brewers, craft distilleries, boutique wineries, and a Certified Instructor in the UVM Business of Craft Beer Professional Certificate Program. He writes about business trends, beer consumers, distributor issues, legislation that affects craft brewers, marketing tools, and strategic planning to improve brewery profits.
Views and opinions expressed herein are those of the author who has spent more than 40+ years in the beer, wine and spirits industry and are provided for informational purposes only. The information set forth reflects the author's opinion of current trends in the industry and should be researched further to make your own business conclusions.