"The key to all these recommendations is to be fully vaccinated." Dr. Carney
Taking a vacation this sounds incredibly appealing. Americans are eager to pull out their suitcases and get back on the road or into the skies. According to a recent study by The Harris Poll 77% of Americans are planning to travel this summer. But with vaccinations still rolling out across the country, how do you prepare for a summer vacation and remain safe? The University of Vermont Larner College of Medicine's Jan Carney, MD, MPH, shared her advice on how to travel safely.
Dr. Jan Carney on Travel: Get Vaccinated First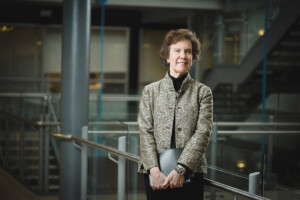 As COVID-19 cases fall and more people are getting their vaccines, people are eager to travel this summer. Here's how I think about travel: The most important factor in considering travel is whether you are fully vaccinated. The second factor is whether you are traveling within or outside the United States.
Here's the good news for US travel: within the U.S. or U.S. territory, if you are fully vaccinated you don't need a COVID-19 test before or after domestic travel unless required by local, state, or territorial health authorities. Also, you don't need to self-quarantine after you return. 
The key to all of these recommendation is to be fully vaccinated. (See Domestic Travel During COVID-19 | CDC) This means waiting two weeks after completing vaccination with FDA authorized vaccines, specifically 2 weeks after the second dose in a 2-dose series, such as the Pfizer or Moderna vaccines, or 2 weeks after a single-dose vaccine, such as Johnson & Johnson's Janssen vaccine. This gives enough time to make sure the vaccine is helping protect you against COVID-19. CDC recommends delaying travel until you are fully vaccinated.
Current public health recommendations suggest that fully vaccinated travelers wear masks, avoid crowds, use good hand hygiene, and stay aware of new illness symptoms after you reach your destination. As of writing this, in the U.S., masks are still required on public transportation, including planes, trains, and buses, and in airports and train stations, as examples.  Here is a simple chart to illustrate requirements for travel within the United States from the CDC.
Traveling by Plane, Train or Car
If you are traveling on public transportation under current safety precautions masks are required including children age 2 and older. This includes planes, ships, ferries, trains, subways, busses, taxis, as well as airports, bus terminals and train or subway stations. The U.S. Department of Transportation has an easy-to-follow guide about travel and what you can expect at the airport.
If you choose to go by train, you will see the same requirements as for all public transportation. I suggest that whatever public transportation you take, be prepared by bringing extra masks and hand sanitizer.
It may be possible that most Americans may choose to jump in the car for a road trip, therefore with CDC's recent guidance on relaxing mask requirements for fully-vaccinated people, you may see different requirements (or none) depending where you are going. (See When You've Been Fully Vaccinated | CDC)  Use common sense here. Make sure you are full-vaccinated, then remember good hand hygiene, and follow any local requirements. Here's a travel planner to check local requirements within the United States COVID-19 Travel Planner | CDC.
Travel Guidance for Outside of the U.S.
If you are planning a trip outside of the United States, that's where it gets more complicated. There are differences between domestic and international travel, with more requirements if traveling outside the United States. For travel outside the United States, the U.S. State Department has a webpage where people can search for information about their destination: Country Information (state.gov)  Similarly, CDC has also published COVID19 Travel Recommendations by Destination (See COVID-19 Travel Recommendations by Destination | CDC ) to help people understand levels of risk in different countries.
Travelers into the U.S. have more requirements including proof of negative COVID-19 test, requirements in effect since January 2021. (See Requirement for Proof of Negative COVID-19 Test or Recovery from COVID-19 for All Air Passengers Arriving in the United States | CDC)
Best Advice for Travel
First, get vaccinated. This is the step that gives you the freedom to travel. People who are fully vaccinated are well protected, as vaccines have been shown to be highly effective in "real-world" settings. If you aren't fully vaccinated yet, it is safest to delay your travel until you are.
Second, know the requirements of where you are going. It is different for traveling within the United State than for international travel. Use trusted websites for information. Check requirements frequently, as they are changing. Keep your hand sanitizer handy, as well as extra masks with you when you travel. Local requirements vary in the U.S. in different states and in different local settings and businesses. Be prepared! If you have questions about your own health or any family health conditions, check with your own health care professional.
My simple message is to get vaccinated if you can, be prepared, and know risks for the places where you are traveling. Wear masks and use good hand hygiene when you go. Kids under 12 years old cannot yet be vaccinated, so it is essential for parents to consider COVID-19 risks before traveling. If you are not yet vaccinated, here is a link to help you and your family find a vaccine to get your summer off to a great start!
For additional travel advice, Dr. Carney was featured in a recent article, Do I Need A Covid Test to Travel And Other Summer Travel Questions, on Forbes.com.
More summer travel tips for families from Dr. Carney in NYMetro Parents Family Fun Guide.