As stay-at-home orders are lifted in Vermont and elsewhere, families are grappling with questions about sending their children to daycare, camps, and school.
A panel of mental health experts from the University of Vermont and UVM Medical Center recently participated in a webinar titled, "Caring for Children's Mental Health as America Reopens." The webinar offered guidance for how parents can support their children's mental health as states reopen and changes take place.
Over the past three months, schools abruptly closed, school sports were canceled, and everyday routines were disrupted.  For children, it added up to a significant loss. They've been missing playdates, teammates, as well as teachers, child care providers, relatives, and friends.
"Children are always learning from us from the way we manage situations. Our children need safety and a sense of security," says Larry Shelton, Ph.D., associate professor of human development and family studies at UVM. "They need guidance and support for what is going on, and they need empathy and someone to care about what they are experiencing."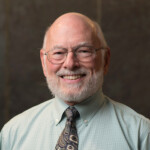 As a developmental psychologist, Shelton approaches the challenges families are facing from an ecological and developmental perspective. He explains that children and adults are always developing, and development always takes place in an ecosystem.
"We adapt to changes in our ecosystem, including learning about new settings that we enter and gradually becoming comfortable in them," he says. "This is what we're doing all the time."
Shelton says parents can support their children's development and mental health by helping them:
Explore and understand the ecosystem
Learn the skills needed to be competent
Manage emotions
Adapt to change and feel secure
"When we feel anxious, we either try to change the environment to protect ourselves or get out of the situation," he says. "Mental health means being able to adapt to changes and learn to be comfortable in our environment."
Supporting Children's Mental Health Returning to Daycare, Camps, and School
To help ease the transition, Shelton advises parents to:
Educate themselves about what's to come and how to stay safe in each setting they are likely to re-enter.
Think about their child's personality and ability to understand and cope with change.
Prepare and plan.
Discuss new settings with their child and practice new behaviors needed.
Monitor their child's sense of security and comfort.
Go slowly. Monitor their own discomfort level and emotions.
Allow time to adapt to each change before making another.
Shelton says before a child goes to camp, daycare, or back to school in the fall, parents should talk with their children about the potential changes. He suggests practicing putting on masks, washing hands, and discussing how to respond to different scenarios.
"We can discuss what we'll do if something makes us uncomfortable—a person we don't know getting too close, getting teased for wearing a mask, or being invited to play with a group of children whose health we don't know," he says. "As parents, this teaches our children to be aware of their surroundings and their actions. To set boundaries for themselves and others, and to express their feelings."