Staying in on a Friday night is about to get a lot more fun thanks to a new VT Brew Talk and Tasting craft beer virtual event.
Kicking off on Friday, April 24th at 7:00 PM is 14th Star Brewing Company with Director of Brewing Operations Prescott Stanton. UVM's Business of Craft Beer Program Director Gregory Dunkling will discuss with Prescott the tasting profile and backstory behind four of their popular beers.
In advance, fans of 14th Star Brewing Company can purchase Wingman Golden Lager, Raspberry Vermonter Weiss (awarded a Bronze Medal in the 2019 Great American Beer Festival®), Maple Breakfast Stout, and Dive Bomb Hazy Pale Ale. More information can be found about these brews and the rest of their line up online.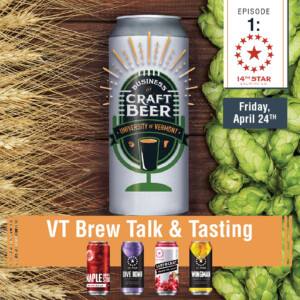 Taste and Learn to Help Support the Craft Beer Industry
When restaurants, bars and taprooms were ordered to close due to the Coronavirus pandemic, many Vermont breweries started offering curbside pickup to help generate sales. Fans of Vermont craft beers can find curbside pickup locations at a large number of local breweries. Farrell Distributing has a handy beverage locator to be able to find breweries close to home in Vermont and breweries list their pickup hours on their websites. In most cases, orders can be placed online and then picked up during designated hours. Retail locations all across New England and New York carry a wide variety of Vermont craft beers, so with a little planning ahead, it should be easy to join in the tasting fun.
"VT Brew Talk and Tasting was created to help promote sales for Vermont breweries and for fans to show their support – while also enjoying a beer after a long week juggling this new 'normal' of staying at home, managing family and work," said UVM's Gregory Dunkling.
About UVM's Business of Craft Beer Program – UVM's fully online Business of Craft Beer Professional Certificate program is a business school for brewery start-ups. The 8-week program offers industry knowledge in brewery finance, beer sales, social media promotion, marketing, branding, operations, and distribution.