For Cheri Rigby, to grieve is to grow.
When Rigby lost her father, brother, and mother over nine years, she felt consumed by grief. After her mother died, she enrolled in the UVM End-of-Life Doula Professional Certificate Program in 2018.
"When I started the end-of-life doula program, it was very much for my personal need to heal," she says. "It turned out, ironically, to also be the biggest time of growth for me. Grieving is growth if you allow it to be."
The eight-week online end-of-life doula training program, developed by the UVM Larner College of Medicine, in partnership with Cabot Creamery Cooperative, helps caregivers meet the growing demand for end-of-life support. Rigby, a registered nurse who lives in Providence, Rhode Island, has always wanted to work with the dying. Fifteen years ago, she was raising her three children and working part-time as a caterer. Rigby's life changed dramatically when her best friend's young daughter choked to death.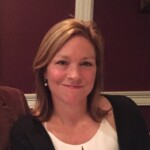 Rigby says the experience did the opposite of scaring her away from death—it opened her eyes and drew her in. It was then she decided to pursue her lifelong dream of becoming a nurse.
"It gave me a huge feeling— like a deep well of compassion that I didn't know I had," she says. "It gave me confidence where it may have caused others to feel fear. It made me feel calm and confident and led me to a path that I might not otherwise have found."
Being in the throes of grief with her best friend was a spiritual experience. "It was like an opening of my heart, and it was profound," she says.
Rigby, a registered nurse for a local VNA and hospice center in Rhode Island, was recently hired as an academic coach for the End-of-Life Doula program. In this role, she helps to facilitate, review, and grade participants' work.
Topics in the UVM End of Life Doula Training Program Include:
Understanding the patient experience
Appropriate professional and personal boundaries
Supportive interventions
Religious/cultural beliefs and practices
Preparing for loss
"Everyone can benefit from this program because everyone is going to deal with death at some point in their lifetime," she says. "The course itself is a journey from within and opens your heart."
Curious about Grief and Learning to Talk about Death
A year after her mother died, Rigby came to UVM to learn everything she could about the role of an end-of-life doula. That included how to support the stages of grief and mourning and ways to engage in meaningful conversations about death and dying.
"While I had a personal need to understand my own grief, I was also curious about grief," she says. "As a nurse, I was interested in hospice and palliative care, which were at the forefront of my learning and curiosity. I was attracted to this course from all angles."
The UVM doula program taught Rigby the importance of creating comfort at the end of life and helping patients and families cultivate inner peace—and how to talk about death.
"When you're around someone after a catastrophic car accident or someone with late-stage cancer, people don't want to discuss it," she says. "It's amazing how brilliant we are at avoiding discussing death. But it robs us of so much meaning in our lives to not have those conversations."
Rigby had previously worked as a visiting nurse in palliative care. The experience left her feeling disillusioned as her visits were short on time and conversation but long on paperwork for insurance and Medicare.
"You couldn't answer all questions for Medicare and insurance and be present with the patient in an engaging, authentic, and human way," she says. "It left me feeling this void. I wasn't feeling good because I couldn't connect with patients the way I wanted. And it set me up for some pretty serious nurse burnout."
The experience drove her to find other ways to connect and care for people holistically.
"The UVM program fulfilled that because it's not all about rushing, but rather about being still, being present, and holding space," she says. "As a society, we forget how to be still."