In an ever-evolving craft beer industry, staying ahead requires innovative growth and finance strategies. The seasoned faculty in our Business of Craft Beer program know the challenges and what it takes to succeed in the craft beer game.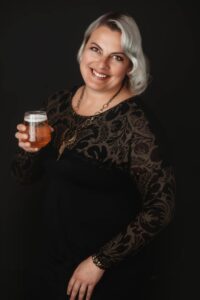 Meet Audra Gaiziunas, M.B.A., one of our highly accomplished instructors in the Business of Craft Beer Finance and Accounting course at UVM. She is the owner of Brewed For Her Ledger, a management consultancy firm specializing in strategic financial and accounting guidance for the craft alcohol community. Gaizunas brings over 20 years of senior leadership experience to her role teaching position in the Business of Craft Beer program.
In our interview with Gaizunas, she shares her insights on growth and finance strategies that can help craft brewers stay ahead in an ever-evolving market. Read on to discover how brewers can best position themselves in the coming years, and the key knowledge every brewer needs to know to be successful.
What key strategies do craft brewers need to implement to stay on the plus side of the growth equation?
AG: There are three key strategies for growth:
1. Extract your brewery's financial and operational key performance indicators. Calculate them weekly or monthly and communicate them regularly with your leadership team. Digesting and working through issues by hitting or missing key data points is much easier than reviewing the entire set of financial statements.
2. Elevate your own and your team's financial literacy. Periodically review your general and production overhead rates. Forecast overhead for the future to understand your breakeven range and keep a 12-month rolling forecast from the Profit and Loss (P&L) and cash flow perspectives.
3. Integrate and streamline your data repositories: your inventory management systems, financial management systems, and POS systems. You'll spend much less time devising workaround solutions and more time on value-added activities, such as selling or refining the customer experience.
Do you see more craft beer failures than new openings in 2023? What are the critical success factors?
AG: In previous years, too many brewers were opening in the larger craft beer markets and dependent upon distribution. Some markets are now over-saturated. PPP funds and low-interest business loans issued during the Pandemic have caused some brewers — who now have to repay these loans with variable interest rates — to run out of cash.
The most crucial step in preventing this is to use your financial tools (P&L, Cash Flow Statement, Balance Sheet, and sales forecast to your advantage). Build a 12-36 month cash flow statement considering every expense detail. Know where your cash stands every week so you don't fall onto the failure side of the craft beer ledger.
What do you see as the answer for craft brewing's continued growth in the future—innovation or consolidation?
AG: Innovation! Yes, mergers and acquisitions are becoming the norm in craft beer. But craft brewers today are also evolving, transforming into "total beverage companies" with launches of RTD products, craft spirit cocktails, wine-based products, flavored malt beverages, hop waters, and non-alcoholic beverages. Brewers now spend more time refining the customer experience in the taproom and online. Breweries are also striving to become more sustainable, hiring more often with diversity in women and people of color in mind.
Where are taprooms making gains, and why?
AG: Taprooms are still the fastest-growing segment of the business, with +9% growth in 2022 and 3,838 now open in the U.S. Several new business models are emerging. Hi-Wire, out of Asheville, N.C., is opening its 11th taproom in Nashville, Tenn.; Monday Night Brewing Company, out of Atlanta, GA, is extending its 5th taproom in Charlotte, N.C.
Economics needs to play a significant role in keeping your taproom profitable. Don't go in under-capitalized. Define your operating costs and target markets. Create your product profiles to match up with the target audiences. Continue to build around the local needs and develop collaborations with neighboring craft brewers to capture new drinkers.
Costs increased for craft brewers last year. Can consumers absorb another potential price increase in 2023?
AG: Brewers must review their recipe costs and develop a pricing strategy based on forecasted margin per barrel and hops, barley and packaging cost hikes. Creating a new double-IPA is way more costly than a rice lager. Look at each product and SKU as its cost center and develop your price increases selectively across the line. Take them where your margin per barrel is suffering, and hold them where it is already covered.
What do craft brewers need to do the most to improve their finances?
AG: Brewers should develop these four key areas:
1. Continuing education: Study up on processes review, learn efficiencies, and attend brewing classes and workshops.
2. Communication: Get teams talking to one another. Production needs to speak to Sales; Sales talks to Finance; Finance talks to Operations; and Operations talks to Marketing, etc.
3. Hold regular in-house meetings: Share information and learnings with key stakeholders.
4. Understand cash flow: Where are you burning cash and why?
Who is the biggest threat to craft beer? Other craft brewers or other beverages?
AG: The biggest threat to craft beer is no growth. Taking shares from each other is not healthy long-term. But, multiple brewers in the largest craft beer markets provide a "hotbed of culture," including art, amazing food, younger audiences, support of local businesses, and great-tasting, flavorful craft beer. Innovation is critical to separating your brewery from the others.
Where do you see the craft beer industry heading in the next few years?
AG: The craft beer business has been adept at developing new business models. Partnerships and collaborations are a strategic underpinning of craft beer. Sharing information with your staff and neighboring craft brewers has fostered a collective identity, and sharing plays a key role in the persistence of cooperation over time.
Craft brewing's survival leans on the shared belief that a rising tide lifts all boats. Sharing knowledge, assistance, and advice and paying it forward cultivates cohesion and cooperation among brewers against the mass producer "Goliaths" and will help unlock the next-generation business model.
What can brewers do to get ahead of the competition?
AG: Take courses in the Business of Craft Beer Program. UVM's courses offer the craft brewer a perspective that no other course offers. You will learn about the acute financial issues, sources of funding for a start-up brewery, financial statements and how to read them, owner's equity, pro-forma projections, fixed and variable costs, overhead, financial ratios, gross margins, and budgeting. The key is reading the materials, doing the assignments, attending the live sessions, asking questions, and sharing your knowledge in the chat rooms.
Why is the UVM Business of Craft Beer program important for people looking to break into this crowded business?
AG: The courses are all-inclusive — Operations, Brewery Finance, Branding/Marketing, Social Media Promotion, and Sales and Distribution are all covered. Our expert instructors challenge you to think "outside the box."
UVM's Business of Craft Beer program is a business school for brewery start-ups and expansion that will help students start and run a successful brewery. It will also connect you to a network of other entrepreneurial-minded professionals passionate about the craft beer industry and possibly your friends forever.
Written by Jon Reynolds
Jon Reynolds is the founder of Brewplan, a strategic marketing advisor to craft brewers, craft distilleries, boutique wineries, and a Certified Instructor in the UVM Business of Craft Beer Professional Certificate Program. He writes about business trends, beer consumers, distributor issues, legislation that affects craft brewers, marketing tools, and strategic planning to improve brewery profits.
Views and opinions expressed herein are those of the author who has spent more than 40+ years in the beer, wine and spirits industry and are provided for informational purposes only.  The information set forth reflects the author's opinion of current trends in the industry and should be researched further to make your own business conclusions.
---
Ready to brew up success? Dive into our business of craft beer program page discover how our program can fuel your brewery dreams.