By Jon Reynolds
Craft beer fans have long been combining their love of running with their favorite brew. It's not too hard to find a craft brew race or running series in a local community. Do a quick search and several options pop up including the popular Craft Brew Races in the northeast or 51 Destinations to Run and Drink Beer which lists running and craft beer options across the country. Going beyond a running series or 5k race, some craft brewers are teaming up with sport shoe companies to create sneaker collaborations that offer more than just a beer at the end of a long run. Here's a look at some of my favorites. Don't forget to take a look back at our earlier collaborations with craft beverages including music and clothing.
Redefining The Craft Beer Run
Harpoon Rec League and Reebok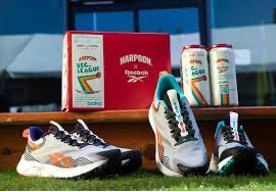 The Reebok Edition is a co-branded release of Harpoon Brewery's low-cal, low-alcohol hoppy, and hazy pale ale. The collaboration features the same Harpoon Rec League recipe, enclosed in a new, fresh look Reebok-inspired container, including cans that sport the Reebok logo and 12-pack packaging that emulates a Reebok sneaker box design.
Deschutes and Brooks Ghost 14 Running Shoes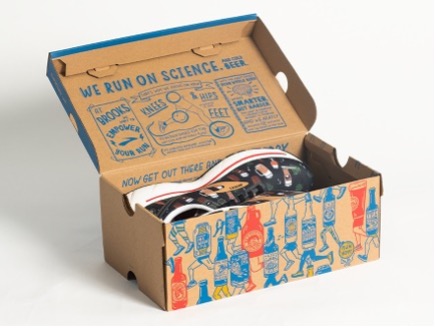 This co-branded effort by Deschutes Brewery of Bend, Oregon, and Brooks Running Shoes was created in 2019. The collaboration paired these sweet new shoes with Deschutes Brewery's Run Hoppy IPA. This new draft-only beer was created by runners, for runners as the Brooks Running community helped create the recipe for a limited-edition craft beer. In brewing Run Hoppy IPA, Deschutes surveyed runners to learn what they wanted in a refreshing, post-run beer. Keeping the alcohol content low was top of mind, so Deschutes crafted a balanced Golden IPA at 5.5% ABV. Knowing how important carbs are for running, the brewery utilized classic English Golden Ale malt varieties to provide the backbone, with notes of biscuit, cracker, and a hint of honey. Run Hoppy IPA utilizes numerous hop additions for big Centennial, Amarillo, and Citra hop flavor and aroma with lower and balanced bitterness.
Dogfish Head and Merrill Agility Synthesis

Originally launched back in 2019, this collaboration featured a co-branded trail running shoe inspired by two of the company's shared passions – the outdoors and beer.  Available in a "SeaQuench" color scheme for both men and women, the design of the shoe is inspired by the most thirst-quenching beer Dogfish set out to brew – SeaQuench Ale. Famous for its tart flavor and signature sea-foam green can, featuring the off-centered ingredients – including black limes and sea salt – which were a driving force in the energetic design of the shoe.  
Craft brewers and their innovative beer styles hooking up with running and sports shoe companies bring back the old adage, "If the shoe fits… wear it", but maybe in this case while grabbing your favorite craft beer too. Cheers to more unique collaborations as the craft beer market continues to innovate and expand.
---
Jon Reynolds is the founder of Brewplan, a strategic marketing advisor to craft brewers, craft distilleries, boutique wineries, and a Certified Instructor in the UVM Business of Craft Beer Professional Certificate Program. He writes about business trends, beer consumers, distributor issues, legislation that affects craft brewers, marketing tools, and strategic planning to improve brewery profits.
Views and opinions expressed herein are those of the author who has spent more than 40+ years in the beer, wine and spirits industry and are provided for informational purposes only. The information set forth reflects the author's opinion of current trends in the industry and should be researched further to make your own business conclusions.