By Jon Reynolds
In Part 2 of our examination of consumer trends in the beverage industry in 2021, we take a look at the popularity of hard lemonade, collaboration and joint marketing, subscription clubs, and the future of cannabis-infused beverages.
Read Consumer Trends in the Beverage Industry: Part 1
Lemonade Everything is the Hot Flavor of 2021
According to Nielsen data, Truly's Hard Seltzer Lemonade 12-pack is the third best-selling SKU in the category, accounting for more than $200 million of the brand's total $840 million sales in the 44 weeks ending Oct. 31, 2020. Now, White Claw's parent company Mark Anthony Brands is getting in on the action, with a Mike's Hard Seltzer Lemonade released in February. Goose Island just announced its upcoming spring 2021 Launch of their 312 Hard Lemonade. Plus, an early starter in this category was Leinenkugel's Lemon Shandy which had $86.3 million in sales through October 31, 2020, and is the largest-selling brand in the lemonade category.  Bud Light Lemonade also hit the shelves in March 2020 but has yet to make a significant impact.  Obviously stalwart White Claw, and Truly both have lemonade FMB's in the market, and you can be sure Topo Chico Lemon Lime, Corona Hard Seltzer, SunRise and Michelob Organic Hard Seltzers are launching in spring 2021 and all are studying the lemonade component to see if there is room for more.
Virtual Events are Creating Inclusion Among Consumers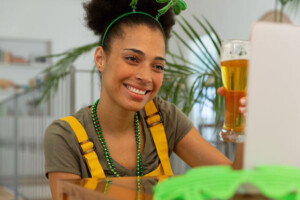 According to a recent article in Hop Culture, "words like Zoom, Google Hangouts, and GoToMeeting have become a part of the daily lexicon. With large gatherings suspended and many taprooms across the country forced to limited-capacity, figuring out new ways for breweries to connect with their communities are crucial.  This year, they've seen large scale festivals go virtual, from GABF to Fresh Fest to women in the craft beer festival Beers With(out) Beards. And they don't see that trend slowing down in 2021. At Hop Culture, they plan to host at least one quarterly digital event next year and they've already seen a host of local breweries roll out their own online programming, from digital trivia nights to virtual tasting hours." Watch for many craft breweries next year to be 100% virtual with their customers.
Beer and Wine Subscription Clubs are Pushing the Loyalty Button  
Thrillist recently ran an article called "Beer Clubs Are Keeping Craft Breweries Afloat." Meredith Heil reported that "while it might appear to be the dream job, launching your own craft brewery has never been an easy—or cheap—endeavor. And with 2020 throwing a Godzilla-sized wrench into small business plans, even established breweries are having a hard time staying afloat with traditional money-making means. That's why a growing number of craft producers are proudly flipping the script by becoming community-supported breweries, or CSBs."  There are countless examples of beer subscription clubs and novel ways that they are being offered to consumers in the Thrillist article.
Stocking Up, Culinary Tourism, DIY Home Meals, and Private Labels are Creating New Businesses
"The events of 2020 have forever changed how Americans shop for groceries and household goods," says Laurentia Romaniuk, Instacart's Trends Expert and Senior Product Manager. "After months of binge baking, drinking more and indulging in quarantine comfort foods, our findings show that the pendulum is swinging the other way as online consumers set their sights on a new year full of bolder flavors, lower-alcohol cocktails and resolution-friendly Keto snacks. Private labels are also surging during the pandemic. We're also witnessing an increase in brand mindfulness, as the cultural shifts of 2020 make their way into consumer purchasing decisions in the grocery aisles. Shopping with a purpose means something different to everyone. Whether you're consciously choosing to shop from small and local retailers, buying "green," or adding more women- or BIPOC- owned brands to your cart, being selective about the stores you shop from and the brands you buy seems to be top-of-mind for many this year.
Collaboration and Joint Marketing are Accelerating Excitement and Creativity  
According to Forbes magazine, the idea of collaboration over competition irrevocably shapes the craft beer ethos, and professional brewers demonstrably started putting it into play about 10 years ago by making and selling one-off beers with their professional brewer friends. In 2017, Natalie Cilurzo invented the idea of a worldwide charity collaboration when her Sonoma Pride campaign raised more than $1 million for Northern California wildfire relief.  This has since accelerated with Durty Bull Brewing in Durham, North Carolina, who gathered a large handful of neighboring breweries this spring to take collective orders and payments through a single e-commerce site and set up an assembly line of employees from the respective businesses to provide touchless curbside pickup, all in one spot. Look for more collaborations among craft brewers in the future.
Cannabis-based Beverages will Accelerate
Under the Biden Administration, look for more and more entries into this space.  More acquisitions of Canadian Cannabis Manufacturers will strengthen the CBD/THC/Hemp-infused beverage brand development, provide go-to-market distributor platforms, and enhance overall marketing/brand awareness and category management in the Cannabis category.  The $300 million acquisition of Sweetwater Brewery by Aphria provides a new player in the cannabis space.  This, of course, was after the huge price of $4 billion paid by Constellation Brands to acquire Canopy Growth just three years ago.  That, along with Aphria's reverse stock merger with Tilray, leaves Aphria shareholders owning 62% of Tilray's stock.  This has created the largest cannabis beverage company in the World and both Aphria-Tilray and Sweetwater are funded by TSG Consumer Partners, aligned with Anheuser-Busch distribution in USA and Europe, which could provide significant synergies for Aphria-Sweetwater cannabis beers in the future.
Jon Reynolds is the founder of Brewplan, a strategic marketing advisor to craft brewers, craft distilleries, boutique wineries, and a Certified Instructor in the UVM Business of Craft Beer Professional Certificate Program. He writes about business trends, beer consumers, distributor issues, legislation that affects craft brewers, marketing tools, and strategic planning to improve brewery profits.
Views and opinions expressed herein are those of the author who has spent more than 40+ years in the beer, wine and spirits industry and are provided for informational purposes only.  The information set forth reflects the author's opinion of current trends in the industry and should be researched further to make your own business conclusions.