By Jon Reynolds
If you haven't yet seen or tried a hard seltzer, you must be living under a rock or are stationed at the North Pole. The hard seltzer segment has tripled in dollar volume in the last three years. Here are numbers reported by The Bump Williams Consulting Company showing the market share of Total Beer comparison of Craft Beers vs. Hard Seltzers—for Memorial Day 4 weeks of sales, share of both hit 11.7% or a tie:
---
The hard seltzer segment is led by two juggernaut brands, White Claw and Truly, which had dollar shares of 50.7% and 23.8% respectively, at the end of 2020. Both brands grew over +120% last year, but also lost share of the hard seltzer category because the other brands in the segment grew faster. Anheuser-Busch total seltzers (led by Bud Light Seltzer) is a contender at 12.8% dollar share, with Constellation (led by Corona Seltzer) bringing in 4.5% share of Total Dollar sales. The Top 7 Hard Seltzer Vendors account for 97.2% of Total Dollar Sales. The chart below shows the Rank of these Top 7 Hard Seltzer Vendors at the end of 2020:
Top 7 Hard Seltzer Vendors (Dollar Share)
| | | | | |
| --- | --- | --- | --- | --- |
| Hard Seltzer Vendor | Hard Seltzer Brands | YTD 2019 | YTD 2020 | Share Change |
| Mark Anthony Intl | White Claw Hard Seltzer, Mike's Hard Seltzer | 58.7% | 50.7% | -8.0% |
| Boston Beer Company | Truly Hard Seltzer, Truly Hard Tea, Truly Hard Punch | 25.5% | 23.8% | -1.7% |
| Anheuser-Busch/INBEV | Bud Light Seltzer, Michelob Ultra Organic Seltzer, Natural Light Hard Seltzer, Bon & Viv | 8.0% | 12.8% | +4.8% |
| Constellation Brands | Corona Seltzer, Corona Refresca, Funky Buddha | 0.0% | 4.5% | +4.5% |
| Molson Coors Beverage Co. | Vizzy, Coors Seltzer, Topo Chico, Sunrise, Proof Point, Huzzah, Henry's Hard Water | 1.7% | 2.6% | +0.9% |
| Diageo, PLC | Smirnoff Hard Seltzer, Lone River Ranch Water | 4.0% | 2.2% | -1.8% |
| CANarchy Craft Brewery | Wild Basin, Cigar City Hard Seltzer, Clear Coast Hard Seltzer | 0.5% | 0.6% | +0.1% |
| Total Top 7 Hard Seltzer Vendors | | 98.4% | 97.2% | -1.2% |
Source: BWC—Top7 Hard Seltzer Vendors (Dollars 000)—YTD Dec. 26, 2020 vs. 2019
Why have hard seltzers done so well in such a short timeframe? It starts with the demographic of the core drinker. To understand who they are, we must first better understand the millennial drinker (born between 1982-1999). For starters, millennial drinkers are more likely to select flavored malt alcoholic beverages, such like hard lemonade and prepared cocktails, than other demographics. On top of that, they're also consuming much more flavored sparkling water than other Americans.
This demographic is also more likely to be health and body conscious. Specifically, they place a greater emphasis on counting calories, exercise, and physical activity, than other demographics. White Claw, for example, contains only 100 calories, possesses 2g of carbs, is gluten free and is largely carbonated water, alcohol and natural flavors.
But most importantly, they really like to try new drinks. Per a poll of more than 2,800 millennials during the past year, 60% of this demographic said they enjoyed trying something new.
Millennials More Likely to Try New Drinks
% who agree with the statement: "I like to try new drinks."
| | |
| --- | --- |
| US adults | 42% |
| Millennials (1982-1999) | 60% |
| Gen Xers (1965-1981) | 46% |
| Baby Boomers (1946-1964) | 27% |

Source: YouGov America Brand Index August 2019-August 2020
Despite popularity among millennials, all of the hard seltzer brands still have a lot of work to do to capture the attention of baby boomers: only 25% of boomers who drink are aware of White Claw and only about 1% of them have purchased it in the last 30 days. But these are early days in the boozy seltzer wars, and regardless of whether this is a passing fad (think wine coolers or Zima) or a full-on industry shift (think light beer), there's clearly still room for growth among other demographics — not to mention, more new players. Even Coca-Cola has jumped into the fray with an alcoholic version of its Topo Chico mineral water brand to the US this year and so has Pepsi with their Rockstar brand. Indeed, it seems more sales are about to bubble up.
Sales for Hard Seltzer Surge

According to John Shea, the new CMO at Mark Anthony Group, the other reasons for such a fast surge in sales are as follows:
The number of entrants in the past two years. Almost every beer producer (and even some non-beer producers) have entered the hard seltzer category and the launches continue at a robust rate. Indeed, Shea mentioned that there were 157 new entrants into hard seltzer in the U.S. last year, and he expects this will continue considering how much growth there is in the category. John's view is that hard seltzer will be a two-horse race. He sees the category shaking out in the same way as sports drinks (where Gatorade and Powerade control 84% share) and energy drinks (where Monster and Red Bull control 68% share), where there is a dominant player at the top, then a strong #2, then a ton of smaller players who are largely non-events over time. According to Nielsen data, despite the entrance of new players in hard seltzer, White Claw and Truly continue to hold the majority share of the category with a a combined share is 72.9%, very similar to the combined share for these two energy drinks players in 2017 (72.3%).
Growth continues to be robust, although it has decelerated – the hard seltzer category continues to grow at a rapid pace, as it delivered 160% growth in 2020 on top on 176% growth in 2019. And, while growth of 87% in the early YTD 2021 period represents a slight deceleration, growth in the category nonetheless remains well above any other beer or FMB category.
Shea has confidence in the long runway for seltzers – with regard to the outlook for long-term growth in hard seltzer, Shea believes there is room for the segment's shelf space to expand and asserts that it deserves more space based on how well it performs. Indeed, Shea mentioned that craft beer has 3x the space of hard seltzer despite the fact that seltzer is driving the lion's share of the growth in alcoholic beverages. And Shea mentioned that hard seltzer is taking share at a rate that is more than 2x any other alcoholic beverage category. Going forward, as shelf space expands and catches up to the growth of hard seltzer, Shea believes the category growth can remain really strong.
Further, Shea sees ample room for growth in other channels and geographies as he said they are just scratching the surface in the on-premise channel and there is significantly more opportunities for international growth. In terms of buying cycles, Shea views the category as having more seasonality than beer, as evidenced by the data that hard seltzer was a 10% share of beer around July 4 and then dropped to a 6% share of beer over the holidays. Importantly, Shea does not think this means that hard seltzer is becoming less popular, but rather, it underscores that there is in fact seasonality in terms of consumer preference and innovation with regard to alcoholic beverages.
White Claw growth has been strong and new capacity is aimed at supporting continued growth. In terms of the specific growth of White Claw, John stated that the brand grew sales 449% in 2017, 230% in 2018, 295% in 2019, and 118% in 2020. While growth was still strong in 2020, Shea explained that it was hampered meaningfully by capacity constraints. To mitigate that, Mark Anthony has invested $385 mm to build two new production facilities last year and recently broke ground on a new $400 mm facility in South Carolina. Now that the new facilities are fully staffed and up and running, Shea believes that they should be able to see really what demand looks like now that they are actually able to meet demand, relative to the last two and a half years, when they have not been able to meet demand. To support the continued growth in White Claw (as well as their other brands), Shea highlighted that in December, Mark Anthony communicated a 600% increase in their media support and he believes they delivered 80% SOV in the hard seltzer category in terms of total media mentions (including social) 4.3 bn impressions from memes like "Ain't no laws when you're drinking the Claws."
Despite the capacity constraints in 2020, Shea said that White Claw innovation still accounted for 15% of total sales for the year. This year, the company thinks that one-third of its sales will come from innovation. Shea highlighted several new products that are slated to hit the market in 2021. Most notably, Mark Anthony will introduce a Mike's Hard Lemonade Seltzer in the spring of 2021, which he thinks will be a home run given that Mike's is the leader in lemonade flavored alcoholic beverages. Indeed, Mark Anthony believes that Mike's Hard Lemonade Seltzer will be its biggest new product launch ever and is targeting 100% distribution in key accounts. To support the launch, the company is running a $35 mm campaign that will start during the NCAA March Madness tournament, using the tag line, "Nobody Makes Lemonade Like Mike's". Additionally, White Claw will launch two product extensions with a White Claw Iced Tea and White Claw Surge (which has 8% ABV). Shea mentioned that c-stores are very excited about both of these products as well as plans for a third flavor collection (with Mango, Strawberry, Blackberry, and Pineapple).
Innovation Continues for Hard Seltzers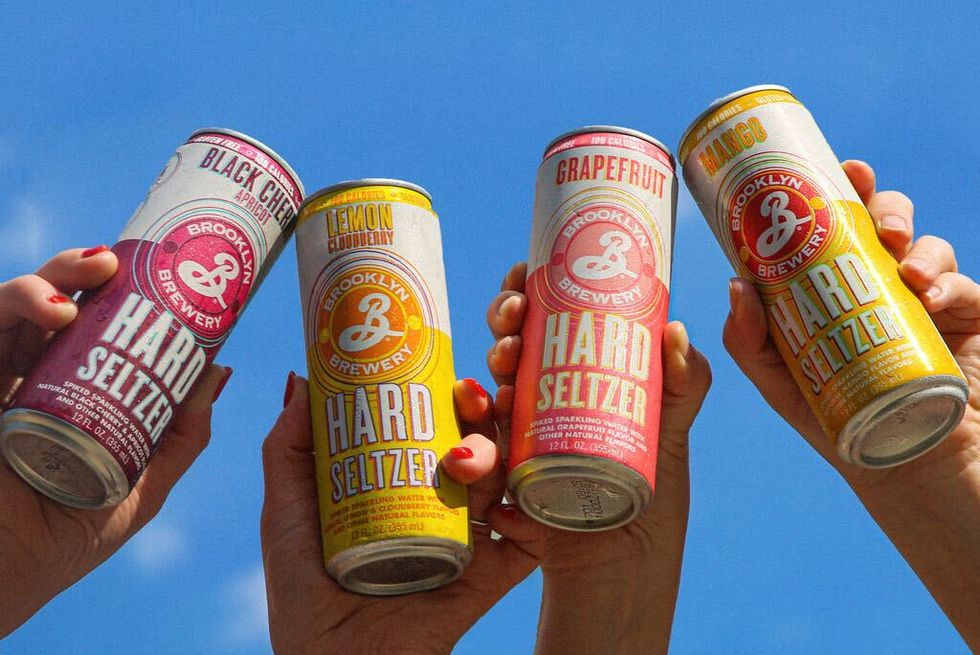 There are also several new innovations happening within the Hard Seltzer category. Here are just a few of the exciting launches coming your way in Hard Seltzer:
Bud Light Seltzer is launching new tie-dye packaging in their "Retro Summer" variety 12/12 slim can pack in colorful eye-catching packaging. Throwback flavors include Cherry Limeade, Blue Raspberry, and Summer Ice. Bud Light Seltzer icicles will accompany the Retro Summer pack launch and are made with cane sugar, natural flavors and comes in at 100 calories.
Bud Light Seltzer will introduce their Fall Variety Pack which includes Toasted Marshmallow, Pumpkin Spice and Maple Pear flavors. They will also be sold in 12 oz slim cans, hit 5% ABV, and have 100 calories and 1g carbs per 12 oz serving.
Natural Light Naturdays announced their new creation, "Naturdays Frozen Icicles." The frozen sleeves come in their famous Strawberry Lemonade, and Pineapple Lemonade beer flavors. They come in a 12-pack variety pack and weigh-in at 8% ABV.
Truly has their own version of boozy freeze pops. The flavors will include Original Lemonade, Mango Lemonade and Strawberry Lemonade. These freeze pops are gluten-free, package of 12, weigh-in at 5% ABV and are only sold in 22 states, due to limited supply. (CA, WA, OR, NV, AZ, TX, OK, LA, MN, MO, WI, IL, IN, OH, MI, TN, FL, NC, SC, GA, VA, and NY).
Truly has also signed a deal with a luxury candy brand, Sugarfina, to launch the first hard seltzer-infused candy. The limited edition, Truly-infused, non-alcoholic gummy bears are available in four fruity flavors—Watermelon Kiwi, Pineapple, Mango and Passion Fruit.
Brooklyn Brewery, is a little late to the hard seltzer game but their new entry consists of four very tasty flavors: grapefruit, black cherry, lemon cloudberry, and mango—all packed in 12 oz slim cans, with 100 calories and 5% ABV. They will be sold in 12 can variety packs.
Wild Basin hard seltzers have a new, fresh look. Oskar Blues Brewery has re-designed the Oskar Blues packaging, inspired by the natural beauty of Wild Basin, a pristine wilderness area in the Rocky Mountains. On each can, the brand's signature mountain design is framed by vibrant color alluding to the contemporary flavor inside. The new logo was inspired by National Park signs, an homage to the parks' dedication to the conservation of America's wild spaces. New flavors coming from Wild Basin include Yuzu Pineapple, Tangerine Lime, which will appear in the Original 12 can mix pack. Original Strawberry Coconut will have its own standalone 12 pack for the first time this summer.
Watch for new and interesting developments in the hard seltzer segment as the brand offerings continue to expand, new entrants, even from outside the alcohol industry join this space race, and new infused segments evolve like frozen icicles, snack foods and candy.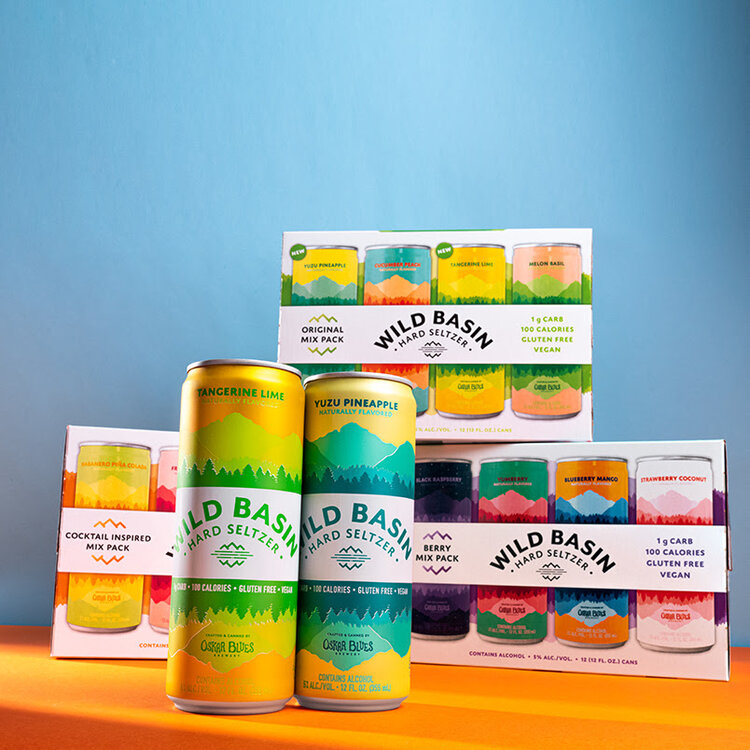 ---
Jon Reynolds is the founder of Brewplan, a strategic marketing advisor to craft brewers, craft distilleries, boutique wineries, and a Certified Instructor in the UVM Business of Craft Beer Professional Certificate Program. He writes about business trends, beer consumers, distributor issues, legislation that affects craft brewers, marketing tools, and strategic planning to improve brewery profits.
Views and opinions expressed herein are those of the author who has spent more than 40+ years in the beer, wine and spirits industry and are provided for informational purposes only. The information set forth reflects the author's opinion of current trends in the industry and should be researched further to make your own business conclusions.