John MacKay, Ph.D. says there's an assumption out there that cannabis grows and some vague magical thing happens to the plant. Somehow—voila—the cannabis oil-based product is ready to be plucked from the store shelf.
"Somewhere along the way, you have people who know how to grow cannabis and people who know how to sell it," he says. "But people haven't figured out that the extraction process in the middle is the most critical for the oil-based products.  There are many ways to extract essential oils incorrectly."
Dr. MacKay teaches in UVM's Cannabis Plant Biology Professional Certificate program, an eight-week, online evidence-based program covering cannabis chemicals, genetics, agricultural best practices, post-harvest handling, processing, and how cannabis affects the human body.  He currently holds the position of Assistant Professor in the Department of Pharmacology at the UVM Larner College of Medicine.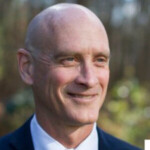 "With cannabis, it's the medical and pharmacognosy science that's so important," he says.  "Pharmacognosy is the study of plant-based medicines."
Dr. MacKay is original editor of Extraction Magazine and is still a contributing author for many journals in cannabis science.  He is a sought-after speaker and panelist at cannabis conferences because of his expertise.
Currently living in Bakersfield, California, Dr. MacKay is a cannabis consultant and internationally recognized scientific expert in analytical testing, extraction, and purification techniques within the botanical space.
He is also a multigenerational Vermonter.  He went to Ira Allen Elementary School, Edmunds Junior High, and Burlington High School. He then majored in chemistry at St. Lawrence University (in his "spare time" when not skiing or running, he says) from 1972 to 1976.  In 1982, after more than six years of study and research, he earned his doctorate in inorganic chemistry from UVM.
Under the mentoring of Dr. Christopher Allen, he learned the principles of scientific research.  Dr. MacKay also developed his love of chemistry and dedication to passing on his knowledge from Dr. Allen—recognized for his dedication to teaching by receiving the Kidder Award in 1986—and the late Drs. David Brown and William White.
Dr. MacKay's dedication is because of his professors at UVM. "Those brilliant chemists were also very student-focused professors.  They taught me more than just chemistry.  They taught me the responsibility of passing on my knowledge to the next generation," he says.
From Chemistry to Cannabis Extraction
Dr. MacKay became interested in cannabis extraction when states began legalizing marijuana nearly a decade ago. "What happened was the size of the material that needed to be extracted was extremely small," he explains.
As a result, he helped design an instrument at Waters Corporation that could extract five liters—or 2-1/2 pounds—of cannabis in 90 minutes, compared to the then-industry standard of 12-18 hours.
"My goal when I became interested in cannabis science was the analytical part of it, and by that, I mean the testing," he says. "It wasn't only the extraction that was interesting, even though that was where most of the money went. It was looking at the process and being able to test the process through analytical testing."
Dr. MacKay, who teaches a processing and extraction module in the UVM program, explains that extraction is not a one-size-fits-all process. Instead, it starts with thinking about what you want to make, the form you are trying to make it in, and the ingredients you need.
"Let's say you want to make eggs in the morning—maybe it's scrambled, an omelet, or fried. They all have specific criteria that you have to follow, but you could use the same pan for all of them.  If you're making eggs, you can't make all of them using the same process or tools," he says. "You're not going to use the same pan for a poached egg or a boiled egg as a fried egg. You can't."
Dr. MacKay's passion for his work comes from his love of chemistry and also from a personal place.  His sister died at age 54 after living with epilepsy and suffering from seizures.
"I'm an advocate about where medical cannabis should be used and not used. Seizures create something of a life interrupted. When you have epilepsy, you're on phenobarbital, and you can't think as fast," he says. "CBD and its components can help kids with seizures have a life. That's my internal driving force."
He jokes that he should be thinking about golfing and retirement at this point in his life. Instead, he's teaching at UVM, starting a research institute—the John MacKay Institute of Extraction Technology—in addition to his Synergistic Technology Associates, LLC, and developing disruptive technology.
"Ever since the fall of 2013, I've gotten up every morning and studied for 60 to 90 minutes on all the newest literature and newest facts about cannabis. I still do that to this day," he says. "I'm driving people toward the reality and research of cannabis—the good, the bad, and the ugly.  I am dedicated to passing on what I know to the next generation.  So maybe, I can get updates of the next generation's trajectory on the 10th tee in Belize or the top of a black diamond ski slope in Austria. I can't wait to see what they are going to do next."