Charlotte Morrow was eager for more well-rounded conversations with indoor growers.
Morrow is a project manager for Evergreen Consulting Group in Oregon, which focuses on light efficiency for utilities. When cannabis became legalized in the Pacific Northwest, local utilities found that indoor growers were using a significant energy load.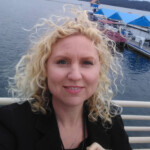 In 2019, Morrow enrolled in the UVM Cannabis Plant Biology Professional Certificate, an eight-week online program that covers cannabis chemicals, genetics, agricultural best practices, post-harvest handling, processing, and more.
"My company looks for ways to help growers understand how to be more energy efficient," she says. "In my job, I talk to growers every day. So I was looking for ways to be able to talk to growers on their level."
Offered through the UVM College of Agriculture and Life Sciences and Continuing and Distance Education, the program is designed for science-minded professionals who want to learn more about the cannabis plant.
Cannabis Classes Online Offered by UVM
The course, which focuses on evidence-based research, is taught by Monique McHenry, PhD, a botanist with a background in plant diversity and evolution. McHenry is also the program director of the Cannabis Science and Medicine program at the UVM Larner College of Medicine—the first in the nation.
The Cannabis Plant Biology Certificate covers cannabis basics, such as law, policy, and business, and dives deeper into the science on topics such as plant chemicals, plant taxonomy, plant genetics, and agriculture (including post-harvest handling and bio-botanical extraction). The course also devotes a week to discussing how cannabis affects the human body, educating participants on basic pharmacological principles, and how different modes of administration of cannabis products can affect the human body in different ways.
Ten states—including Washington, Oregon, Vermont, Massachusetts, Maine, and the District of Columbia—have legalized cannabis for adult use.
According to the New York Times, the number of cannabis jobs nationwide are between 200,000 to 300,000. Some of these jobs include agricultural work, such as plant trimming and "budtenders," who help customers decide what kind of cannabis they want and then weigh and bag it. As the industry expands, however, demand is increasing for better-paid positions, such as chemists, software engineers, and nurses who consult with patients about using cannabis for anxiety and other medical conditions.
For Morrow, UVM's Cannabis Plant Biology program helped her better understand the life cycle of the cannabis plant, the impacts of external inputs, and what energy solutions might be helpful for indoor growers. It also offered her the opportunity to learn from experts in the field and build connections in the cannabis industry.
"This program digs into the science of biology and gives a well-rounded understanding of what's happening in the industry," she says. "There are so many slices of the industry and it's great to learn about what everyone else is working on. Cannabis is also a rapidly evolving industry, so it was nice to be able to talk to and listen to experts who are on front lines."