Like the rest of us, Williston native Alison Spasyk was feeling cooped up during the peak days of the COVID-19 pandemic. Determined to make the most of her abundant free time, she set her sights on furthering her education.
With an undergraduate degree in biology and the goal of pursuing an environmental career, Alison zeroed in on GIS coursework as a valuable addition to her credentials. "I started looking for opportunities to take a GIS class, and pretty immediately, I stumbled upon UVM's certificate program," she says. "I decided to start by taking the intro course to see if I liked it."
Alison had always been fascinated by maps and geography, but hadn't been able to fit GIS classes into her busy undergraduate schedule. Now, a couple years out of college and contemplating her early career experiences, she saw a clear benefit to learning ArcGIS, the industry-standard geographic analysis software.
Self-paced Online Learning Made it Possible to Balance Service and Studies
As an active AmeriCorp member at the time, Alison had a full plate. Working 40 hours a week at the Friends of Northern Lake Champlain through AmeriCorp, she was pleased to see that she could study asynchronously – watching lectures, completing readings, taking quizzes, and participating in labs on her own schedule – while still benefiting from an active discussion forum where classmates posted questions and shared their perspectives on assignments.
"The professor would chime in to provide guidance," she says, "but the peer feedback was really helpful in working through the assignments."
In fact, Alison says that her experience in Intro to GIS was so positive that she went on to enroll in three more GIS courses to gain as much practice and exposure as she could while the pandemic kept her at home. "By the time I completed two courses," she says, "I figured I was halfway through the four course certificate, so I should just keep going." Of the four courses, Remote Sensing Foundations was her favorite, Alison says, because it opened her eyes to the vast availability and applications of satellite data. "There are satellites in space that can detect nearly anything – air pollution, algae blooms – and working with that data was very cool," she says.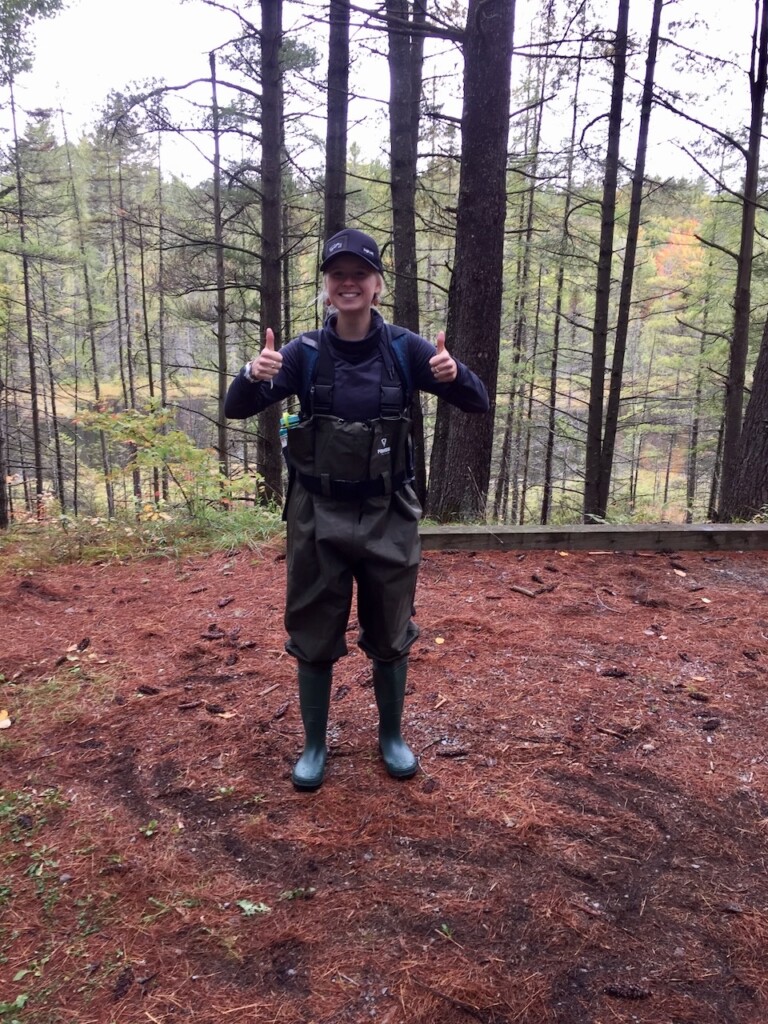 To offset the cost of taking four courses, Alison first tapped into her AmeriCorp education stipend and then enrolled in her final course through Upskill Vermont, which offers professional development education opportunities to Vermonters at no cost. "It certainly helped," she explains, "I wouldn't have been able to pay for these courses on my own."
Already, Alison's time investment is paying off. She sees many applications for GIS in her current work with Friends of Northern Lake Champlain, who offered her a Project Coordinator role after her AmeriCorp service with them ended. In an ongoing water quality monitoring project, for example, Alison is using geographic data sets to identify sites along specific rivers to sample regularly.
Looking ahead, Alison says she would like to work for the State of Vermont, but can also see herself in private sector consulting. Indeed, the future is wide open – but as long as she is working to help people or the environment, and preferably both, she will consider herself satisfied. For now, she feels challenged and rewarded by her work to protect Lake Champlain and is confident that her future will unfold exactly the way it's meant to.
---
UVM's Geographic Information Systems (GIS) and Data Communication Professional Certificate covers GIS, remote sensing, geospatial computation, and data communication and uses the current version of ESRI's ArcGIS Pro software.