Looking for a place to swim, kayak, boat, or even Scuba dive this summer? Vermont may be New England's only land-locked state, but you'll still find plenty of water in the Green Mountains. Many Vermonters and University of Vermont students choose to take courses over the summer through UVM Summer U, so they can take advantage of the beautiful lakes in Vermont while getting ahead on their studies.
Here are 5 Vermont lakes worth visiting:
Lake Bomoseen

Lake Bomoseen, the largest lake entirely within Vermont's borders, is located in the towns of Castleton and Hubbardton in Rutland County. The lake is a popular spot for fishing, boating, and swimming at public beach areas including Crystal Beach and Bomoseen State Park. The nine-mile lake is along the Taconic Mountains, which were home to the region's slate industry many years ago. Bomoseen State Park is home to several quarry holes and colorful slate rubble piles, and visitors can explore a self-guided Slate History Trail to learn more. You'll also find shoreline cottages and restaurants in this vibrant lake community.
Lake Willoughby

Lake Willoughby in Westmore sits at the base of Mount Pisgah and Mount Hor in Vermont's Northeast Kingdom. Lake Willoughby is more than 300 feet deep with beach access at both ends of the lake along Route 5A. Want to take a hike while you're there? Trails on Mount Pisgah and Mount Hor offer beautiful views of Vermont's glorious northern mountains.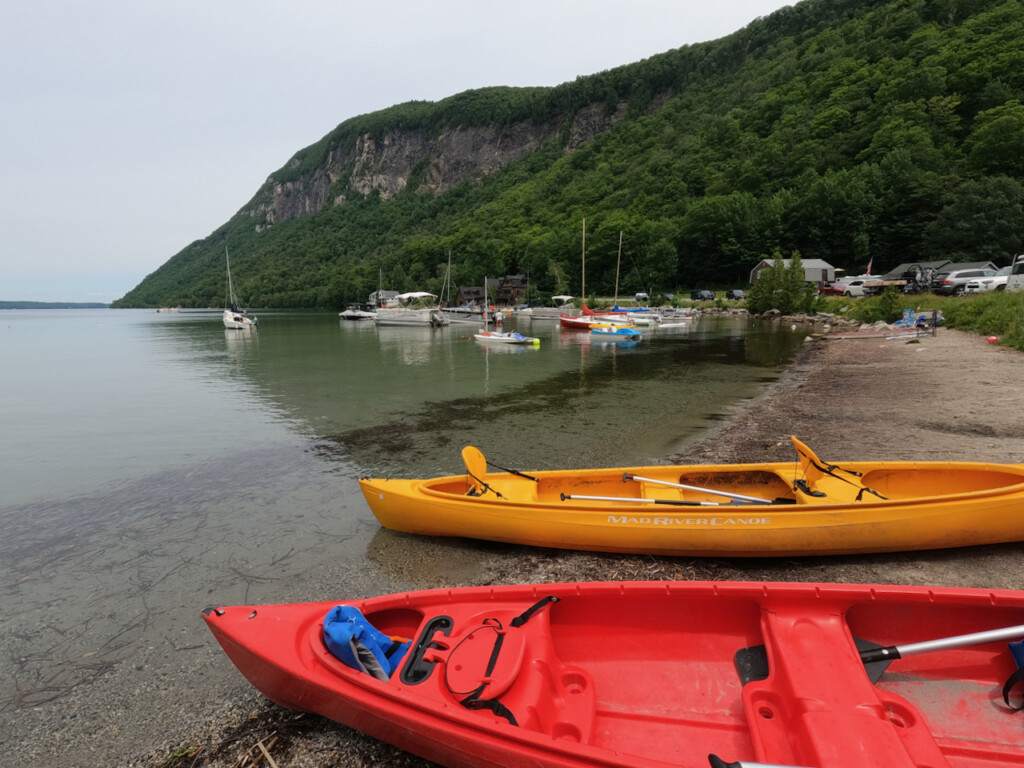 Silver Lake

Silver Lake in Barnard is one of the prettiest lakes in Vermont. Located in Barnard Village, about 10 miles north of Woodstock, Silver Lake offers fishing, swimming, kayaking, and more. A great way to experience the lake is to visit Silver Lake State Park, which was established in 1955 and was once part of several farms. A farm homestead was located near the current park entrance and the remains of a barn foundation are still visible in the park's campground.
Lake St. Catherine

Lake St. Catherine in the towns of Poultney and Wells is one of those places that feels like home. Similar to Lake Bomoseen, Lake St. Catherine's shoreline is dotted with tiny camps and cottages, and the lake is a popular place for boating and fishing. You can access the lake at Lake St. Catherine State Park, which offers swimming and camping.
Lake Champlain
Lake Champlain extends 120 miles and borders Vermont, New York and Quebec. Lake Champlain is the nation's sixth largest lake and is home to Champ, Vermont's Loch Ness monster. Boating, fishing, kayaking and swimming are all a big part of experiencing Lake Champlain. But what I find the most interesting about Lake Champlain are the more than 300 shipwrecks dating back to the 1700s that sit at the bottom of the lake. You can take shipwreck tours offered by the Lake Champlain Maritime Museum. Several of the shipwrecks are state historic sites that are also accessible to certified Scuba divers.
Vermont has so many lakes, ponds and reservoirs — where will you go this summer?
An earlier version of this piece was originally published on www.happyvermont.com.