From climate change to social inequality, it's daunting to think about the list of issues facing our society. Perhaps more so if you're a high school student wondering, 'what will my future look like?' or 'how can I possibly change the world I'm inheriting?'

As today's youth increasingly become the face of movements to drive social, environmental, and political change, these are the questions that Harlan Morehouse, Ph.D. Senior Lecturer, UVM Dept. of Geography, helps them answer in the Summer Academy course Facing Environmental Futures.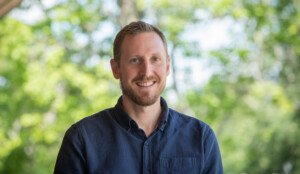 Morehouse and former Facing Environmental Futures student and senior at Montclair High School in NJ, Bayla Steinke, chatted with UVM Continuing and Distance Education about the course and how it helps students take control of their future in a recent info session webinar.
"What does it mean to face environmental futures? It's really a psychological question, how can we be honest about the challenges in front of us without falling victim to things like pessimism?" Morehouse said. "If we can develop a critical toolkit to face these kinds of challenges, then we might actually have the hope of building better futures."
A Shared Language Helps Connect Larger Issues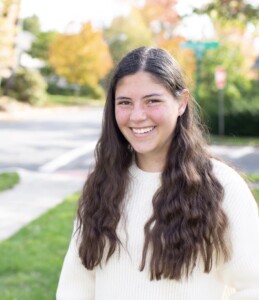 Steinke took the 4-week online course the summer before her senior year to explore what college would be like and to figure out if she wanted to major in environmental science.
She says the course delivered on both of her goals and, perhaps most importantly, gave her an understanding of how to think about complex societal and environmental issues.
"For my group project during the last week, we focused on how consumerism was affected by the pandemic and how that impacted climate change. It was interested to look at that view and see how everything was connected," Steinke said.
Morehouse says climate change is often framed as a purely environmental issue. It's this type of thinking that halts communication and creative solutions.
"We take into account the prime drivers of climate change – it's the social, economic, and political systems," Morehouse said. "We find a shared vocabulary where social scientists can find common ground with physical scientists and vice versa. It's really important to find a common language that helps us work across these divides."
The Path from Fear Toward a Better Future
Each of the four weeks of the course has a theme: the challenge, the uncertainty, reasons for optimism, and finally, building a better future.
During the first two weeks, students unpack the major issues and how they feel about them. For example, how wildlife habitat destruction creates a prime environment for coronaviruses to spread. Morehouse allows students the space to process their fears and anxieties throughout the discussions.
"If you feel depressed, pessimistic, or even nihilistic that is a totally understandable reaction…but it should not, in my view, be a destination," Morehouse said. "Rather we recognize we are all experiencing these similar things. That shared experience of pain or anxiety about the state of the world can actually offer us a basis for solidarity for building political movement."
Students move toward optimism by studying political movements and strategic interventions that are working to solve complex problems.
"My aim is not to depress students but to empower students. A different future is still very much on the table." Morehouse said.
The Course Helps High School Students Discover Their Path
Not only did Steinke earn three college credits, but the course also helped her confidently decide that UVM was the school for her. She strengthened her college essay using what she learned in the course and was accepted as an incoming freshman at UVM for the fall of 2021.
"It's a unique experience that you can't get anywhere else. It really opened my eyes to what a college course would be like and different topics that I wasn't really aware of before," Steinke said. "Originally, when I took the course, I was thinking of going into college as an environmental science and studies major, but it helped me broaden my understanding of these topics. Ultimately, I landed on geography, which is similar in many ways."
Steinke said the course was low-pressure and that she spent about four hours a day on the readings and discussions – all of which she could do on her own schedule.
"I was still able to enjoy my summer, it was very manageable. This opportunity was amazing, I wouldn't change it," Steinke said.
If you're interested in learning more about the Facing Environmental Futures Course and other opportunities check out Summer Academy. You'll find answers to frequently asked questions, tuition information, and more.
The deadline to apply for Summer Academy is mid-June each year and  the courses run for four weeks in July.