The transition from college student to master's student was seamless for Hannah Kaufman.
Kaufman, who majored in health sciences at UVM, enrolled in the UVM Accelerated Master of Public Health program during the fall of her senior year. She decided to enroll in the online public health graduate program as an undergraduate student because it was an opportunity to get a head start on her master's degree.
"Public health has everything I had been looking for, and I'm in a place doing what I'm meant to do," says Kaufman, who graduated with a bachelor of science degree from UVM in May 2020 and will earn a master's degree in 2021.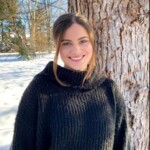 The online Accelerated Master of Public Health program is designed for motivated UVM undergraduate students who wish to complete their undergraduate and master's degrees in five years.
UVM's accelerated public health graduate program teaches students how to:
Evaluate and improve the health of various populations
Work with a network of professionals in healthcare, government agencies, and non-profit organizations
Navigate the levels of community resources
Identify changes to healthcare systems and requirements for accountability
Implement new models for population-based medical practice
Kaufman grew up in Princeton, New Jersey, and is currently sharing her passion for public health at Princeton High School, where she recently completed an internship. She is now working as a volunteer in the school's health education department to help develop a public health curriculum.
Public health hasn't always been on Kaufman's radar. She started UVM as an English major and then took a course in medical sociology, which ultimately led her to change majors and seek out ways to study public health.
"Once I started learning about public health, my whole world blew open. It was the most a-ha moment of my life, and it changed my perspective," she says. "I was so excited to find this program. I felt like it married all my passions."
Once Kaufman completes the Accelerated Master of Public Health program this year, she's interested in exploring how to work with vulnerable populations. She's also looking to potentially work in maternal health and find ways to address racial disparities in health care.
"As a health sciences major, it felt seamless to be an undergraduate student in a public health graduate program. At the same time, the experience allowed me to dive deeper into the material," she says. "The program draws on different perspectives from undergraduate and graduate students, and lets us explore what we're passionate about."