Pallas Ziporyn and her classmates were sleep-deprived in high school.
The morning bell at her high school in Anne Arundel County, Maryland, rang at 7:17 a.m. That meant students would set their alarms for as early as 5 a.m. to arrive at school on time.
Seeking a healthier solution, Ziporyn decided to take action. She introduced a proposal to the local school board to push back school start times and create sleep-friendly policies.
"I was shocked to learn how unhealthy and destructive early start times are for students," she recalls. "I learned that communities that move their start times later saw an improvement in test scores, drop-out rates, better mental health, and even had fewer car crashes."
Learning about the health detriments caused by lack of sleep laid the groundwork for Ziporyn's path to public health.
From Air Quality and Sleep Disorders to Public Health Policy
Ziporyn, now a student in UVM's online Master of Public Health Program, graduated from Harvard in 2010 with a degree in social studies and a minor in dramatic arts.
While working for an eco-friendly housing company after college, she became more aware of toxic chemicals found in home building materials and its negative effect on indoor air quality. Meanwhile, her advocacy work in high school landed her a job at Brigham and Women's Division of Sleep and Circadian Disorders in Boston. She is now the project manager for the hospital's Sleep 101 E-Learning Program and leads the Let's Sleep! initiative.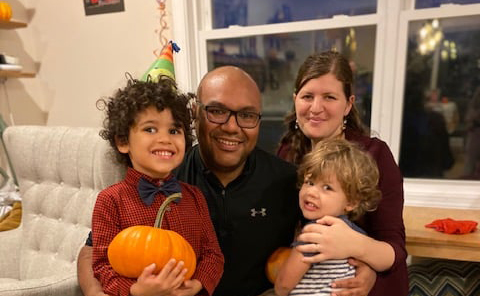 While public health has long been part of her professional life, Ziporyn's perspective changed when a health crisis hit home. Dedicating her life to public health became Ziporyn's mission after her two children were tested for elevated levels of lead. Even though there were no obvious risk factors for lead—her family lives in a newer home, and their home is hooked up to municipal water—the experience was all-consuming.
"I asked myself, 'why did this happen?' Increasingly, I found I had a responsibility to prevent other people from experiencing the same thing," she says. "For the first time, I realized that I have a broad interest in public health, and I need to build a wider toolkit to tackle these issues."
Working Full-time as a UVM Public Health Master's Student
Ziporyn was drawn to the UVM MPH program for its flexibility, reputation, and online coursework. By enrolling in the public health master's program, she could still work full-time and raise her family without feeling overwhelmed.
UVM's Master of Public Health is a 42-credit program offered in collaboration with the UVM Larner College of Medicine. The program focuses on environmental public health, epidemiology, quantitative public health sciences, health policy, leadership, and advocacy.
Ziporyn's coursework focused on broad issues she's passionate about, including air quality, lead, and children's health. She also enrolled in an elective course about maternal and child health, and her final presentation focused on lead exposure. She also drafted policy proposals that her professor encouraged her to submit to the Vermont Health Department, which was revising the state's lead hazards and lead poisoning policy recommendations.
"I really appreciated that real-world application of the work that came out of my studies," she says.
Creating Connections
Ziporyn says the faculty have made her time at UVM a positive experience.
"I am so impressed with professors in this program. I feel a connection to many of them, and I didn't expect that with an online program. I've been absolutely amazed at how open, responsive, and willing they are to engage both on digital platforms and on Zoom calls, talking by phone or by email," she says. "I really like that many of them have real-world experience in the field and are willing to share that and engage with us on that level."
The opportunity to build meaningful connections with students in the program from across the country is another reason Ziporyn is a fan of the MPH program.
"I'm in class with doctors, nurses, policy professionals, and occupational therapists, and I think that enhances the learning experience tremendously," she says.
The UVM Public Health program uses social learning platforms, such as the Yellowdig online discussion tool, which has helped students and faculty find ways to interact effectively, especially during the pandemic. The public health faculty began using Yellowdig in 2018 to connect students in online conversations and allow more in-depth discussions around course topics.
Ziporyn describes YellowDig as an easy-to-use and versatile tool to share news stories and information and engage with course content.
After she completes the public health master's program, Ziporyn hopes to work in health policy or run for office. She was vice-chair of the Winooski Planning Commission and served on the school board in Anne Arundel County, Maryland, during her senior year of high school.
"Ultimately, I want to be involved in policy and programs that will benefit the people around me," she says. "There's so much opportunity to have a real-world impact, and that's where I see myself fitting in."
---