By Heather Palow
The Coronavirus pandemic has shifted many positions online or hybrid which has led to virtual interviews becoming a necessity when looking for a new job. The best way to be successful during your next virtual interview (and really any interview) is proper preparation. From ensuring your technology is working to conducting research before the meeting; sitting down at your computer confident and ready will help set you apart.
Virtual interviews are usually held much the same way as face-to-face interviews. But virtual communication requires special considerations and adjustments due to the limited ability to read body language and facial expressions.
Thinking of joining the #GreatResignation? Read this article first.
Nine tips to help you prepare for your next virtual interview:
1. Ace Your Technology
Technical skills are considered one of the top competency's employers look for in new hires. Hiring managers are able to gauge your abilities easily during a virtual interview.
The minute you agree to a virtual interview, test your technology to ensure you're set up for success. Check your internet connectivity. Confirm your camera and microphone are working. If the picture is grainy or you're experiencing an echo, you might need to buy a mini webcam with a built-in microphone—which is hard to do five minutes before the interview, so don't procrastinate.
On the day of the interview, test your equipment and internet connection again.
About 15 to 30 minutes before the interview, check your video and sound to ensure everything is in working order.
You don't want technology difficulties to be the reason they question whether you're the right candidate for the job.
2. Set the Scene and Minimize Distractions
While testing your technology, determine where to do the interview. Find a room with optimal lighting, preferably near a window or a blank wall, to guarantee you're the focal point of the conversation. If possible, sit facing a window — natural light is always best. Place two big lamps at ten o'clock and two o'clock, to illuminate both sides of your face.
Whether you sit on your living room couch or in your home office, tidy up your surroundings. It's hard to convince employers that you are detail-oriented and organized when there's a mess visible on the screen.
Place your computer on a table or desk. Set your computer on a stack of three or four big books so that your webcam eye level. If it feels like your computer is a little bit higher than it should be, it's in the right place.
Once settled, eliminate all distractions. Experiment with placing a pillow on either side of your computer; this will absorb outside noise and pick up your voice even better. Turn off the TV, silence your cell phone, and close nearby windows to muffle outside noise. On your computer, close any documents, programs or browsers you aren't using to do the interview.
3. Sit Down Prepared
Research the company ahead of time and jot down notes for easy reference. Just because you're on a computer doesn't mean you can search the web for answers mid-interview, so avoid clicking around. You want to appear focused and ready to answer questions without the internet's help. Print out a copy of your resume so that you don't forget key talking points.
Be prepared with answers to common interview questions such as:
Why are you interested in this role?
What do you know about our company?
What are your biggest weaknesses?
What do you consider to be your biggest professional achievement?
Tell me about a challenge at work and how you dealt with it.
What are you looking for in a new position?
Why are you leaving your current role?
Avoid memorizing each response so you don't sound overly rehearsed. Instead, write some high-level thoughts down on Post-it Notes that you can stick to your computer so that you don't look down when answering questions.
Don't forget the all-important question you should be prepared to answer, "Do you have any questions for me?" Common questions include:
What does a typical day in the life of this role look like?
What are the company's goals this quarter?
How would you describe the ideal candidate for this position?
Where does this role sit in the organization, and what other groups will I be working with?
Can you walk me through the next steps of the hiring process?
4. Practice Simple Answers
Run through a few practice rounds with a friend or family member in advance of the interview. This will give you a chance to rehearse with different personalities and answer a variety of different questions. While it may be awkward, you'll have a safe atmosphere to make mistakes and learn from them, so you're better prepared for the real thing. Conduct your sample question rounds on the same video technology as your interview so you can become more comfortable with each specific technology used in the interview process.
It's important to keep things simple. Don't feel like you have to give a long-winded answer if the question doesn't warrant it. Being clear and concise is one of the most important aspects of the job interview.
5. Communicate Confidence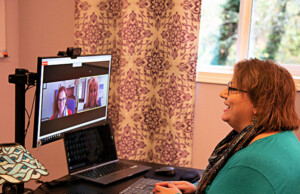 You can't firmly shake a hiring manager's hand or as easily exude enthusiasm via video. But what you can do is monitor your body language.
The main way to communicate confidence is to sit up straight, smile, and keep the camera at eye level. If you get a question that is unexpected, make sure to stay poised and take a moment to collect your thoughts. Awkward interruptions happen, and if you start talking over each other, pause, smile, and wait for them to talk first.
Remember to keep your focus on the camera when talking, not on the hiring manager's image.
6. Wear Professional Attire
Dress for a virtual interview as you would for an in-person one. For men, that might mean a button-up shirt, blazer, and chinos, while women should consider a dress, or dress pants, a blouse, and blazer. Swap out clothing with busy prints or patterns for simple, jewel-tone attire. Let your outfit and jewelry be striking, not distracting.
Professional clothing will show you're serious about the position, but there are personal benefits as well since you'll feel more confident.
7. Make a Connection
You never know how many interviews a company may conduct for a position. You might be at the end of a long list of people the hiring manager spoke to that day. This is why it's important to make a connection. Don't be afraid to ask how their interviews have been going that day or have a short aside about a common interest. The recruiter might enjoy the break from the routine questions they have to get through.
It's not easy to connect with everyone, but it's a crucial part of a virtual interview. You want the interviewer to be able to remember a personal story you told or a common interest you share. This is the best way to prevent yourself from blending in with the other applicants.
8. Be Yourself
A key task for a recruiter is determining whether you would be a good fit for the company's culture. This can be challenging during a virtual interview because there is a physical disconnect. It's more difficult for the interviewer to understand your enthusiasm through the screen, so make sure you're expressive when answering questions.
Some people will be able to tell if you're "vibe" fits their company right off the bat. Give them a reason to push you through to the second round of interviews by shining a light on how you can help the organization.
9. Immediately Follow Up
 Prior to the interview, reach out to the HR representative or hiring manager to get a list of your interviewers' emails. Send an individual thank you within 24 hours of the interview to everyone you met. Not only will it show you value their time, but it provides the opportunity to resell yourself and express the unique strengths you bring to the role or share any talking points you forgot to address.
If there was something specific that you bonded over, mention that in the email to help you stay top of mind. Or, if an interviewer brought up a particular business challenge, use the follow-up as a way to propose potential solutions. Just keep the email concise; you want your note to leave a lasting impression, not immediately end up in the trash.
Jot down these tips and get ready to be translated into pixels and propelled across the internet toward your future.
Students and alumni of UVM's Master of Public Health Program enjoy the benefit of working closely with career coaches to prepare for interviews and networking opportunities.