When Vicki Anderson, PsyD, LP, noticed that more of her clients were inquiring about medical cannabis, she didn't have all the answers.
The licensed clinical psychologist, whose practice is based in Newbury, New Hampshire, knew she had to get herself up to speed. So she enrolled in UVM's Cannabis Science and Medicine Professional Certificate, which is offered by the Department of Pharmacology in UVM's Larner College of Medicine, earlier this year.
"I decided I had a personal responsibility to figure this out," she says.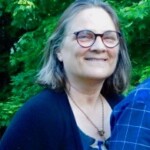 Dr. Anderson has been practicing psychology for more than 25 years. In recent years, she noticed an uptick in medical cannabis questions from her clients. Some of her clients, who carried state-issued medical cannabis cards, were frustrated by the lack of guidance at dispensaries. Others were curious about treatment options and supplies.
"All of these situations were coming into my practice and it piqued my curiosity clinically," she says. "I'm used to being able to handle a lot—I've done consults in the emergency room and I'm used to working with a high-risk population—but I didn't know about these particular situations."
UVM's Medical Cannabis Online Program
The UVM certificate is an online, seven-week program that covers cannabis history, business, law and policy, plant biology, biological effects on humans, production and safety, pharmacology, and clinical research. UVM's Larner College of Medicine is the first medical school in the nation to offer a professional certificate in cannabis and medicine.
Anderson worked on a variety of assignments in the UVM program, including one about state medical cannabis laws and another about determining modes of administration and dosage. Her final project was exploring how cannabinoids—any of a group of closely related compounds that include cannabinol and the active constituents of cannabis—can help people who are seeking mental health treatment.
She is particularly interested in how acid forms or raw forms of cannabinoids—CBDA—can be used in the treatment of mental health conditions. CBDA is a non-psychoactive cannabinoid and the acidic precursor to CBD, which can be found in the live or raw form of cannabis. Anderson believes that CBDA can help treat depression similar to that of antidepressant medications.
Anderson is also taking what she learned at UVM and applying it to her work with clients by consulting with physicians about treatment plans. She plans to present at a workshop to clinicians on the Science of Medical Cannabis this fall in Concord, New Hampshire.
Incorporating Cannabis into Holistic Treatment
Anderson's practice treats clients of all ages for post-traumatic stress disorder and depression. She earned her undergraduate degree at the University of Minnesota, and completed a Ph.D. program at the Minnesota School of Professional Psychology, which included a year of clinical training at the Indian Health Board in Minneapolis.
"I use a very holistic approach with my clients. I've learned out-of-the-box ways to learn to work with people, and I see medical cannabis as another branch of that training," she says.
Prior to UVM, Anderson received medical cannabis training at workshops and conferences. But the UVM certificate gave her an advantage she didn't have before.
"It's allowed me to talk with medical professionals about treating clients with medical cannabis in a way that has made me feel more respected," she says. "Most important, I'm able to help my clients."