By Jon Reynolds
Craft brewers have endured a lot since Jack Mac Aulife opened the New Albion Brewing Company back in October 1976, in Sonoma, California. Before that, in August 1965, Fritz Maytag purchased the Anchor Brewing Company and changed the dynamic of craft brewing by re-launched Anchor Steam, one of the most iconic craft beers sold in America. Going forward, many craft brewers visited Fritz Maytag at Anchor Brewing to develop their own business models.
Craft Brewing: Era of Consolidation, the Era of Innovation, or a little of both?
Change has been good for some of the craft brewers who sold their businesses to either larger-size U.S. brewers or larger international brewers. However, many independent craft brewers did not sell out. They decided it was in their best interest to stay independent brewers who did not want their beer associated with "corporate America."
There have been some significant mergers and acquisitions in this industry over the last ten years or so, like Heineken buying 50% of California brewing company, Lagunitas in 2015, and then buying the remaining 50% in 2017. 
Competitive Advantages of Acquisitions for Craft Brewers
Clout: They receive access to a powerful and connected national distributor network.
Scale: The scale that acquisitions provide is better purchasing power through forward-buying and contracts, better capacity utilization, and more programming with the retail chains—on-premise and off-premise.
Events: Access to large special events, stadiums, and concert facilities that smaller brewers do not have the ability to land.
Systems: Larger brewers have better systems in place for warehousing, sales demand forecasting, inventory management, logistics, and market research.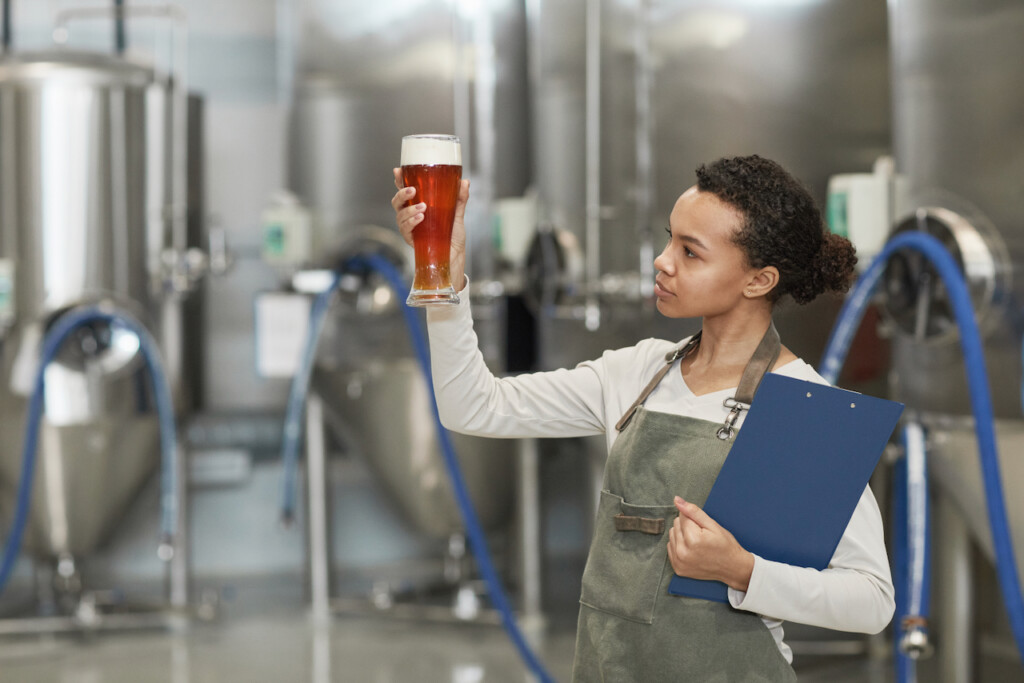 Competitive Advantages of Remaining Independent for Craft Brewers
Small batch brewing: Smaller brewing systems are wonderful for brewing a larger variety of beer styles. Unique ingredients added by hand, dry hopping, blending of flavors, and yeast strains create unique offerings for the consumer.
Short production runs: Short runs in small places accentuate "handcrafted." On-site brewery tours also help this perception.
Innovation and collaboration: Smaller craft brewers participate in collaborations with other brewers where they share ingredients, recipes, and brewing secrets.
Consumer research: Independent smaller craft brewers use their taprooms as a "test lab": a place where they get immediate consumer feedback without spending money on expensive focus groups and waiting for 3-4 months for the data. This makes the craft brewer very nimble and able to move more quickly into new product development or to capture emerging trends for gaining new consumers.
Focus: Smaller independent craft brewers have a significant competitive advantage in the "own-premise" (on-premise), partly because they own their taprooms and don't have to share the distributor margin with anyone. Many deliver their own brands through self-distribution, which gives their salespeople 100% share-of-mind when selling to a retailer.
Owner involvement/telling the brewery story: When the ownership goes from an independent craft brewer to a larger brewer, the original owners are sometimes bought out. The "brewery story or marketing story" is written and championed by the original owner(s) and is retold many times. Owner involvement creates a nucleus inside the craft brewery along with the power of ownership and building something for others in the future. When the larger brewers buy these independent smaller craft brewers, the original story is somehow lost over time and it just becomes a job or a place to work and get paid, removing the "fun" or "storytelling" element.
My recommendation: keep innovating, collaborating, researching, and telling your brewery's story. The Era of Innovation and the Era of Consolidation can join together and create tomorrow's craft brewer.
---
Jon Reynolds is the founder of Brewplan, a strategic marketing advisor to craft brewers, craft distilleries, boutique wineries, and a Certified Instructor in the UVM Business of Craft Beer Professional Certificate Program. He writes about business trends, beer consumers, distributor issues, legislation that affects craft brewers, marketing tools, and strategic planning to improve brewery profits.
Views and opinions expressed herein are those of the author who has spent more than 40+ years in the beer, wine and spirits industry and are provided for informational purposes only. The information set forth reflects the author's opinion of current trends in the industry and should be researched further to make your own business conclusions.