By Jon Reynolds
Mike Gerhart, Senior Advisor-Technical Services at First Key Consulting and instructor in UVM's Business of Craft Beer Program, has a deep industry background in brewing, strategic planning, optimization, logistics, supply chain and quality assurance. Learn about the experience Mike brings to UVM's professional certificate program in this short video.
In between teaching and First Key projects, we caught up with Mike recently to talk craft beer trends and the impacts of COVID-19.
JR: As the most recent Brewers Association (BA) Craft Industry Report by Bart Watson outlined, the craft beer trends changed drastically in 2020 during COVID, from what they had previously been tracking at.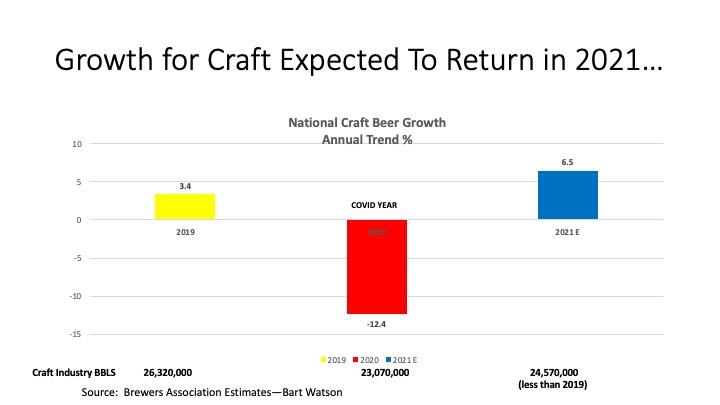 With a 40% decline in on-premise due to closures or reduced seating requirements, being the primary reason for the 12.4% decline, do you feel that the return of consumers to taprooms, brewpubs, and restaurants will help the craft brewers on-premise business return to pre-COVID levels?
MG: The majority of craft brewers were able to "pivot" in 2020 to sell more beer off-premise through curbside sales, e-commerce/online sales, and direct-to-consumer deliveries, where legal. However, the retail chains were very difficult for the craft brewers who did not have distribution in those chains prior to COVID, because of the 6-month lead time to gain authorizations, and because of the lack of shelf and cooler space for new brands. Therefore, many craft brewers worked with their state legislatures to change some archaic distribution laws and help them continue to service their customers but in a new distribution format. Some were unsuccessful in changing any laws in their home states, and some either closed their taprooms or they scraped and clawed with brewery "to-go-sales" that helped them keep the lights on. Some made it with stimulus money, deferred rent and borrowed money from PPP programs.
Bottom line: the return of consumers in 2021 is slowly coming back, but the future bounce back will be closely aligned with the number of vaccines that are completed for each state. DTC is the optimal delivery model for craft brewers to succeed long-term.
JR: With 8,850 craft brewers recognized by the BA in business today, is there room for more, or will we see multiple closures?
MG: Some closures will happen, particularly to those who are under-capitalized. The other factor will be lack of quality control. Brewers who either put out bad tasting beer, or don't do product rotation enforcing code dates, will suffer the consequences of losing their core customers, because there are too many good choices out there.
Craft Brewers Keep an Eye on New Categories
JR: The fastest growing segments in the beer industry today is hard seltzer. What do you see for Craft Brewers in the burgeoning hard seltzer segment? Is there room for more entries from Craft, knowing you have more large players dominating the shelf and cooler space and more large beverage companies launching hard seltzers onto the scene?
MG: The simple answer is "no." There are too many well-financed and well-positioned hard seltzer beverage producers already on the market. Plus, they have inherent cost advantages in their highly automated breweries who run just hard seltzer. They can make hard seltzer for much less per case than a craft brewer can. It may make sense for a taproom to offer hard seltzer as an alternative for consumers who don't like the taste of beer, but sales will be limited.
JR: Is "Ranch Water" (Sourced from Texas) a potential niche for Craft Brewers to enter the Hard Seltzer category?
MG: The answer is "yes" as this segment has lower barriers to entry as it is not yet dominated by large industry players. It is in its infancy, is regional in the southern U.S., and has room for more players. Ranch Waters can emerge from any "ranch" in any state.
JR: As part of the "health & wellness" movement, can Craft Brewers get more consumers to move over to performance beers?
MG: Yes, younger consumers (Gen Zers) are looking for healthier and better-for-you beverages. They seek out new beers that challenge the norm (low carbs—low calories—low alcohol). They prefer mineral, electrolyte and vitamin-infused beers. Innovation is the key to future success for craft brewers.
JR: Where do these non-alcoholic (NA) beers fit into the Craft beer business today?
MG: The main problem with non-alcoholic beers that came out in the 80's and 90's was their lack of taste. They were bland lagers. Today, craft brewers are making NA craft styles that taste as good as the full-strength craft beer styles. They have a great balance of malt and hops and offer the on-the-go consumer a flavorful and refreshing alternative.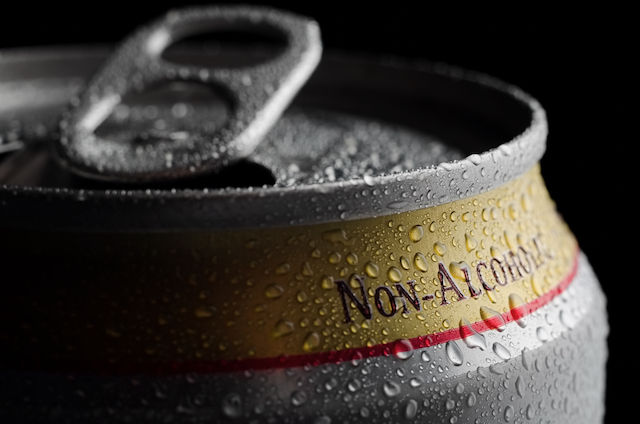 JR: Innovation is testing the barriers of craft with the ready-to-drink (RTD) segment leading it. Do you see sustainability in the RTD Coffee/Cold Brew, Tea, Craft Soda, Kombucha and CBD/Cannabis categories?
MG: Yes, you have to pick your spots, but several craft brewers are pushing the envelope when it comes to the "Beyond Beer" category. The combination of low levels of caffeine as the energy boost, along with crossover tastes from non-alcoholic beverages like coffee, tea, kombucha, CBD, and sodas create interesting tastes in beverages. The consumer is clamoring for more and more unique combinations of beer, spirits, wine and non-alcoholic beverages causing category blurring.
JR: With Boston Beer and Pepsi's new announcement of their partnership with HARD MTN DEW Hard Seltzer, does the fact that Pepsi will develop its own distribution system, create a fourth "national footprint" option for craft brewers to gain access to off-premise and on-premise retail outlets outside their brewery walls?
MG: While many craft brewers have aspirations to become a national brand at some point in their longevity, most do not get out of 150 mile radius from their brewery. Therefore, while Pepsi's new venture may offer an outlet to some expanding craft brewers, they will pay most attention to their own brands which they are launching first. It will be difficult for small craft brewers to get attention in a large distribution house like Pepsi, even with a craft beer division. Plus, there are only so many tap lines and so much cooler space in off-premise for them to gain a foothold and get traction. Retail relationships in the beer category may be lacking for Pepsi bottlers at the start as well.
Why a Business School for Brewers Matters
JR: Circling back on how to gain industry knowledge if you are new to the craft brewing industry or want to expand your operation. Why do you think the UVM Business of Craft Beer program is key to business success for craft brewers?
MG: If you are a brewer or business manager at a craft brewery, you should take this course as a path to further knowledge. You can always learn something new every day. If you think you know everything about how to run a craft brewery, you have already failed and will be passed by those who continually educate themselves, accelerate their readings and obtain their Cicerone Certification. The UVM program will provide those learnings.
---
Hear more from Mike on the business skills needed for success in today's craft brewing industry in this short video.
---
Jon Reynolds is the founder of Brewplan, a strategic marketing advisor to craft brewers, craft distilleries, boutique wineries, and a Certified Instructor in the UVM Business of Craft Beer Professional Certificate Program. He writes about business trends, beer consumers, distributor issues, legislation that affects craft brewers, marketing tools, and strategic planning to improve brewery profits.
Views and opinions expressed herein are those of the author who has spent more than 40+ years in the beer, wine and spirits industry and are provided for informational purposes only. The information set forth reflects the author's opinion of current trends in the industry and should be researched further to make your own business conclusions.