Karen Koehler is no stranger to the animal world.
Based in Erie, Colorado, Koehler has an animal practice, Equine Spirit, LLC, which incorporates touch skills, trauma resolution support, and reiki, and provides euthanasia support and assistance to create meaningful ceremony.  For 13 years, she has also volunteered at Colorado Horse Rescue, where besides the usual horse-keeping chores, she lends an on-site supportive voice and hand in the euthanasia process.
Koehler, who describes herself as an inter-species communicator, found her way to the new UVM Companion Animal End-of-Life Doula Professional Certificate earlier this year. The four-week, online program gave her the additional tools she needed.
"Learning about unconditional, positive regard at UVM was so important because seeing some horses that had been abandoned, neglected or starved made it hard not to be angry with the humans in their past who had hurt them," she says. "I know how to be a doula when a client's animal is dying, and that animal had been treated well. But when I see a horse at the rescue who had been abused during its life, that's tough. Incorporating the concept of unconditional, positive regard in my work is something that allows me to focus on the horse and not the cruelty in their past."
Koehler began attending euthanasias at Colorado Horse Rescue to provide emotional support to the staff, the veterinarian administering the procedure, and to the dying horse and the other horses deeply affected by the loss.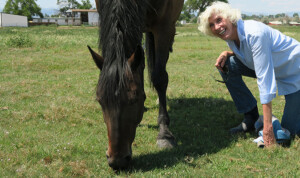 "We don't know the histories of most of the horses, so prior to euthanasia, I start by being with the horse and just acknowledging their life's journey, whatever it may have been. I then explain the death procedure to the horse, which is a matter of respect and truly makes a difference, and then I thank them for allowing me to be part of their transition process," she says. "I also acknowledge and support their herd's or companion's grief, both pre- and post-loss."
As an animal end-of-life doula, Koehler also finds her relationships with veterinarians to be key.
"Holding space for a vet during euthanasia—remembering they have been trained to save lives for the most part—and checking in with them to make sure they have support and a good self-care practice tends to create a partnership where we both know we're not in it alone," she says. "Taking a private moment to ask them how they are doing can really make a difference and allow them to just exhale."
Before enrolling in the UVM Animal Doula program, Koehler completed the UVM End-of-Life Doula Professional Certificate Program, an eight-week, online program developed by the UVM Robert Larner College of Medicine. Even though the UVM College of Medicine program is focused on the death and dying process of human beings, Koehler knew the program could help her in her work with animals.
"And then when the UVM Animal Companion End-of-Life Program was announced, I cried with gratitude and joy," says Koehler.
What You'll Learn in the End-of-Life Animal Doula Program
The UVM Animal Doula program is designed for:
Aspiring doulas for companion animals
End-of-life care practitioners who would like further specialization in companion animals
Pet hospice and palliative care workers/volunteers
Veterinary technicians
Pet caretakers, such as dog walkers and pet sitters
Spiritual care providers
Pet owners
Topics in the animal doula program include doula essentials, components of compassionate care, pet hospice and palliative care, after-death options, and support. Students also learn to focus on honoring and memorializing the enduring bonds between clients and their companions.
Amid the program, Koehler's beloved dog, Tilly, had to be euthanized.
"Talk about timing," she says, "Everything we were learning was hitting me straight on. I didn't have my own much-needed doula, but my animal doula training cohort was incredibly compassionate and supportive. There is so much disenfranchised grief in this world, and the pain of losing an animal is not always recognized as valid grief by family, friends, and co-workers. And the effect on other animal members of the family or herd is even less validated. Having a doula to help support you and your family through this difficult process can be truly invaluable."