When Ricky Chagnon arrived in the online UVM Cannabis Plant Biology Certificate program, he was no stranger to cannabis. Years back, he had helped maintain a 200-acre hemp farm run by his fiancée's family. There, he was exposed to hands-on work like harvesting, irrigating, and planting – and he loved it.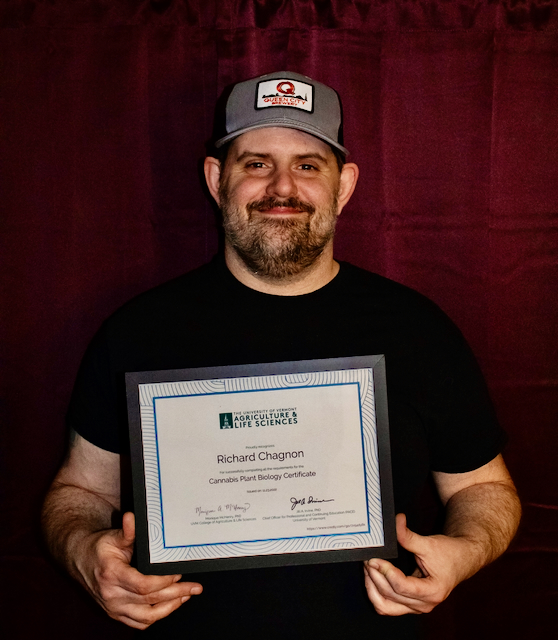 "I really enjoyed it," he says. "It inspired me to do a lot of independent research and reading, and I found myself learning plant biology in my free time."
Having built a solid knowledge base on the farm and on the internet, Ricky started experimenting with indoor growing, helping friends buy the right equipment to grow a handful of cannabis plants – six plants total, only two flowering, he says – at home.
With the legal landscape loosening up, Ricky saw an opportunity. A seasoned manufacturing professional, he felt confident that his work experience could translate seamlessly into cannabis-growing facilities. "I realized that I was really passionate about cannabis and had a knack for streamlining processes – which I thought could be relevant to the cannabis industry," he explains.
An Expert-led Cannabis Certificate Provides Focus and Efficiency
When Ricky learned about the 8-week UVM Cannabis Plant Biology Certificate program, it seemed like a perfect fit. Totally online and asynchronous, he was delighted to find that he could fit the coursework into his schedule on his terms, dedicating about 10 hours a week to his studies.
"I felt confident going to UVM because I had self-studied for so long," he says, explaining that aside from a few semesters of community college, he had not pursued a degree beyond high school.
"I was like a sponge. Going back to school was awesome – to have the structure that UVM offered was awesome."

Ricky Chagnon, Cannabis Plant Biology Certificate Graduate
Upskill Vermont, a program that provides Vermont residents with funding for up to two courses, made Ricky's arrival at UVM even smoother, covering costs he says he otherwise would not have been able to absorb.
Because he had spent so much time researching cannabis topics online, having a set curriculum felt refreshingly efficient. While Ricky learned a lot in his solo studies, he also describes internet research as a rabbit hole that can derail your focus. He quickly found himself looking forward to his course content coming online, often "completing readings as soon as they were available," because he found the content so interesting.
The certificate program has boosted Ricky's confidence that he has a place in Vermont's burgeoning cannabis industry. "I'd like to work in a facility and learn every aspect of it," he says, "I want to learn everything under the roof. I'm excited for the next phase of learning."
---
---
As he makes his way toward a new career path, Ricky is grateful for the connections he made at UVM. "Being online and having these discussions with classmates, I was impressed with the depth and quality of our conversations. We were always bouncing ideas off each other – and now I have a network of people who are involved in cannabis in Vermont," he says.
"I would recommend cannabis education at UVM to anyone who's interested in cultivating cannabis – whether it's curiosity or entrepreneurship. And even if you've had a business for awhile, you can learn a lot," Ricky says.
Curious about incorporating cannabis into your career plan? Explore online cannabis education at UVM offered each fall and spring.