By Jon Reynolds
After a very difficult 2020, beverage makers are making critical decisions for their breweries, wineries, and distilled spirits companies. Although on-premise sales suffered, off-premise sales grew tremendously (for example: In October and November 2020, off-premise sales were 17.6 percent higher compared to that same period in 2019).
With the pandemic far from over, here's what we're predicting for 2021 from a consumer perspective:
Outdoor Space Will Be Extended
Restaurants and taprooms will expand their footprints in 2021. This can be accomplished with sheltered patios, beer gardens, and covered sidewalks. Innovation has also created new dining environments like bubble tents, plastic domes, shipping container bars, and even used gondolas.
NoLo Drinks Are Now a Thing
Non-alcoholic (NA) beverages will surge in 2021 led by NA IPAs, NA Crossover Mixers (Mocktails), and NA Spirits. Low alcohol wines (<10.5% ABV), low alcohol beers (<4.0% ABV), and low alcohol spirits (<25 proof) will all contribute to the non-alcoholic growth. Carlsberg and A-B/INBEV both predict that low and no-alcohol beverages will surpass 20 percent of their total volume by 2025. "Dry January" and "Sober October" are recognized alcohol-free months that some consumers are embracing.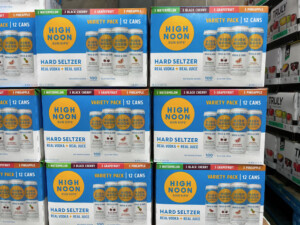 Hard Seltzers to Make Moves off and on Premise
According to all beverage sources, hard seltzers are expected to be the #1 growth category in beer in 2021.  As on premise continues to build back its loyal customer base, hard seltzers will surely be added to their in-house and carryout menus.  Look for new competitors to enter this space from large non-alcoholic players (Coca-Cola with Topo Chico, Arizona Beverages with SunRise and Bang with MIXX), major beverage players like AB/INBEV (Michelob Ultra Organic Seltzer and Cacti Tequila Seltzer), Sierra Nevada (Azul Agua), and Molson Coors (Proof Point Spirits-Based Seltzer).  Finally, food-inspired hard seltzers like Hell's Hard Seltzers from Gordon Ramsey are coming to market as well.
E-Commerce and DTC Delivery Will Surge
Whether the Brewery/Distillery/Winery ships the product themselves direct-to-consumer homes (where legal) or use an independent delivery service like Drizly, Doordash, Instacart, Minibar, Craftshack, Tavour, Bevv, BottleCaps, TapRm, GoPuff or Craft Beer Kings.  Online ordering, curbside service and e-commerce are sure to experience very high growth rates for alcoholic beverages in 2021.  State laws are changing due to COVID, and all beverage companies are benefiting from non-traditional distribution outlets, that have stood the test of time. Innovative packaging will drive these new distribution channels, led by cans, bottled cocktails and sustainable serving vessels.

Premiumization and Sustainability Will Drive Quality Consumers
A consumer shift in demand for higher quality beverages is evident across the board. RTD Spirits-Tequila and Vodka, premium mixers (mocktails), craft beers, coffee/tea drinks, bottled waters and soft drinks are seeing double digit growth as sophisticated and informed consumers search for authenticity, luxury, sustainability, high quality ingredients (KETO, probiotics, antioxidants, botanicals, herbals and unique hops), upscale packaging, value-added extensions, longevity, and more bang for their buck.  This is forming an ultra-premium category in beverages. Some recent examples are Michael Jordan's Cincoro Tequila, Royal Dragon Imperial Vodka, Uisge Source Premium Waters from Scotland, and Svalbaroi Polar Iceberg Water from Norway.

Health and Wellness Functional Drinks Are in Favor
Health club memberships, YMCAs, yoga, Zumba, workout and exercise facilities, running, hiking, biking and walking are all booming and consumers are asking for healthier beverage alternatives to complement their workouts. Functional drinks are growing in favor as changes in consumer diets have created new emerging beverage categories including immunity-fortified/Vitamin C beers, antioxidant-added beers, plant-based protein beers, probiotic and KETO beers, gluten-free and vegan beers, dairy-based oat milk beers, herbal tea-based beers, and Kombucha botanical beers. Non-alcoholic beverage and low carb categories are enjoying similar growth and new NA products are surging onto the scene as well.  Some new craft breweries are pioneering this health and wellness segment including Athletic, Partake, Zelus, and Sufferfest.  Craft Breweries who have punched the low carb and low buttons include Dogfish Head Slightly Almighty IPA, Boulevard Easy Sport, Harpoon Rec League Pale Ale, Yuengling Flight, Lagunitas Day Time IPA, Devil's Backbone Tangerine Ale, Brooklyn Special Effects Hoppy Amber, Deschutes WOWZA! IPA, Goose Island So-Lo, Four Peaks Brut IPA, New Belgium Mural Agua Fresca, Allagash Little Grove Peach & Kombucha, Firestone-Walker Easy Jack, Surly Rosé and Green's Enterprise Gluten-Free. Watch for low-alcohol wines to make a surge in 2021, as they are extremely popular in Australia and New Zealand.
Read about more Consumer Trends for the Beverage Industry in Part 2.
Jon Reynolds is the founder of Brewplan, a strategic marketing advisor to craft brewers, craft distilleries, boutique wineries, and a Certified Instructor in the UVM Business of Craft Beer Professional Certificate Program. He writes about business trends, beer consumers, distributor issues, legislation that affects craft brewers, marketing tools, and strategic planning to improve brewery profits.
Views and opinions expressed herein are those of the author who has spent more than 40+ years in the beer, wine and spirits industry and are provided for informational purposes only. The information set forth reflects the author's opinion of current trends in the industry and should be researched further to make your own business conclusions.