There is no doubt that in order to succeed in the increasingly competitive craft beer industry, you need to make great beer. But what too many potential breweries fail to consider when planning their business, is how to best position their brand for success. In addition to making beer that customers want to drink, a brewery needs to be able to answer the question of… what do you want to be and how will you be different?
Drop the H Brewery owner, Mark McClain says that UVM's Business of Craft Beer Certificate program helped him to define his brand, further develop the concept he had for his brewpub and identify his potential target audiences. "One idea presented in the Marketing and Branding Your Brewery course is the idea of hyper-localization," said McClain. "It was pretty clear from the course instructors and the information provided, that consumers are turning away from mass marketed, homogenized products, and they want local, individualized products and services."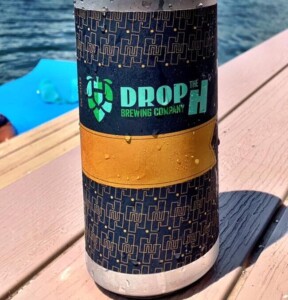 Once McClain could validate the concept he had for his brewery—a locally-focused brew pub and pizzaeria—was going to appeal to the local market in Pittsburg, Kansas, he enlisted the help of creative agency Lifeboat Creative to bring his vision to life.
"Mark was unique that he had recent formal education on marketing and branding," said Alli Sacket, Senior Account Manager at Lifeboat Creative. "He brought a lot of info to the table, we helped him to take the knowledge that he accumulated in the UVM course and learn how to apply it to design and his brand."
McClain grabbed onto the idea of hyper-localization in order for his brewery to stand out. Especially when considering that more than 3,000 new craft breweries have opened in the past three years, he wanted to make sure that his investment would pay off. Through his work with Lifeboat Creative, together they tested the idea of branding the brewery to include a historical nod to the name of the town. Pittsburg, Kansas was originally found as New Pittsburgh—after Pittsburgh, PA—but "dropped the H" to become Pittsburg in 1894.
Creating The Brand Identity
The next step after nailing the name of the brewery was to develop the look and feel of the brand. "We created a brand board, which touched on Mark's vision, mission, competitors, key stakeholders, and even outlined an elevator pitch," said Sacket. "And he loved it, it was eye opening for him to see his vision summed up in one document, of who and what he wants the brewery to be, as well as what he intends for the customers to experience."
"At the onset of our collaboration I didn't fully appreciate just how valuable creating our brand board was," said McClain. "During the process I saw first-hand how the exercise forces you to refine your focus. Our concept went from a broad thought to a definitive objective–what do you provide; what do you have to offer?  In our case, it's "Craft Beer, Craft Pizza, Craft Experience."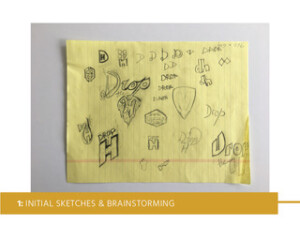 Several of the core ideas from the brand board then helped to translate into the logo or identity of the brand. Sacket says that McClain had strong opinions on the design, which he wanted to develop something that was a juxtaposition of old meets new; mid-century modern with an industrial feel.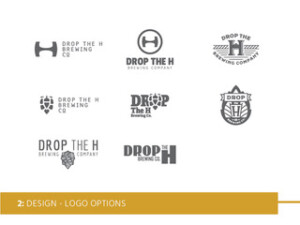 "Just as the brand board honed our core idea, the logo development was an iterative process," said McClain. "It went from any of several possibilities to one, and from that one through many variations on that theme until we arrived at the definitive logo and mark. The fonts selected are reflective of our mid-century motif and the "H" is playfully caught dropping. Look closely at the mark…what do you see?  Did you notice the "H" in the white spaces of the stylized hop cone? I love that feature and the end result: it's cool, and it reinforces the craft message. If that level of thoughtfulness went into crafting the mark, our guests can well imagine that same level of attention went into crafting their beer, their pizza, their experience."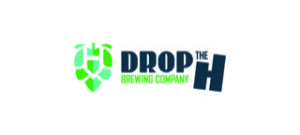 With a new logo in hand, McClain and the team at Lifeboat began to create a variety of assets that would be needed to support the launch of the brewery. T-shirt designs, menus, business cards, building signage, promotional posters, tap handle artwork, merchandise, and so much more are being developed in parallel to the fit-up of the historic building McClain purchased for his brewery. And thanks to solid education in marketing and branding from UVM and a creative team, McClain is paving the path for his brewery's future success.
UVM's Business of Craft Beer Marketing and Branding Your Brewery course addresses key industry trends, identifies "best practices" in differentiating a brewery, helps participants build a solid branding and marketing plan and identifies how to measure success and plan for the future.