Margaret Phenix knows first-hand that the way we handle death is all wrong.
People don't talk about death and dying, she says, and there's often pressure for the bereaved to move on too quickly.
"The whole way we look at death in this society doesn't work, and we live in such a death-denying society," says Phenix, who lives in White Bear Lake in Saskatchewan, Canada. "I want to be part of a movement that is changing ideas of how we deal with death."
This year, she completed UVM's fully online End of Life Doula Professional Certificate program, which helps caregivers prepare to meet the growing demand for end- of-life support. Death doulas support clients with individualized, compassionate care in many ways, including emotional, spiritual, informational, and physical support.
Phenix's daughter, Stephanie, died in 1987, which opened her eyes to society's unhealthy relationship with death and grief.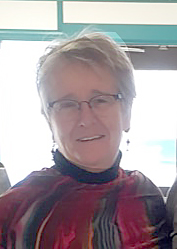 "How we responded to my daughter's death was so wrong," she recalls. "A lot of it had to do with how we were raised back then. Our family didn't talk about death growing up. It was all just a lot of 'Everyone is fine, we're fine.' Well, we're not fine. If you need to scream, it's OK to scream."
At her daughter's funeral, for example, Phenix felt the need to keep her composure rather than express herself.
"Our family is close, but we never showed a lot of emotion," she says. "I remember my brother said after the funeral that he was proud of me for not crying. Part of me was proud that he noticed because I really like my brother. But inside I was screaming. I couldn't understand why we had to be so silent."
Losing Stephanie changed Phenix's life and compelled her to transform her career from working in a bank to becoming a social worker, grief counselor—and most recently, an end-of-life doula.
Becoming an End of Life Doula
Phenix went to college at the age of 45, graduating from the University of Regina in 2002 with a degree in social work. She worked for three years with the Department of Social Services, and was later employed by Southeast Cornerstone School Division as a student counselor and family liaison worker.
In January 2012, she completed training and received Certified Thantologist designation with Association of Death Education and Counselling (ADEC).   Phenix has presented at several seminars and led support groups for grief. She is now offering end-of-life doula services at her private practice and provides weekly "death over drinks" information meetings to community members. She also offers trauma response services as needed throughout the province.
"I live in a rural area where there are not a lot of resources. There are a lot of older people and families are scattered. If I can help someone, I am willing to step in," says Phenix, who describes herself as open-minded and a lifelong learner. "I believe in people, and I think everybody has a story to tell."
She became interested in offering end-of-life doula services last year while attending the International Death Symposium in Toronto. After the symposium, she found UVM's eight-week UVM End-of-Life Doula Professional Certificate and completed the program in June.
The program was developed by the UVM Larner College of Medicine and partner Cabot Creamery Cooperative. It helps professionals prepare for end-of-life support as people live longer, and the dying process continues to become increasingly gradual and anticipated.
It was Phenix's first online program ever, and she highly recommends UVM to anyone interested in becoming an end-of-life doula.
"Just do it. You learn so much, whether it's personal or professional.," she says. "There's so much good information in the program to explore."