Peg Ehrlinger worked in advertising for 25 years before making a significant career shift.
At the age of 47, soon after the 2008 Great Recession hit, she returned to school to become a physical therapy assistant. After earning her degree, she went on to work in various care settings, including assisted living, skilled nursing facilities, and home therapy.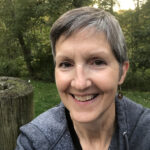 Working with seniors prompted the Ohio native to study the concept of aging in place—the ability to live in one's own home and community safely, independently, and comfortably, regardless of age, income, or ability level. Her conversations and one-on-one work with rehab and physical therapy patients made her increasingly interested in the end-of-life journey.
"When I started working with the aging community in therapy, my desire to improve the aging process began to grow," she says. "I'm working with some patients who are 80 to 100-plus years old. I've kind of always just had a greater sensitivity toward my dying therapy clients. I'm comfortable with the conversations, and I help them open up about what they're feeling."
Ehrlinger recently completed the UVM End-of-Life Doula Professional Certificate, an online 8-week program developed by the UVM Larner College of Medicine for people interested in the growing demand for end-of-life support.
The UVM online doula program is for:
Aspiring doulas
End-of-life care practitioners
Family caregivers
Hospice and palliative care volunteers
Professionals who work in healthcare, mental health, social work, and integrative therapies
Spiritual care providers
All who heed the call to embrace dying as part of the natural life cycle with more compassion and knowledge
Ehrlinger relocated this year from Boston to her home state of Ohio, and plans to become a practicing doula soon. She believes that end-of-life doulas can help individuals and loved ones normalize the dying process.
"We need to give a comfortable space for the end of life," she says. "We need to embrace instead of fear or resist the end."
End-of-life doulas complement the care provided by family members and friends, as well as medical, palliative, and hospice professionals.
Doulas support clients with individualized, compassionate care in several ways, including emotional, spiritual, informational, and physical support, which helps to lower stress levels, aid in comfort, and promote personalized, even positive, dying passages for clients and their loved ones.
For Ehrlinger, the UVM online doula program was an enlightening experience.
"The inner searching and soul work was so powerful. It's taken me to a higher level of understanding of my own life and the lives of my loved ones and my therapy clients," she says. "The course shares a wide variety of traditions and philosophies from around the world regarding living, dying, death, and grief after death. And I learned about the many ways I can assist a dying person and their circle of support."