Digital Badges
Resume? Welcome to the 21st century.
The University of Vermont Professional and Continuing Education is pleased to offer digital badge credentialing—an incredible opportunity for program and course graduates to communicate their accomplishments, demonstrate their credentials, and easily highlight their skills.
What is a digital badge?
A digital badge is a web-enabled acknowledgement of a certificate, course completion, or learning outcome. The skills acquired to obtain your digital badge can be verified in real-time, online, allowing you to quickly demonstrate and validate your accomplishments.
Why a digital badge?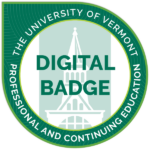 Translating and highlighting skills on a resume can result in oversimplified and underwhelming bits of information that often fail to encompass the work entailed for you to attain your certification or to clearly translate the scope of your newly acquired expertise. Digital badges allow you to easily communicate your credentials in an ever-expanding online marketplace. The University of Vermont's Professional and Continuing Education digital badge credentialing system is completely voluntary and free to you.
How does digital badge credentialing work?
The University of Vermont Professional and Continuing Education has partnered with Credly's digital badge credentialing system. Badges are issued and managed through Credly.
Credly helps you to easily manage, share, and authenticate your learning. It also offers labor market insights, based on your skills, which allows you to search and apply for job opportunities right through Credly.
How do I obtain a badge?
Once you have successfully completed your course or certificate program at PACE:
You will receive an email notification from admin@credly.com with instructions for setting up your account and claiming your badge
Claim your badge and share directly from Credly to LinkedIn, Twitter, Facebook, over email, and/or embed within your website or email signature
Credly not only allows you to access your digital badge(s), but, for UVM certificate graduates, account holders can also download and print a copy of their certificate
FAQ